2011-03-15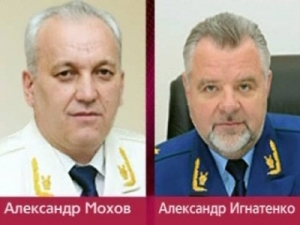 Attached dossier
Name : Ivan
Surname : Nazarov
Middle name : Vladimirovich
Post : Owner of Triumph galery
Evidence was found that an owner of illegal gambling business Mr Ivan Nazarov had maintained contacts with Mr. Ignatenko and several other regional prosecutors and other top-brass officials in the region's militia. Official representative of Russia's Investigation Committee Mr Vladimir Malkin said the investigation seized documents that prove Mr Mokhov's trips abroad were sponsored by the gambling business owners. Earlier Moscow region prosecutor's office told journalist Mr. Mokhov paid for his trips himself.
In the middle of February Mr Ignatenko and Mr Mokhov requested state protection, claiming they fear the revenge from authorities of one of Moscow region districts. Their request was denied.
Illegal gambling case evoked a wide public response. According to the FSB, the illegal business brought a monthly profit of $5-10 million and was aided by the prosecutor's office servants. Mr Mokhov and Mr Ignatenko, as well as several other officials, are now removed from their posts for the period of the internal investigation.
On February, 17, despite the objections from the prosecutor's office, Moscow region's Pushkin court issued arrest warrants to Mr Nazarov and his illegal business companions Mr Marat Mamyev and Ms Alla Guseva. 3 police officers were also suspended: deputy head of the economic crime department of Moscow region FSB Mr Nikolai Pyshkin, and two officers of the department Mr Dmitry Akulin and Mr Sergey Yermakov. They are accused of hushing up the illegal gambling.
Initially Mr. Nazarov was suspended in connection with illegal gambling. The investigator told court Mr Nazarov had been suspended at the Sheremetyevo airport while awaiting departure together with Mr Ignatenko. Deputy Prosecutor General of Russia Mr Vladimir Malinowsky ordered to dismiss the proceedings. The investigators had to open another criminal case. Now Mr Nazarov was suspended on suspicion of fraud. Later the court issued an arrest warrant to him.
Subsequently Prosecutor General Mr Yuri Chaika claimed legal the demission of the first case against gambling boss. Meanwhile the investigators say they face the active counteraction from the "law enforcement agencies, namely by Moscow region prosecutor's office".