Prime Minister Vladimir Putin met with the winners of primaries of All-Russia People's Front (ONF), among which there was Maria Maksakova, the Mariinsky Theatre prima. The opera diva decided to take up politics for a reason. According to information collected by Rumafia correspondents, Maksakova is in common law marriage with one of the most influential and bloody thieves in law, Vladimir Tyurin, nicknamed Tyurik. It has been almost a year since he was under arrest in one of Moscow remand prisons at the request of Spanish authorities. And all this time Maria has been fighting for her husband.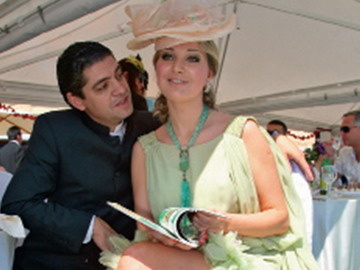 Opera diva Maria Maksakova and her husband thief in law Vladimir Tyurin, nicknamed Tyurik
On September 14 ONF leader Vladimir Putin met with the winners of the preliminary vote. Among them was the winner of primaries in Astrakhan region, Maria Maksakova, who is a soloist with the Mariinsky Theatre and a member of the Central Council of the supporters of the party United Russia. She suggested two initiatives, namely to organize mobile receptions of United Russia and to unite Mariinsky and Bolshoi Theatres. Putin discussed both initiatives with the prima. However, Maksakova hesitated to speak about her main concerns at such an event. Her husband, a gangster, has been in custody since November 2010.
Rumafia correspondents found out that the opera prima is the wife of the thief in law nicknamed Tyurik from one of the most influential people in the capital. When discussing the liking that some gangsters have for pop singers, the kingpin dropped the phrase "Here, Tyurik would never like anything than the Bolshoi." He explained that the thief in law has long had a passion for actresses of the Bolshoi Thearte, and his final choice was Maksakova, who used to perform at the Bolshoi Theatre. They have been together for many years and have two children. And indeed the photographs show Ilya and Liusya are a splitting image of Volodya Tyurin when he was young. Over the years of gangster life he has changed drastically.
For obvious reasons Maksakova does not mention her husband either on her website or in her official biography. It was only in one glossy magazine that prima spoke about her better half: "My husband, Vladimir Anatolievich, is an influential businessman with experience in family life. He is 19 years older than me (Rumafia: Maksakova was born in 1977, and Tyurin in1958). But when he first saw me in the television show Poka vse doma, he fell in love at first sight. Like a romantic young man he began randomly coming to the Hermitage Garden trying to meet me (Rumafia: at the time Maksakova performed in Novaya Opera, located in the Hermitage Garden).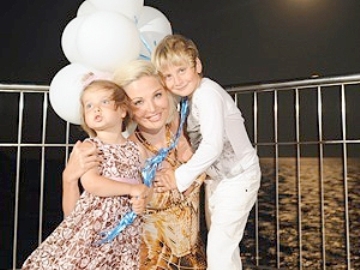 Maria Maksakova and her kids
Once he waited until I left Novaya Opera after a rehearsal. But for some reason I was in a bad mood. It was so obvious that he did not dare to come up to me. He found a mutual friend and through him began asking me out to lunch with him at a café in the Hermitage Garden. If my friend just invited me to join him for a meal at a cafe, I would probably come right away. But he said he wanted to introduce someone to me, and I stubbornly refused. Why would I want that? But after two months of persistence I decided to come to put an end to this. And marked the beginning! Vladimir was so persistent and at the same time respectful. I could see his sincere adoration, from which there was simply no escape. He was so determined. I did not expect such persistence and finally I did not resist. He had thought out virtually all the details of our future life together, and most importantly, he said from the very beginning that he wanted to have children with me. Probably, I was most flattered with such vigour, such manly behavior. His life was ready for my appearance in it as if a finished frame waiting for a gem. Others had doubts about what they wanted, but he immediately offered me everything including his feelings, his house, and to have children together. This is what was irresistible for me. "
The opera prima and the thief in law lived a happy life until Moscow police officers and officers of FSB in Moscow and Moscow region detained Tyurikov in a nightclub on Novy Arbat. The reason for the raid was a request by Spanish authorities, who accused Tyurin of money laundering and participation in a criminal association. In the framework of the case Spanish courts have already convicted Zachary Kalashov, another thief in law nicknamed Shakro Molodoy. (For details, please, see the resolution on the extension of detention period for Tyurin).
Russian investigators also collected a huge dossier on Tyurikov. At one time he led Bratskaya criminal group which one of the most influential gangs in Siberia. He participated in the bloody dividing of Russian aluminum industry. He was an active participant in the criminal wars. He developed channels for criminal money laundering in the West and organized several groups of professional killers who committed dozens of murders. For a long time Tyurik has been one of the closest allies of the Russian underworld king Aslan Usoyan a.k.a. Grandpa Khassan. At the moment he is doing his utmost to avoid extradition to the Spanish authorities. Maria Maksakova supports her husband in this fight.
According to Rumafia sources in Russian intelligence services, the singer helps Tyurikov with the line of defense, and does it very skillfully. She also has a law degree since at some point of time she graduated from the Moscow State Law Academy (MSLA). According to our interlocutors, Maksakova decided to engage in politics for the sake of Tyurin. It is one thing when it comes to extradition of the husband of an opera singer, even a famous one. But it is a completely different thing when the authorities extradite the husband of a State Duma deputy from the ruling party.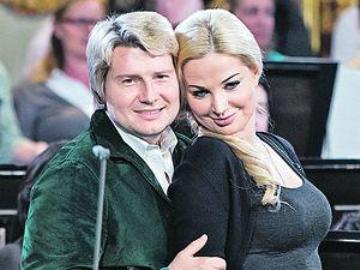 Maria Maksakova and Nikolai Baskov
P.S. While Tyurik is in jail, on a number of Internet portals have posted information claiming that Maria Maksakova has an affair with singer Nikolai Baskov that they might get married soon. Gangsters though the rumours hilarious. They consider Maria to be faithful, but as a joke they began to build assumptions about the future of Baskov. The options were very different, but none of them ended well for the singer. In fact, it turned out that Maria knows Nicholai personally since the age of 17, when they studied together in the Gnessin Academy. All these years they had been friends.
RESOLUTION
to file a petition before the court
to extend the detention period
Moscow
August 16, 2011
[…]
On November 2, 2010, at 7.30 p.m. Moscow UR GUVD officers of the 24th department of the 7th investigative unit, officers of FSB Economic Security Service financial counterintelligence directorate, and Interpol National Central Bureau at Moscow GUVD in a joint operation arrested Vladimir Anatolievich Tyurin at 8, Konyushkovskaya ulitsa, Moscow. Tyurin, born on November 25, 1958, was transported to Presnensky district OVD. Grounds for the arrest were that V.A. Tyrin was wanted by Spanish police on charges of committing crimes states at Art. 515.1, 517, 301.1, 302.1 of the Criminal Code of Spain, namely organization of a criminal association, the legalization of proceeds from crime.
On November 3, 2010 the initiator of the search operations, National Central Bureau of Spain, confirmed its intention to request extradition of V.A. Tyurin to prosecute him in Spain and filed an appeal to keep Tyurin in remand prison until extradition issues are settled.
[…]
The extradition inquiry showed that A.V. Tyurin faces charges of organization of a criminal association, the legalization of proceeds from crime.
In particular, V.A. Tyurin, being leader of Bratskaya organized criminal group and acting through entities and natural persons as mediators, by means of sales and purchase of property in Spain invested criminal proceeds collected by members of the mentioned criminal group mainly in Georgia and the Russian Federation. Thus, Tyurim is incriminated under art. 515.1, 517, 301.1, and 302.1 of Spanish Criminal Code, namely participation in a criminal association and legalization (laundering) of funds.
International arrest warrant N 194/2005 was issued by the National Court of Spain on October 26, 2005, in connection with the accusation of Tyurin of participation in a criminal organization, covering up the crimes, and money laundering.
Tyurin's actions were not punishable under Russian law at the time. […] Under the Russian Federation law, period of limitation for prosecution for the mentioned crimes has not expired. […] Requester filed an extradition petition to the Russian Federation Prosecutor Generals Office in terms provided for in art 16.4 of the European Convention on Extradition of December 13, 1957. Apart from the request of extradition of Tyurin, the requester presented additional materials.
On the abovementioned grounds on December 10, 2010 Presnensky interdistrict court of Moscow under art. 466 part 2 of the Russian Federation Criminal Code ruled confinement under guard as restraint measure for Vladimir Anatolievich Tyurin.
[…]
Prosecutor General's Office has not reviewed the request concerning the extradition of Tyurin for prosecution by relevant authorities of Spain. It is necessary to extend the detention period of V.A. Tyurin to provide for his extradition to law enforcement agencies of Spain for further prosecution. At present there are no grounds for changing the measure of restraint for A.V. Tyurin, taking into account his personality which shows that, if a milder measure of restraint is chosen, he may escape from the preliminary investigation, trial, or interfere with case proceedings.
[…]
On the grounds of abovementioned […]
Resolved:
to file a petition before Presninsky interdistrict court of Moscow to extend the detention period of Vladimir Anatolievich Tyurin…
Presnensky interdistrict prosecutor of Moscow
Senior Counsellor of Justice
Yu.A. Basov