Attached dossier
Name : Yuri
Surname : Luzhkov
Middle name : Mikhailovich
Post : Former Moscow Mayor
The Interior Ministry's Investigative Department questioned last week former mayor of Moscow Yury Luzhkov as a witness in a case, involving huge misappropriation of state funds by the Bank of Moscow. In the past the ousted mayor seemed to have no problems with the law, but the situation changed dramatically after Luzhkov's remarks, containing harsh criticism of incumbent president Dmitry Medvedev. Rumafia correspondent found out that it was former minister of finance Aleksei Kudrin and western political advisors who induced Luzhkov into making unreasonable statements.
A few months ago a source in the Interior Ministry's Investigative Department told Rumafia that the police did not have plans to interrogate Luzhkov about headlines-breaking Bank of Moscow case. "Concerning Luzhkov, we haven't received orders from the top. His testimony is not crucial, and we are not going to summon him for questioning. We are not probing into the city-sponsored bailout to rescue Bank of Moscow, but into the fraudulent loan that the bank gave to Elena Baturina's companies. Her testimony is very important, but she does not respond to the summons," the source said. However, in an interview to foreign media Luzhkov tackled thorny subject of Dmitry Medvedev's policy.
In October mayor told the Radio Liberty that Medvedev would be "very weak" as a prime minister - Medvedev is expected to become prime minister in March 2012, when former president Putin will return to his post. "Medvedev would make as inefficient prime minister of Russia as he was a president," Luzhkov said. Next day the Investigative Department summoned him for questioning.
There is a delicate aspect of the situation. It is Russia's Investigative Committee that leads investigation of such important cases as that of Bank of Moscow. The head of the Committee, Aleksandr Bastrykin, is considered Vladimir Putin's protégé. However the investigation into the troubled bank is led by the Interior Ministry's Investigative Department. Not long ago the department got a new director - Valery Kozhokar, Dmitry Medvedev's university friend.
Dmitry Medvedev and Yury Luzhkov have never got on well. Being the mayor of Russia's capital, Luzhkov considered Putin to be a true ruler of the state and treated Medvedev disrespectfully. A source in the Kremlin told Rumafia that Luzhkov relied on Putin's support and had guarantees from the prime minister. Situation surrounding Khimki forest put Luzhkov on thin ice. He openly opposed Medvedev's standpoint, causing anger of the president. Medvedev sacked Luzhkov in autumn 2010. Putin did not help Luzhkov out. "Luzhkov has never been in Putin's close circle. Not once he let Vladimir down," the source said.
For a time being the ousted mayor stopped criticizing Medvedev, but in October he continued getting at the president. He joined forces with another official who fell out with the Kremlin - former finance minister Aleksei Kudrin.
Here the situation is even more serious. Our source in the Kremlin said that Kudrin always disliked Medvedev. At the beginning of the 90s Kudrin was a first deputy mayor of Saint Petersburg, whereas Medvedev worked as a lawyer for a notorious local company called Ilim Pulp. Future president of Russia was a protégé of Saint Petersburg mayor Sobchak and Kudrin had to cooperate with him. Kudrin looked down on the underling. The time passed, and the underling became president, whereas Kudrin was a minister, though a prominent one. Kudrin never opposed Medvedev, but from time to time he showed his disagreement with him. According to the Kremlin insider, Kudrin had an agreement with Putin: if Putin decided to return to the presidential office, the finance minister would be promoted to the prime minister.
On 24 September the ruling United Russia party held a congress. Addressing the party, Putin and Medvedev announced that the former would run for the presidency in 2012, while the latter would become a prime minister. "A month before the conference it became clear that Putin would get back to the job of president. However no one expected that they would swap jobs, and Medvedev would be a new prime minister. It surprised everyone in the Kremlin. Neither Timakova, no Gromov [Medvedev and Putin's spokesmen], no other people close to Putin or Medvedev had not been aware of the announcements," the source said.
Aleksei Kudrin was surprised more than others, for he dreamt about the office of the prime minister. A few days after the conference he made a statement about Medvedev in Washington, saying that he disagreed with Medvedev's economic policy and did not see himself in Medvedev's cabinet. Medvedev fought back immediately, demanding that Kudrin resign right away.
Putin held out a helping hand to Kudrin, but his help was partial. He let Kudrin leave the cabinet, but said that Kudrin would get a job offer after Putin's return as a president. "Kudrin was sacrificed in order to prevent Medvedev against ill-conceived steps before the elections. Anything for a quiet life, that is Putin's strategy," said a source close to Putin.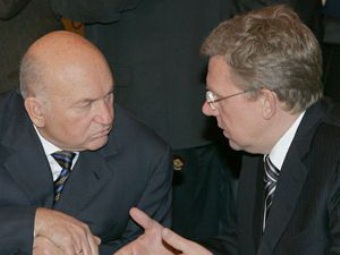 A source close to the ousted mayor told Rumafia about the meeting between Luzhkov and former finance minister. Kudrin told Luzhkov that the relationships in the tandem were not as bright as they appeared, and Medvedev would not be a prime minister for long. Kudrin added that he might become a prime minister in the time to come. And of cause Kudrin told Luzhkov all the nasty things about Medvedev.
Luzhkov decided that the meeting was a signal to act, but before he acted he hired political consultants.
According to our source, Luzhkov has been using services of a team of political consultants, who emigrated from the USSR back in the 1970s. They helped Luzhkov to build sustainable relationships with the authorities of Austria. Luzhkov and Baturina feel at home in that country. The consultants analyzed the situation and prepared a report. According to them, Putin will disagree with Medvedev's policy and will have to rule the government himself. Putin will not want to execute the duties of both president and prime minister, which will put an end to Putin-Medvedev alliance. Medvedev will lose his post quickly.
Luzhkov calculated that criticizing Medvedev he would gain political scores. He has placed his bet on Putin, whom he does not criticize. That is why his comments on Medvedev appeared in the media. Very soon we will see whether the ousted mayor is right in his choice.