Attached dossier
Name : Sergey
Surname : Dubik
Middle name : Nikolaevich
Post : Aide to President Putin
Sergey Ivanov, former deputy Prime Minister, was appointed head of Presidential Administration. The official is not prone to dramatic reshuffles in staff; however, Rumafia sources in the Kremlin claim that Ivanov will introduce a number of changes in staffing in the nearest future. The position of Presidential Civil Service chief is about to become vacant. Currently it is filled with Sergey Dubik, a business partner and a close friend of the most corrupt police General Andrey Khorev, former first deputy head of the Interior Ministry Department of Economic Security. Dubik, who was in the centre of a number of scandals, may soon face dismissal.
General career Lord
Sergey Dubik can hardly be called a public figure. The last time he was mentioned in the press was in June 2011 in connection with a car accident. Dubik's vehicle ran into a security SUV, part of his own motorcade. The security Range Rover stopped to let people cross the road at a crosswalk. Dubik's driver was too late to react and the BMW with the official ran into the SUV.
Nevertheless, Dubik's name is quite frequently mentioned behind the scenes in most power ministries and the judiciary. As Presidential Civil Service chief, he is in charge of promoting, conferring ranks and awards, and distributing of apartments and other bonuses and amenities. Thus, if Dubik asks a General for a favour, the General willingly does whatever he was asked to do.
It is no surprise that many major "problem solvers", namely former and acting law enforcement agencies officials, refer to their friendship with Dubik when they promise to solve the problems of this or that businessman. Such friendship guarantees that problems will be solved at the highest level. For example, Anatoly Shavlyakov, former high-ranking Interior Ministry Investigative Committee official, claimed that he forwarded most of the money he received as tools to Dubik asking at least 3 million dollars for initiating and terminating a criminal case. By the way, Shavlyakov was notorious for driving a Bentley vehicle to work while he was an acting police officer.
Among the closest friends of Dubik there is Andrei Khorev, the owner of hotels and villas all over the globe. Khorev has recently been in the centre of corruption scandals. While in office, he turned the Department of Economic Security into a business ready to provide any service for a fee.
The latest success of Dubik was resounding victory over the trade union of Presidential Administration and government employees. This came about after the trade union leaders revealed large scale scams that concerned apartment allocation. The scams were drawn up by Dubik's closest associates. Most front-line employees of the government agencies forming the trade union were off the collective labour agreement, which earlier could protect their rights at least to some extent. The trade union leader, Lyudmila Popkova, who pushed for the scam revelation, may soon be incarcerated over evidence collected by Khorev's subordinates.
Kremlin allocation conveyor
At some point of time a well-known journalist Vladimir Soloviev held an independent investigation. He found that Presidential Civil Service gave straight orders to judges of various jurisdictions concerning rulings in favour of relevant businesses. Valery Boyev, Dubin's secretary, filed a lawsuit against the journalist. However, during the litigations at Dorogomilovsky court the claims of intervention were confirmed by Elena Valyavina (deputy chairman of the Supreme Arbitration court), Evgeny Ilyin (chairman of Moscow region Arbitration court), Boris Kanevsky (chairman of Nizhny Novgorod regional court), and Artur Absalyamov (chairman of the tenth Arbitration court of Appeal), after which Boyev urgently dropped the lawsuit. Regardless of the scandal that erupted, Dubik kept his position. Moreover, he remained member Higher Qualification Panel of Judges.
His powers and strength of his position are partly due to nepotism. Sergey's brother Nikolay is head of law department at Gazprom and friend of Deputy Prime Minister Igor Shuvalov who studied at Moscow State University at the same time as Nikolay Dubik. Gazprom top-manager Vladimir Alisov, also a friend of Nikolay Dubik, is a close relative of Tver court of Moscow chairman, Igor Alisov. And there are plenty other connections like that.
Dubik allocated apartments belonging to President's Executive Office fund to his close Kremlin associates as if the apartments were his own, some worth a million dollars. This was revealed in 2009 by Leutenant-General Sergey Khlebnikov, Governor of the Kremlin.
Khlebnikov paid special attention to the spacious costly apartment allocated to his aide, Federal Protective Service official Sergey Shestakov. The general shared his concerns with Lyudmila Popkova, head of the trade union of Presidential Administration, government staff, the Council of Fereration, Accounting Chamber, and Presidential Executive Office. Khlebnikov addressed her for a reason. Popkova was on the board of apartment allocation committee of the Presidential Administration. She found the fact of allocation quite peculiar and conducted an insider probe.
Popkova soon found that Shestakov and Baryshnikova, another Kremlin official close to Dubik, registered in the apartments they live four of their long gone relatives. After that they appealed for housing improvement, groundlessly and regardless of the existing queue of other claimants. Thus, Shestakov and Baryshnikova got new expensive apartments. Among those in the official claim by Baryshnikova there was her mother, a citizen of Ukraine born in 1914 who had perished seven years ago. Somehow she also participated in the privatization of the apartment.
An even more shocking situation concerned the assets allocated to Anatoly Ivanov, deputy chief of a department within the government agency headed by Dubik. Ivanov received not an apartment, but a subsidy for its purchase totaling to 22 million rubles, to which there were no relevant grounds. This happened with direct involvement of Dubik.
Oleg, Akimov, Dubik's deputy of legal affairs, was involved in a notorious scandal concerning a takeover of 2,200 hectares of arable lands in Yegorievo district of Moscow region. Sergey Dubik was directly involved in the scam and was considered one of the masterminds behind it.
Trade union chairman tried to draw attention of the Kremlin officials to the revealed scams. But Dubik skillfully curbed all her activities in that regard. The collected data was given over to the Ministry of the Interior, namely to Andrey Khorev. Popkova, who was not familiar with the official's ties inside Kremlin, did not know that the General was a friend of Dubik's. As a result, the collected materials never reached the investigators. Instead, they mysteriously disappeared and Dubik learnt about Popkova's actions. He got angry and nursed a grudge against her.
Trade union revolt
Soon Dubik had another reason to be angry at the trade union leader. In 2010 Popkova drew up a collective labour agreement on labour and vacation conditions for employees of all agencies in the trade union. Sergey Naryshkin, head of Presidential Administration, instructed Dubik to clear through all relevant documentation. But the Civil Service official was not satisfied with any of the suggestions by the trade union. For instance, he did not like a provision specifying fixed working hour, adequate nutrition, bonuses, abiding work place laws, etc. Popkova was resentful to introduce any changes in the agreement for which she literally got consent from Naryshkin. Dubik was outraged and declared war. Passes of trade union activists were canceled, they were not allowed in their own receptions, and were deprived of offices and their phones were switched off.
In January 2010 the trade union held a conference for reports and elections. Those present at the conference appointed Popkova as head of the trade union for another five year term. However, in May Dubik asked her to "leave while she can". Popkova turned him down. "If so, I will have you put behind bars," Dubik told her. "You do know, don't you, how influential I am with the FSB and the Interior Ministry". Later these threats were repeated by Anatoly Ivanov, whom we mentioned earlier. He said that "Dubik has already called Khorev about you. So you'd better resign while you can".
Regardless of a presidential decree, Popkova was off the allocation committee. She addressed Naryshkin for assistance. He promised to help her. After his promise Human Resources Management of the Presidential Administration sent an official address to Ministry of the Interior Department of Economic Security asking to conduct a probe into Popkova's activities. Khoprev personally supervised the probe carried out by his subordinate, Oleg Letuchev. Popkova was hospitalized in late May 2010 as a result of a mental breakdown. On 1 June Dubik held an extraordinary session of the trade union. Oleg Letuchev, officer at Department of Economic Security No 8 operational office, was the principal speaker.
He read a report on the probe into the activities of Popkova and added that "she has stolen 25 million, we are about to put her in prison". As a result it was decided to dismiss Popkova from the trade union. The position was filled with Evgeny Tatarenko, a 64 year old Presidential Administration employee and a friend of Dubik and Ivanov.
Popkova tried to appeal against the dismissal in courts of various jurisdictions. However, taking into account Dubik's influence on the judiciary, success of such an appeal was out of the question. Illegal intervention by the administration and the Interior Ministry in the activities of the trade union were criticized in a number of mass media publications by Mikhail Shamtkov, chairman of the Federation of Independent Trade Unions of Russia. He called Dubik's actions a "raider takeover". Lyudmila Popkova addressed President Dmitry Medvedev in a letter which was publicized by a number of news agencies. This outraged Dubik even further.
Who gets sentenced first?
Khorev received consent for Popkova's prosecution. In August 2010 Ministry of the Interior Investigative Committee initiated a criminal case against Popkova based on the evidence forwarded from Presidential Administration Human Resources Management at the Department of Economic Security. Aleksandr Matveyev, Investigative Committee investigative unit head, directly participated in the events. So did Mukhamed Musov, head of a department within the agency; and investigator Evgeny Denisov, who had twice turned down the appeal to institute criminal proceedings over apartment allocation fraud under Article 159 of the Criminal Code of the Russian Federation, thus deliberately concealing the crime and committing abuse of power.
Several dozens of investigators and other operational personnel collecting compromising materials on Popkova came up with a frame up. The accusations against the former trade union leader were as simple as that: in spring 2010 she organized several concerts for 6,000 trade union members the cost of which amounted to 940 thousand rubles. Department of Economic Security employees recalculated the expenses stating the actual cost of the events at 4,700 rubles. It is not clear how they managed to include all payments to the performers, the banquet, presents for the veterans and so on in the 4,700 rubles. According to the investigators, Popkova misused the remainder allocated funds, which is subject to prosecution under Article 160of Russian Criminal Code.
The mentioned data is being prepared to serve as evidence in court. It is certain that in any other case law enforcers' activities would have been challenged. But the litigation will take place in Tver court of Moscow, the one chaired by Igor Alisov, a friend of Sergey Dubik. And also the one to which Popkova and the redundant trade union members appealed against the unlawful dismissal. The judge, Lyudmila Bykovskaya, denied satisfaction of the lawsuit and was promoted to being a judge at Moscow city court. Dubik, as member of Higher Qualification Panel of Judges, decides whether a judge would be paid 100 thousand rubles pension or would be fired, so to say, with no severance package. Lyudmila Popkova and the dismissed employees in the trade union appealed against the unlawful decision of the judge Bykova before the European Court stating 12 violations of Labour legislation.
A lot has changed in law enforcement agencies since the beginning of the war against Popkova. Some officials, namely Khorev, Matveyev, and Musov failed state certification and were dismissed from the Ministry of the Interior. However, Dubik is still in office, and that means that the case against the former Presidential Administration trade union head will not be terminated. Nevertheless, Sergey Ivanov joining Presidential Administration may lead to a drastic change in the situation.
Major General Khorev memorandum, sent to deputy head of RF Investigative Committe. The document contains list of files with the materials of the probe into Ms Popkova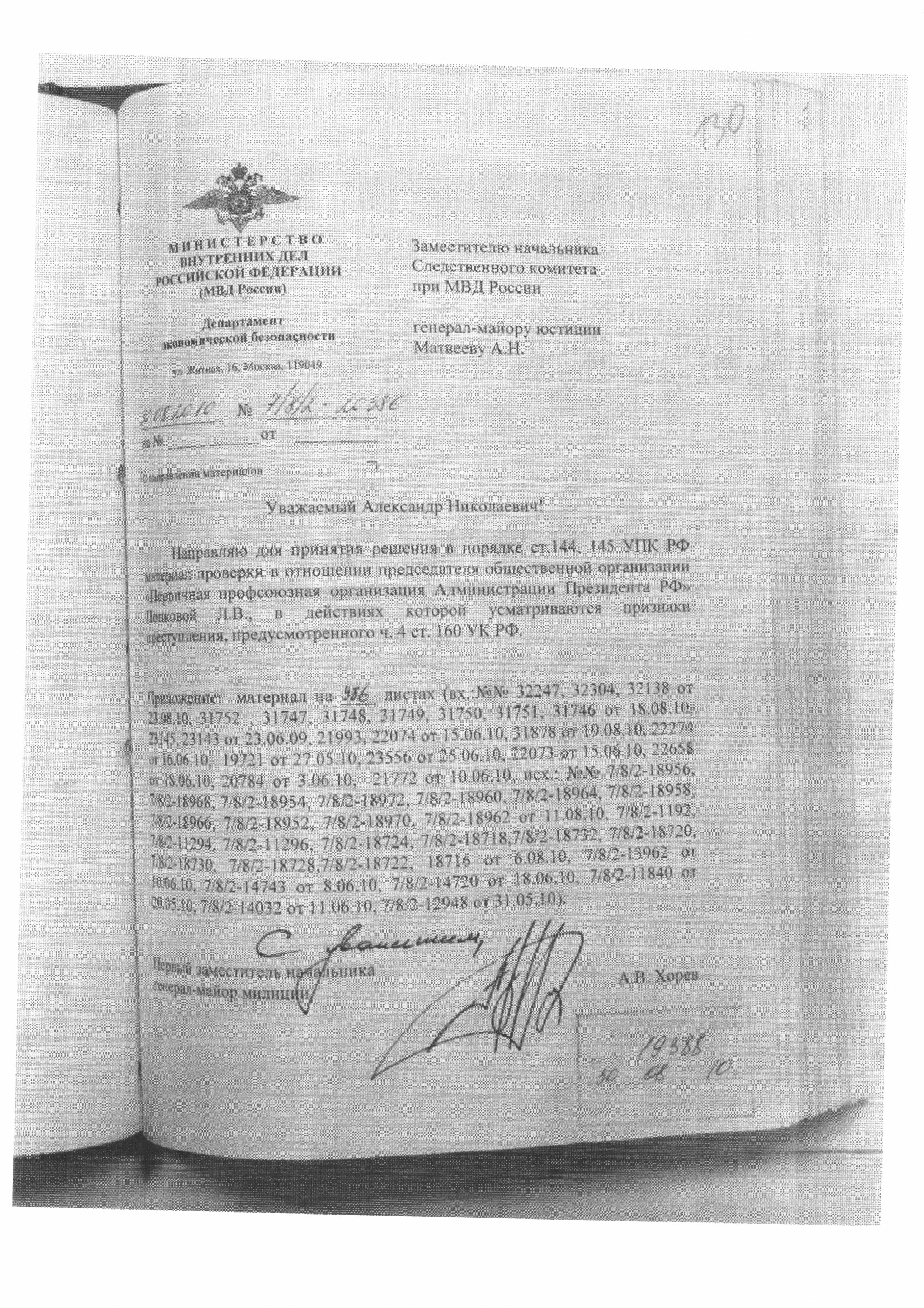 RF Internal Ministry Economic Sec. Dep. information request, asking Ms Popkova to provide documents, relating to her trade union