2013-07-17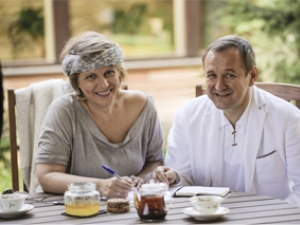 Attached dossier
Name : Leonid
Surname : Tukhtyaev
Middle name : Borisovich
Post : Со-holder and a chairman of board of directors of "Sudostroitelny bank"
Irina Tyukhtyaeva is married to Leonid Tyukhtyaev, the president of Balloon Federation of Russia and Sudostroitelny Bank co-owner and board chairman. Her husband's passion to ballooning has recently struck her so much that it looks like she has decided to promote this sport amongst Russians no matter the price. For a start, she decided to do a pilot on wealthy residents of Diplomat and Hermitage villa communities ​​located about 23 kilometers out of Moscow along Rublyovo-Uspenskoe highway near the village of Daryino. She has an idea that they should either fly to their homes on hot air balloons or pay a fortune for using the only existing road leading to the residential area. What she does not have is a permission to set up a toll road or a right to dispose of the road that was once built on the money of the residents. All she has is a lease agreement on a land plot in the woods that run along the edge of the road, and the patronage of two men. One is Herman Tyukhtyaev who was convicted for causing bodily harm and death. The other is Timur Klinovsky, an influential entrepreneur who made his fortune in the shady land transactions in Odintsovo district of Moscow region.
The road in question leads from Rublevskoe highway to cottage residential areas Diplomat and Hermitage and is the only transportation artery linking them to the highway. Diplomat settlement has been around for a long time now; some of the land plots were distributed among Russian Foreign Ministry employees back in the Soviet era. Ten years ago residents decided they wanted to invest in construction of a good road to the village. They obtained all the necessary permits and had concrete slabs laid and the road paved at their own expense. Soon a new settlement, Hermitage, was built nearby. Residents of the new one also took part in road maintenance. Two years ago a new construction site was set up in the area to build yet another villa community. Construction was operated by Ekodom LLC owned by Irina Tyukhtyaeva, wife of Leonid Tyukhtyaev, the president of Balloon Federation of Russia and Sudostroitelny Bank co-owner and board chairman. After causing quite a bit of damage to the one transportation artery in the area by running heavy construction equipment along it, the company has decided to contribute to the improvement of the road. However, after that the residents of Diplomat and Hermitage found it difficult to use the road, as in May 2013 Ekodom sent out notification letters saying that starting July 1 residents would have to pay to use the road. By the named date the road was set off with barriers and equipped with check points with guards and payment terminals.
Pedestrians and cyclists were lucky: they were allowed to use the road for free. The cost of a single passage of a car was now worth 100 rubles, trucks had to pay 500 rubles to use the road. All car owners from nearby cottage settlements were offered monthly passes worth 1500 rubles.
At first residents of Diplomat and Hermitage thought that there was some mistake. Especially in a situation when, in accordance with Russian legislation, toll roads may exist only if there is commercial free alternative route. And in this case this road is the only route existing to their homes. However, when they addressed authorities to clarify the situation, it turned out that the piece of federal jurisdiction forest land surrounding the road was effectively leased to Ekodom (contract № 50-0317-03-05-0504 signed 4 October 2011).
And despite the fact that the contract stipulates that "the lessee has no right to prevent business and personal vehicles pass along the road," Ekodom management still decided to take money from villa communities residents. Some other actions undertaken by the lessee also proved to be illegal, since the company did not have any permits for the construction and opening of the toll road. Authorities gave no certain answer to the formal request filled against arbitrariness of Ekodom LLC; all they did was that they gave a vague promise they would look into the matter.
Then the villa communities' residents decided to talk directly with the company's leadership, asking to stop tyranny, but Irina Tyukhtyaeva boldly told them that they would have to behave and pay. Those who still had a problem with it she welcomed to have a chat with her brother-in-law, Herman Tyukhtyaev, who apparently knows how to handle disgruntled people as he has criminal record for inflicting grieve bodily harm leading to fatalities. Or they could chat with the local crime boss Timur Klinovsky, she said.
Attempts made by residents of Diplomat and Hermitage to appeal to the district municipal authorities have led to the situation where at the meeting with heads of the settlements and Vladimir Bogdanov, the head of the rural settlement Nazarevskoe in Odintsovsky district of Moscow region, representatives of Ekodom talked with the district head as if he was a subordinate, and he patiently put up with any abuse in his address.
Who are the corrupt organizers of this business enterprise that looks a lot like a highway robbery? Irina Tyukhtyaeva highlights her being a well-known children's writer. Her grounds for that are that once she and her husband wrote a children's book "Zoki and Bada", which became extremely popular. However, rather than that she has no creative achievements to report. The Tyukhtyaevs are far more successful in business. Irina, Leonid and his brother Herman own an auditing company Mikropol-konsalting, Irina and Herman also own a consulting firm Finstroykonsalting. And in 2011 Ekodom LLC becomes Irina's main commercial project. The company provides brokerage services related to real estate and land, mostly in the prestigious district of Moscow region, i.e. in Odintsovo district.
Timur Klinovsky had caught police attention even before he became a successful businessman and made it to the list of richest people in Russia. They say, back in the 1990's he was in Moscow police databases as an active member of Orekhovskaya criminal gang and a close friend the gang's leader, Sergey Timofeyev a.k.a Silvester. It was at that time that Klinovsky started doing business. He and other Wimm-Bill-Dann co-owners bought four dairy farms near Rublyovo-Uspenskoe highway, including Gorki-2, Naro-Osanovsky, Moskvoretskoye and Makarovo.
When introducing himself, Timur now mentions his position as general director of Fitness-Gorki. He is the founder of a number of firms that own large plots of land in the suburbs of Moscow. In addition he has a reputation of Odintsovo district major land issues "reshalschik", i.e. problem fixer who resorts to dubious methods. His services are used by many businessmen and dignitaries. For instance, when solving his land issues, the former Prime Minister Mikhail Kasyanov even became one of his in-laws after in 2006 his daughter Natalia married Timur's son Andrey.
Experts say that virtually none of the more or less important deals with land in prestigious areas of the region goes without his direct involvement. And often such deals prompt scandals. Interest holders in several collective farms near Rublevskoe highway saw their land taken away by Klinovsky and his companions and are still seeking the restoration of their rights to the land lost through forged acts of voluntary transfer of land shares. In 2006 and 2008, defrauded investors held a number of protest rallies in the Red Square and near the White House. Some of the posters the picketers had were addressed personally to Klinovsky. One of the recent scandals took place in 2011-2012. In 1994, the head of Odintsovo district allocated Nov villa-construction cooperative two pieces of land in the village of Barvikha-Razdory that amounted to 40 hectares for the construction of houses and 14 hectares in joint ownership. In total, there were 306 co-op members. But in 2011 the majority of co-op members were surprised to find out that they no longer were the joint owners of the mentioned 14 hectares. It turned out that 12 people among them have created another entity with a similar name, a summer house consumer cooperative Nov, and forged documents to transfer all land into its ownership. And then they decided to sell the plot for its market value of about $ 35 million for summer houses construction. Among the members of the second Nov there were such famous personalities as actor Fyodor Bondarchuk, co-owner of a network of pharmacies 36.6 Artem Bektimirov, executive secretary of the State Duma Aleksey Seregin, and others.
Deceived cooperative members appealed to Odintsovo district police department which initiated proceedings over fraud on a large scale. It was only thanks to the intervention of Timur Klinovsky that the case was closed. Since at the time Oleg Sudakov, former assistant to police chief and a close associate to Klinovsky, was already in jail, Timur turned to Aleksandr Voronin, head of the Main Directorate for Investigations of the Russian Federation in Moscow region, who ordered to close the case.
In this situation it was not the first time that Timur Klinovsky helps the Tyukhtyaevs to solve problems they have with law enforcement agencies. In particular, in 2004 the above-mentioned Herman Tyukhtyaev, according to the Ministry of the Interior of the Russian Federation, was wanted under Article 111 of the Criminal Code, that is, for intentional infliction of grievous bodily harm resulting in death. In 2005 he was arrested and tried, but this murderer was not sentenced to imprisonment, which was not surprising as, first of all, he is a member of quite a wealthy family, and, secondly, he is friends with Timur Klinovsky.
So, perhaps, when you try to initiate a criminal case against people organizing "no money - no go" type of roads in Moscow region, the result is predictable: the case will be hushed up and the authorities will turn a blind eye to the dubious activities. As for residents of cottage settlements neighboring Ekodom, they will have to behave and pay to get to their homes using the road, or fly hot air balloons.