2015-11-01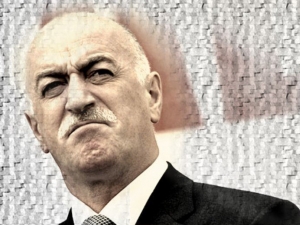 Attached dossier
Name : Taimuraz
Surname : Bolloev
Middle name : Kazbekovich
Post : Chairman of the board of BTK development
Thanks to contacts of Mr. Bolloev Company "BTK groups" remains for several years the sole supplier of clothing equipment for the Armed Forces (in the report for 2013 "BTK Group" reported that for the year concluded with the Ministry of Defense contracts for 58 billion. Rub.) Investigative Committee of Russia, the Interior Ministry, PPP Interior Ministry, the Federal Tax Service of Russia, Rospotrebnadzor, "Gazprom", "Aeroflot", "Children's World" and others.

Repeatedly JSC "BTK groups" frustrated timing of government orders and deliver the products that do not meet the technical requirements of the Ministry of Defense, however, accepted database products on the basis of arrangements in the central office and in the field.

But due Bolloev could not always help us to avoid problems. For example, the Defense Ministry has filed a series of lawsuits totaling more than $ 3.4 billion. Rubles. Almost all claims have been associated with the breakdown of the timing of public procurement and supply of goods of inadequate quality.

It seems that a large number of claims from the Ministry of Defence due to the fact that with the arrival of the army leadership as Minister Sergei Shoigu was careful approach to the selection of suppliers and control the execution of the orders of their predecessors.

So many questions have new leadership and the Ministry of Defence should have about product placement from subcontractors at a higher value without tender procedures, which led to the super-profits of companies affiliated with the leadership of "BTK Group", including Mr. Bolloev. This year, these excessive profits exceeded 150 mln. Rubles.

Among the affiliates' BTK Group "companies featured" Mayak-Service "," Samat, "" Consult-Service "," county "," Optima ", which, by the way, in the absence of even their own production sites of appropriate power pererazmeschaet received orders from subcontractors , including in the penal colonies of the FSIN.

Readers "Criminal Russia" seems to be a list of products placed at affiliated companies in 2015. So, based on the documents submitted, you will notice that orders for some items and re-housed with a significant cost difference.

The difference in price is to draw the attention of the current leadership of the Defense Ministry and the analysis of purchase prices of raw materials, fabrics and finished products which are purchased from subsidiaries of JSC "BTK Group" companies at inflated prices - "BTK Textiles", "BTK Knitwear," "BMK Melanzhist Altai" "BTK 4", "Carolina." So the company "BTK Group" headed by Mr. Bolloev and with the complicity of the Director General Dracheva, a former FSB officer and his deputies Podobedova and Shiyan simply deduced budget.

In the next article, dedicated to criminal activities of Mr. Bolloev and his companies "Criminal Russia" will reveal information about how the budgetary funds "flowed" from Russia and "settled" in foreign accounts, enriching their owners.

"Criminal Russia" hopes that illuminated the topic will not go unnoticed by the Investigative Committee and the Prosecutor General of Russia, and relevant bodies initiate checks in respect of these companies and personally Mr. Mr. Bolloev.