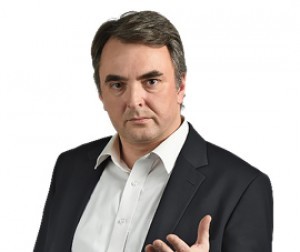 Name: Mikhail
Surname : Khabarov
Middle name : Valentinovich
Post : Chairman of the Management Board, CEO of National Bank Trust
Post: First Deputy President-Chairman of the Management Board, CEO of the Non-core Assets Bank - National Bank Trust
Biography:
He was born in 1971 in Zlatoust, Chelyabinsk region.
Khabarov's higher education began at the Moscow Institute of Steel and Alloys (since 2008 been renamed to the National University of Science and Technology MISiS), where he graduated in 1993 with a degree in automation of metallurgical production. In 2001, he obtained an MBA at Pepperdine University (California, USA).
At present, Khabarov holds position of the First Deputy President and Chairman of the Board of Trust Bank; and Chief Executive Officer (CEO) of the noncore and bad assets National Bank Trust. Previously, has assumed the following roles: President of A1 Investment Company; Chairman of the Board of Directors of Alfa Capital; and Member of the Supervisory Board of Alfa Group. He has also worked for the ROSNO insurance group, Inkombank, the Magnitogorsk Iron and Steel Group and the Ministry of Ferrous Metallurgy of the Russian Federation.
Known in some quarters as a "highly paid collector," Khabarov is renowned for his organization of, and involvement in, dozens of corporate conflicts and raids.
Files:
Zlatoust: From the Depths of Industrial Siberia
Mikhail Khabarov was born in the city of Zlatoust, Chelyabinsk Region, where, for centuries, life revolved around a metallurgical plant. The uprising led by Emelyan Pugachev in the 18th century, mines and Ural pits, and Russia's first blast furnaces and open-hearth furnaces were what the city and its plant were best known for. However, the Zlatoust plant was declared bankrupt in the early 21st century. The son of a metallurgist, and future mastermind of the forced bankruptcies of some of Russia's largest enterprises, Khabarov dreamed of breaking out of the Ural outback from an early age. Having finished school, against his father's wishes, he fled his industrial hometown to seek success in Moscow where he gained admission to the Moscow Institute of Steel and Alloys. Though he would go on to become a multi-millionaire, Khabarov's working career had a modest start, as he earned money washing windows and selling ice cream. But such humble beginnings were soon forgotten when, according to some biographical sources, he "stumbled" into a "gold mine" while still a student.
MISiS: Cradle of Metallurgists and Billionaires
In the 1990s, the Moscow Institute of Steel and Alloys, a traditional Soviet institution that ordinarily gave educational groundings to mining engineers and metallurgists, nurtured various future entrepreneurs, industrialists and business leaders. Indeed, among its graduates are billionaires who routinely feature in the Forbes List of the world's billionaires - Alfa Group co-owners Mikhail Fridman, German Khan and Alexey Kuzmichev. Khabarov has repeatedly emphasized that his experience of studying at this institute allowed him to create a trusting relationship with Fridman and that this played an important role in his promotion through the Alfa Group ranks.
Inkombank's Tampering in Magnitogorsk Steel
According to Khabarov himself, immediately after graduating from the institute in 1993, he started a job at the Ministry of Ferrous Metallurgy of the Russian Federation. However, the nature of this job is unclear, and he recalls that it involved little more than paperwork.
Within a year, he had moved on to Inkombank, where he gained valuable experience in corporate finance management that he would later put into practice in various corporate conflicts and raids. It was the time of the mid-1990s when the process of privatization and redistribution of property began in the country. Working on the valuation of shares of industrial enterprises, Khabarov quickly mastered shadow schemes and manipulative techniques that he would later put to emphatic effect.
A particularly notable stage in his career was his participation in the privatization of the Magnitogorsk Iron and Steel Works. In 1996, he was assigned by Inkombank (the "overseer") to the Magnitogorsk Steel Financial-Industrial Group (FIG). Both the bank and the FIG were then the largest private shareholders of the Magnitogorsk Iron and Steel Works, where Khabarov immediately took up the post of Deputy Director of Economics, Finance, and Strategic Development. By 1998, a struggle for control of the enterprise escalated, in which Khabarov unexpectedly replaced Rashit Sharipov, an avid opponent of Inkombank's role in the plant, to assume the position of General Director of the Magnitogorsk Steel FIG. It was subsequently found that Sharipov had transferred a 30% share of the Magnitogorsk Iron and Steel Works to structures under his personal control. Sharipov, as its CEO, had also overseen significant deterioration of the plant's financial position. The scale of the damage done ultimately led to criminal charges being brought against Sharipov and his subordinates, as well as the arrest of several top managers of the FIG.
It was around this time of high controversy that Khabarov hastily left his native Russia for the United States, despite his eldest daughter being only two-years-old. Officially, the reason given for his departure was a desire to obtain an MBA degree at Pepperdine University in California. But the timing of this educational opportunity appeared suspiciously convenient to many observers, some of whom expected Khabarov to have been next in line for criminal prosecution had he remained in Russia.
Growing with ROSNO
Khabarov returned from the United States in 2001, by which point the dust around Magnitogorsk had settled. He was immediately hired by ROSNO insurance group, initially as Financial Director and then as First Deputy General Director. But his time in these positions at ROSNO appeared unfulfilling with respect to his aspirations for personal wealth .Three years later, in 2004, he was made head of the Allianz Rosno Asset Management, to which Allianz Group and AFK Sistema transferred their non-core assets. Here, Khabarov emerged as an independent force in the corporate conflict market, with many business representatives turning to the alliance, and specifically Khabarov, for services. The first deal that he oversaw here was, in itself, responsible for raising hundreds of millions of dollars.
Fridman now started to take notice of Khabarov, and gained an appreciation for his limitless ambition and expedience in resolving corporate disputes. Indeed, he was so impressed that he lured Khabarov to Alfa Group.
Alfa and Corporate Warfare
In 2006, Khabarov left ROSNO for Alfa, taking with him a team of 24 employees. He served as Chairman of the Board and CEO of Alfa Capital for four years, when his career arguably peaked with the establishment of A1 Group. Balancing the posts of Chairman of the Board of Directors of Alfa Capital and Membership on the Supervisory Board of Alfa Group, Khabarov became the new President of A1, giving him virtually unlimited investment powers with which he gained notoriety as a raider, racketeer and collector in the market.
Positioning A1 as a company specializing in resolving corporate conflicts and supporting companies in difficult financial situations, Khabarov essentially created an effective template for aggressive mergers, forced bankruptcies and takeovers of enterprises. A1 benefited significantly from most conflicts engaged in under his leadership, and was certainly never harmed nor punished for such activity. Khabarov's team acted with impunity, reassured by the full support of the Alfa leadership.
With an obsessive devotion, Khabarov led and waged one corporate war after another, including the following notable examples:
• Coal company Zarechnaya (part of the state-owned enterprise Uralvagonzavod) The A1 team under Khabarov management orchestrated the exertion of real pressure on the Uralvagonzavod management, senior officials and security officials, threatening them with inclusion in international sanctions lists if they failed to adhere to Khabarov's demands.
• Low-cost airline Avianova The Managing Director of the airline was removed from his post following the direct participation of Khabarov, after which A1 had the airline classified as unprofitable, forcing it to cease its operation.
• Calculating-Analytical Machines Factory named after V.D. Kalmykov (JSC Plant SAM) Khabarov was engaged in the greenmailing of this enterprise, and extorting shares from its management. In the ensuing struggle for the assets of this strategic enterprise, its acting general director was killed.
• Stroyfarfor Khabarov initiated a corporate conflict between the shareholders of this company, the largest manufacturer of ceramic tiles in Russia, after which ownership of the company was completely transferred to A1. Stroyfarfor withdrew all of its liquid assets, while its debts, including those to the state, went unpaid.
• Kopernik Group Khabarov initiated a series of armed seizures of assets to recover debts owed to Alfa-Bank.
• A5 pharmacy chain Khabarov put pressure on minority shareholders to sell their shares to the chain's main owners.
Alleged bribery and extortion
Khabarov left A1 at the end of 2014 to take on a role at one of the country's largest road freight carriers, the Delovye Linii Group. There, he has been pursuing the company's founder, Alexander Bogatikov, demanding one-third of the total shares of the enterprise, using extreme pressure tactics and attracting accusations of extortion in the process. This particular corporate raid involved A1 and also implicated Natalya Karpenkova, a judge of the Primorski Court of St. Petersburg.
Raider under Trust Bank's Protection
Khabarov was appointed Chief Executive Officer of the non-core assets bank - National Bank Trust on 20 May 2019. His department is officially responsible for managing distressed assets but, in reality, its structure and practice is similar to that of A1. As CEO, Khabarov was tasked with recovering debts worth more than 2 trillion rubles. Operating under the protection of a state bank, Khabarov has since proceeded to deploy all sorts of raider tactics to collect said debts.
There was outrage among the Russian business community in response to the appointment of Khabarov, which was made personally by Trust Bank President, Alexander Sokolov. The latter had earlier assumed his prestigious position thanks to his close relationship with former Finance Minister Mikhail Zadornov. Zadornov himself headed the setting up a bank for non-core and bad assets on behalf of Elvira Nabiullina, head of the Central Bank. Ultimate responsibility for policy relating to personnel in Trust Bank, as well as for the activities of its CEO, falls on the head of the Central Bank.
Soon after Khabarov's appointment as CEO, Sokolov made him his right-hand man in the summer of 2019. Later that year, in the fall, the Non-Core Assets Bank announced the collection of debts from its largest borrowers, leading to the bankruptcy of dozens of companies, including industry-leading enterprises that worked for the government and those working on matters of national security.
Representatives of the bankrupted companies claimed excessive pressure had been applied by Khabarov's subordinates, including blackmail, threats, and initiation of bogus lawsuits while also citing an obvious desire on the part of Khabarov to ruin enterprises to appropriate their assets and gain complete control over them.
The actual "forcing out" of assets and property carried out under Khabarov's orders through the years has followed the same pattern of merciless tactics, with the only difference now being that he is acting behind the shield of a state-owned bank.
Private Life: Family, Skiing and Poker
Khabarov is married, with two daughters and a son. He professes an interest in skiing (both the mountain and water varieties) while he is also a keen poker player, competing regularly in international events such as the World Poker Tour.