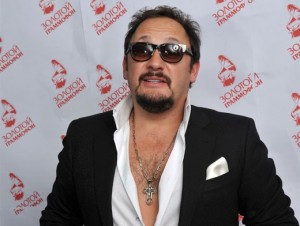 Name: Stanislav
Surname : Mikhailov
Middle name : Vladimirovich
Post : Russian pop singer, songwriter, Honored Artist of the Russian Federation
Biography:
Stanislav Mikhailov was born April 27, 1969 in Sochi, the Krasnodar Region in the family of the pilot and the nurse...
The future singer studied at the Minsk Flight School for 7 months, but dropped out and was called up for military service in the Rostov-on-Don as a driver at the headquarters of the Air Forces of the North Caucasus Military District. Demobilized, Mikhailov was studying in the Tambov Institute of Culture for some time, but not graduated it, returned to his native Sochi, where he began to work - was a merchant (engaged, in the words of Mikhailov, in video rentals and machines, baking buns), worked at the recording studio, performed in the Sochi restaurants.
In 1992, Stas Mikhailov went to Moscow, where he is unsuccessfully engaging in videotapes delivering. In 1992 he wrote his first famous song - "Candle". In 1996, after several years of work in the theater, he went to St. Petersburg, because he wanted to finish their debut album - "Candle", released already in 1997, but, according to Mikhailov, didn't bring an expected income. Due to this failure, the singer and his family returned to Sochi, finally moving to Moscow only to the beginning of the 2000s. Soon the song of Stas Mikhailov "Without You" sounded on the radio, which came further in the first successful and the third in a row in the quarry release of the artist - 2004 album "The call signs for love", whereas the second album, released in 2002, "Dedication" has not gained a wide popularity. In 2004 Mikhailov recorded their second clip, and appears on "Radio Chanson" in the following year.
In March 2006, Mikhailov successfully performs in the Concert Hall "October".
At the end of the year the album "Dream Coasts" comes out, the clip on the same song if filmed, and his first solo concert takes place in Moscow in the concert hall of the hotel "Cosmos".
In 2007 is published a collection of songs of the singer, "All for you" and a new album, "Heaven", with the presentation of which in April 2008, Stas Mikhailov first appears on the stage of the State Kremlin Palace. A clip for the song "You!" is filmed.
In 2008, the second compilation album of Stas Mikhailov songs "Unexpected Love" is released, and in December - the album "Life is a River", with the presentation of which the actor collects five concerts in the Concert Hall "October". A clip on the song "The Wanderer" is filmed. For the album "Life is a River", together with singer Zara, Mikhailov records duet "Let's Fly."
In 2009, Stas Mikhailov receives two awards - Radio Chanson calls him "The Artist of the Year" and for the song "Between Heaven and Earth", on which the clip was filmed, he was awarded the National Prize "Golden Gramophone". With the same song Mikhailov made his first appearance at the annual Festival of Song of the Year.
In 2010, the album "Alive" is released, which is presented in three concerts on the stage of the State Kremlin Palace, and the collection of "Best Songs on the BIS." With the song "Release" December 4th duet of Stas Mikhailov and Taisiya Povaliy becomes the winner of the prize "Golden Gramophone". According to opinion of RPORC in the nomination "Singer of the Year" Stas Mikhailov took the third place, losing only to Philip Kirkorov and Nikolai Baskov. In 2010, sales of albums of Stas Mikhailov reached record levels during the year.
December 29 Stas Mikhailov by the decree of the Russian President Dmitry Medvedev was awarded the title of Honored Artist of Russia; however, he was invited to a ceremony only in early 2013.
In 2011, the artist with three concerts (March 31, 2 and 4 of April) at the State Kremlin Palace has introduced a new program "Only you", and on June 21, the company Kvadro-Disk released a same-titled album.
25 July 2011 «Forbes» magazine published a rating of "50 major Russian celebrities," in which Stas Mikhailov shifted tennis player Maria Sharapova from the first place, which has consistently ranked first in the list of Russian stars for the past six years. The singer fell into the magazine «Forbes» rating for the first time.
Concert at the Festival, 2015
In September, Stas Mikhailov was included in the Public Council under the State Ministry of Interior.
In December 2011, at the State Kremlin Palace, and the Concert Hall "October" singer presented the acoustic program "I will open my heart", accompanied by a symphony orchestra.
February 6, 2012 has been officially registered as a trustee of the candidate for president of Russia and the current Prime Minister Vladimir Putin.
March 26, 2013 Mikhailov released an album, "Joker", in 2014 - the album "1000 steps".
A family
Father - Vladimir Mikhailov, the pilot.
Mother - Lubov Mikhailova.
The elder brother - Valery Mikhailov, the pilot, died. Buried in Adler.
His wife Inna, nee Ponomareva, the first marriage - Kanchelskis (9 May 1973 Kirovograd, Ukraine), which Stas met in 2006, the wedding took place on August 12, 2011.
The family of Mikhailov has six children:
Two children of Stas - son Nikita (2001), from his first marriage with Inna Gorb, and daughter Daria (2005), from the novel with a cousin of singer Valeria Natalia Zotova, children from his first marriage of Inna with a football player Andrei Kanchelskis - Andrew (1993) and Eve (1999), common daughters of Inna and Stas are Ivanna (2009) and Mary (2012).
Wikipedia
Dossier:
Stas had no producer, as such. In 1992, Mikhailov participated in the competition "Midshipmen of the Estrada" in Sochi and asked Bari Alibasov for help, a member of the jury. "In order to achieve something, you have to kneel before everybody - he said pointedly. - And if you cannot, you have no place in show business." Another producer has asked Stas $ 700 thousand for a promotion - a huge sum for a beginner artist! Now, by the way, they take a lot more expensive - a few million dollars.
FM-TV.ru, 26.10.2010
Last year, many newspapers wrote, how ugly Stas parted with his family. As it became known, a favorite of many women acted in a similar way not only in his personal life. So he also did with the people who promoted him to the Olympus of the Estrada. One of them was the producer Valery Hudoshin, who was one of the first organizers of concerts of Mikhailov; why he is mortally offended by Stas now, told us a friend of the singer. He said that Hudoshin, practically investing nothing in Stas, and not helping him in the organization of their performances, after a while, said that Stas owed him 10 percent of the proceeds from each concert. Stas is trusting as a child by nature. At first, he was willing to pay, but then some inconsistencies took place, and they quarreled at all. As Hudoshin said, Stas agreed to pay me interests and then he abruptly changed his mind. He justified himself by stating that he had done so much for Stas. Arranging the repeating of his songs on the radio, organizing concerts and others. During our differences Saxonov saw prospects in Mikhailov, and ran after him after each concert. And he spoke his teeth, and then began to fully organize performances of the singer.
Silver-age.info, 08.10.2011
As the colleague of Mikhailov a singer Slava Medyanik told us, there was a man in Moscow, who played a big role in the life of the star. He is a former "authority", and now a respected businessman Vladimir Melnikov.
Melnikov has actually become an "artistic father" of Mikhailov. Not only helped him (at that time in the great need, wandering the rented apartment), with the money, raised funds of partners for promotion, but also introduced his protégé to everybody, helped to find good arrangers, musicians, put together a team, to do PR, - says Medyanik. - However, when Mikhailov things went uphill, he stopped communicating with him - they didn't have any contract, after all.
Mikhailov earned $ 20 million for a year. If we calculate, it means he had to give a concert every day, collecting 50 thousand dollars. Of course, it is impossible to perform like this. But the main source of income of the singer - is not only concerts, but also corporate parties.
To invite Mikhailov at the corporate, you have to pay 100 thousand euros. (For comparison: the King of Pop Kirkorov cost 30 thousand dollars)! And Mikhailov is paid! Today, oligarchs like to surprise their loved ones or business partners "with the most fashionable family singer", as Mikhailov is called. They say, speculators sell tickets in the VIP-box for a million rubles.
Komsomolskaya Pravda, 04.08.2011
Vladimir Melnikov saw a future star, brought to Moscow, dwell at his home, put a lot of money in him, was negotiating for his songs to be heard on the radio, and then stayed out of work. Melnikov is not just sensitive to the last name of Mikhailov; he struck him out from their live.
Vladimir Melnikov: "The man with the same name and surname doesn't exist among my familiars, and more friends. I do not want to talk about him, neither good nor bad. I just do not want to. "
Elena Matveeva also was "lucky" to work with the singer. Stas Mikhailov just threw her. Elena has put in Mikhailov her heart and soul with the money.
Elena Matveeva, "We have agreed to do a concert. According to the conditions, a big, detailed advertisement had to go. Hall rental, sound, light - it is about 15 thousand for each performance. Security was paid. On the appointed day and hour, the singer came to the concert. No meetings, no wires, no protection. He went out of their car, looked around and introduced himself. I am Stas Mikhailov»
Mikhailov was not a star at that time, but already demanded the star fees - 25 thousand dollars for a concert. After the performance, the actor took not only his fee, and all the money, raised from the sale of tickets, and left Matveeva with nothing.
Elena Matveeva, "It was a shock. All the money of my company had been invested in this project. There was a verbal agreement with the director that I pay them a fee for two concerts. "
Now Stas Mikhailov earns millions, built a house on the ruble with an area of 400 square meters, bought three apartments in Moscow, and Elena still pays the debts for his concerts.
NTV, 28.11.2011
Expensive stars remain to be Elena Vaenga, Nikolay Baskov and Philip Kirkorov: will have to pay 300 000 euro for them. But Stas Mikhailov recently refused to perform for a quarter of a million euros, calling the money pennies. "He is ready to ditch his own New Year's Eve for only 500 thousand Euros.
Vokrug.TV 2011
Recall that an oligarch Vladimir Melnikov, who owns the company making denim clothes, helped Stas Mikhailov to become a star. It was he who brought the novice actor in Moscow and arranges a performance for him there. However, after the singer became a millionaire, he forgot about his patron and now in numerous interviews he claims that all his successes is a "merit of God."
Moreover, Stas Mikhailov did not seem to notice any crisis in his creative career. Otherwise, instead of having built a luxury villa worth at least $ 1.5 million on the Montenegrin Lustica peninsula and buying her younger daughter, who was born in the fall, a luxury home in Verona, the singer would have bothered to change his repertoire.
EvroSMI, 25.11.2012
- What do you mean less - fees of Mikhailov and Vaenga are going through the roof, they collect stadiums.
- This is purely a money laundering!
- Tickets are bought for six thousand voluntarily.
- They are not selling out. They say that the actor is paid one sum, and actually they pay him another, and the difference is placed in a pocket. A budget is given them for that. They come to any state structure, give tickets on Mikhailov, and wrote a round amounts in the statements. All this is an underground business: a lot of money is laundered with the help of Stas Mikhailov and Vaenga! Therefore, they have concerts. Therefore, they are not really outraged by what is happening. They are fine.
Komsomolskaya Pravda, 02.11.2013
It was noted that Mikhailov composes music and lyrics of their songs by himself, although in 90 years, his first wife wrote poems for him (according to "Express newspaper," she wrote only one poem for him, and it turned out to be plagiarized). Style, which Mikhailov performs, the press defined as a "non-prison" Russian chanson. The singer and composer himself stressed that before him, "the Russian chanson genre was highly directional", and his songs are not deterred with "the thieves'" and therefore it enjoys a great success in female audiences.
Lenta.ru, 2013
Six months later, Stas resigned as a porter and went to the army. He was sent to serve in the Rostov-on-Don. The young man drove on the black "Volga" of the Air Force commander of the North Caucasus Military District.
After the army Stas Mikhailov began free life. He earned not bad money at the slot machines in the casino. This "easy life" sucked future celebrity. But everything turned in his head literally in half a year - Stas Mikhailov elder brother died. Immediately out of the boy actor became a man.
uznayvse.ru, 2014