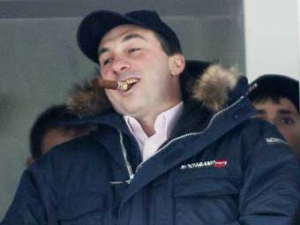 Name: Yevgeny
Surname : Giner
Middle name : Lennorovich
Post : The owner CSKA
Biography
Yevgeny Giner was born on 26 May1960 in Kharkov (Ukraine). He studied in Kharkov Public Building Institute, though he didn't finish it. In 1986 he left for Moscow.
Since 1991 he has engaged in private business. According to his own words, he has direct relation to the energy and automobile business. However, mass-media said that he associated with several merchandise markets, including the former market in Luzhniki Sports Complex.
Vice-Chairman of the State Duma of the fifth convocation and ex-leader of Just Russia Party (Spravedlivaya Rossiya) Alexander Babakov was his business partner.
Since February 2001 - President of PFC CSKA (Moscow)
From 2004 to 2006 - Russian Football Premier League President
Under Giner, PFC CSKA won three Russian Championships (2003, 2005, 2006), six Russian Cups (2002, 2005, 2006, 2008, 2009, 2011), four Russian Super Cups (2004, 2006, 2007, 2009) and the UEFA Cup (2005). It also reached the stage of the Champions League quarter-finals (2009/2010).
Source: Wikipedia


Dossier
There was a fierce struggle for Luzhniki market: dead bodies were found in the outlets, conflicts with the use of knives flashed regularly. The area of ​​high intensity and big money attracted the authority attention. The Head of MVD (the Ministry of Interior Affairs) Vladimir Rushailo even ordered to compile dossiers on the people who were fighting for the sphere of influence in Luzhniki. Among the fighters for the place in the sun were the leaders of Solntsevo, Izmaylovo and Lipetsk gangs. The Lipetsk's gang established control over the market by early 1993. It was the beginning of "luzhnikovskiye" who were the mixture of Lipetsk and Ukrainian gangsters.
As the police believed, the daily control was exercised by three persons: a criminal authority Maxim Kurochkin (Mad Max), Alexander Babakov and Yevgeny Giner.
The legal body, which became the informal management company of Luzhniki market, was created by Babakov and Kurochkin: in 1993 they established TOO Bavas (specialized on wholesale trade). According to Moscow police, Yevgeny Giner was listed as Bavas manager. With this TOO, the market pricing changed dramatically. In 1993 the informal monthly rent (14 thousand dollars) was added to the official one (1.5 thousand dollars). Everybody had to pay, and those, who did not pay, had to deal with the "service" – PSF (ChOP) Garant employees.
Source: Novaya Gazeta, 16 September 2011
On 24 December 2004, a people's deputy of Ukraine David Zhvania suggested in an interview that Maxim Kurochkin was involved in Ukrainian President Viktor Yuschenko's poisoning. Zhvaniya said: "There is a Kurochkin. He represented the so-called Russian club in Kiev. He didn't hesitate to say openly that he had boys and different FBI stuff that would help him to eliminate Yuschenko. He said that he was ready for anything".
Source: Tribuna (Ukraine), 1 April 2005
When in March of 2001 CSKA moved to the hands of new shareholders, it was called as a "bolt from the blue". However, in oral discussions people usually used a meteorological term – fog. The price of moving the control packet of shares from its former owners Armis Sports Group (the actual owner of the club was Shahroudi Dadakhanov) to the newly-formed, shortly before this deal, Bluecastle Enterprises British company, was never disclosed. Bluecastle Enterprises owned (and still owns) 49% of the club, ABO Capital Investment Company - 26.1%, the Ministry of Defense - 24.9%.
It is noteworthy that as a result of changes in ownership, the share of the Defense Ministry grew tenfold - from 0.6% to 24.9%. This point indirectly proves popular rumors about the forcing of the former co-owners to give the club up.
Few knowledgeable in football business people doubt that it is Roman Abramovitch who stands for the British investors. Even a light analysis of the origin of the companies which own CSKA is enough to see the threads to Aleksandr Mamutov who was often a broker of Russian oligarchs.
An expressive example of the grade of Yevgeny Giner's openness was a presentation of three-year sponsorship contract on $54 million between CSKA and the Sibneft in 2004. By that time, Giner had been frequently seen in company with Roman Abramovich at London Chelsea games and even he had been heard to call him a friend.
Source: Kommersant, 24 May 2005
In February 2005, Khamovniki Prosecutor's Office in Moscow initiated a criminal investigation of attempted murder of 23-year-old Vadim Giner, the son of PFK CSKA President Yevgeny Giner.
At the same time, they said that the attempt on Vadim Giner could be related to several other crimes committed in Moscow and in Kiev. It was about the attempted murder of Maxim Kurochkin, the head of the Russian-Ukrainian Business Club. In November 2004 in Kiev, his car was blown up but he miraculously was not injured.
More, on Februry 4, the deputy director of PSF (ChOP) Alyan (and in fact the head of Kurochkin's bodyguards) Vitaly Ivanov was shot dead.
Source: Kommersant, № 23 (3107), 10 February 2005
According to the SPARK database, Bluecastle Enterprises Limited owns 49.21% stake of ZAO PFC CSKA, whereas ABO-Capital – 26.1%, and SFO Ministry of Defence - the remaining 24.94%. In its turn, Bluecastle Enterprises Limited owns 100% of ABO-Capital.
According to Bluecastle report, the company, and therefore PFC CSKA as well, have two owners: Dutch Macasyng Holding and Luxembourg Era Intermedia. Each owns 50% stake of Bluecastle. Macasyng does not have any employees; and its core activity is to own a securities portfolio. Macasyng' management company is a firm Beheersmaatschappij Larix, which is part of Vistra Group, providing a variety of corporate services: registration of companies, offshore, management, trusts, etc.
Era Intermedia beneficiaries also remain in the shadows, but it is known that in December 2009 Vadim Giner became administrator of this company. At the same time, he became director of Luxembourg Sensei International Company (largest creditor of Bluecastle).
Untill June 2008, the Sensei International owned British Witherron Ventures Limited company. Also it is mentioned as a related party in the accounts of another British company, Goldwing Capital Limited.
In their turn, Witherron Ventures and Goldwing Capital were share-holders of the Dutch VS Energy International Holding. This holding and related companies own considerable assets in the Ukraine: power sector (Sevastopolenergo, Odessaoblenergo, Khersonoblenergo, etc), hotels (Premier Hotel network), finances (First Investment Bank), transport, agriculture, real estate, land.
The Ukranian press repeatedly claimed that Yevgeny Giner, Alexander Babakov, Mikhail Voevodin and Sergey Shapovalov were the beneficiaries of the group VS Energy International.
Source: Russian Forbes, 2 August 2011
In 2012, ten well-known and influential Russians created a non-profit partnership Vremena Goda (The Seasons). The project was registered in January and it was headed by Andrey Malev, assistant of Sergey Chemezov, director of Rostekhnologii (Russian Technologies). In his first interview, Malev said that he and his friends were fond of hunting and therefore, most likely, the project would be bound with the hobby. ("They know what they want, but they do not understand to what extend yet", - Malev pointed). "They are ordinary people united by love to nature, tourism, journeys and active rest", - he added.
According to the USRLE, the former assistant of two Russian Presidents Sergei Yastrzhembsky , President of Troika Dialog Ruben Vardanyan, the Head of Rostechnologii (Russian Technology) Sergey Chemezov, his deputy Igor Zavialov, Moscow chief obstetrician-gynecologist Mark Kurtser, Senator of the Federation Council (of Kurgan region) Igor Lisowsky, president of PFC CSKA Yevgeny Giner, the head of Vimetco Aluminium Holding Vitaliy Maschitsky, the co-owner of Karo Film Oleg Andreev, the governor of Samara region Vladimir Artyakov are among the founders of the partnership.
Source: Marker, 3 April 2012