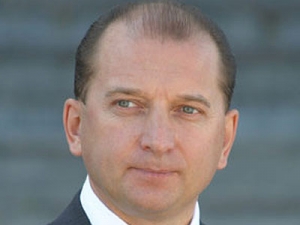 Name: Vladimir
Surname : Artyakov
Middle name : Vladimirovich
Post : Governor of Samara Region
Biography:
Vladimir Artyakov was born on July, 30, 1959 in Moscow region. In 1986 he graduated from the All-Union Red Banner Polytechnic Institute of Correspondence Studies, receiving a degree in construction engineering and began working in Glavmosstroy, which at that time was a state-owned construction firm in Moscow. By 1990 Mosgorispolkom (Moscow Executive Committee) designed and implemented the market-driven system of non-budgetary territorial cross-sectoral production and technical departments in 24 districts of Moscow.
In 1997-1999 he worked in the President's Administrative Directorate of the Russian Federation.
In 1999-2000 he was deputy CEO of Federal State Unitary Enterprise Promeksport.
In 2000-2006 he was of Federal State Unitary Enterprise Rosoboronexport.
In 2005-2006 he was Chairman of the board of directors of AvtoVAZ.
Since December 2006 he has been President of AvtoVAZ Group.
In May 2007 he was elected first deputy chairman of the Russian Union of Mechanical Engineers.
Since March, 11, 2007 he was deputy of the Samara Regional Duma.
Since August, 29, 2007 he has been Governor of Samara Region.
Awards:
Order of Friendship
Medal for Strengthening of Brotherhood of Arms
Laureate of the Government of the Russian Federation Grant in science and technology.
Yuri Artyakov, senior vice president of administration for working with corporate clients in AKB Novikombank CJSC, is the brother of the governor of Samara. During Artyakov's governorship the bank as involved in various scandals surrounding the financial transactions related to budget money.
Artyakov has a doctoral degree in economics (in December 2005 it was reported only about him having the degree of candidate of economic sciences). He was mentioned as a professor of the Academy of Military Sciences and the Academy of Security, Defense, and Law Enforcement, closed down in late 2008. He was a member of the board of trustees of the nonprofit organization Joint Pension Fund, was a member of the expert advisory board to Sergei Stepashin, the chairman of the Russian Audit Chamber.
He was one of the authors of the book Military-technical cooperation of Russia with foreign states on the turn of the century, published in 2002 under the editorship of Sergei Stepashin. In 2001-2005 he published at least six scientific researches all in all.
Artyakov defended his thesis on "Optimization of offset activities in the military-technical cooperation of Russia with foreign states."
According to published reports, in 2010 Artyakov earned 12.6 million rubles. He owns a garden plot, three plots of land for individual residential building, three apartments with a total area of ​​almost 600 square metres, two garages, and 390 square metres of non-residential premises. No vehicles are mentioned in his tax report. Income of Artyakov's spouse amounted to 649 thousand rubles. She owns a Lexus LS600. All real estate owned by the Artyakovs is in Russia.
He has a son and a grandson.
Source: Wikipedia
Dossier:
In 1997 Artyakov became head of the Russian property abroad department within the Department of Presidential Affairs of the Russian Federation. This department was supervised by Vladimir Putin, who from August 1996 to March 1997 served as deputy head of President's Administrative Directorate, Pavel Borodin being the head of the Directorate. In 1998 Artyakov was appointed deputy head of Foreign Economic Relations Department of President's Administrative Directorate, headed by Sergey Chemezov. In 1999 Artyakov followed Chemezov and started working for the Federal State Unitary Enterprise Promeksport, becoming deputy CEO and chief of the department of export-import operations and specialized software
Source: Kommersant, 28 August 2007
According to some experts, in April 2005 Governor Titov was able to gain the trust of President Putin and to keep his position as head of the region having agreed to assist in the penetration of Rosoboronexport to AvtoVAZ. Vladimir Kadannikov, head of the plant, tried to resist a change of ownership, lost the battle, and resigned.
Source: Chronograph Togliatti, 22 May 2006
In December 2006 - August 2007 Artyakov served as president of AvtoVAZ and received about 1.5 billion rubles only in bonuses. It became known from his tax return. Artyakov, who in August 2007 became the governor of Samara region, filled out and publicized the tax return in connection with participation in the elections to the State Duma in December 2007. The declared bonus was so high and looked so defiant, that it immediately made Artyakov known in the country as the governor with the highest annual income.
According to media reports, Artyakov returned AvtoVAZ 1.5 billion rubles. He explained his decision as a desire to put an end to the numerous reproaches in his address concerning the bonus and also to financially support AvtoVAZ.
Source: Komsomolskaya Pravda, 15 October 2009
In 2009, after the widely publicized in the media announcement by Artyakov, the press service of AvtoVAZ actually refuted him returning the 1.5 billion rubles bonus. Aleksander Shmygov, spokesman for AvtoVAZ, said "I would say that this message is a provocation. It generally can be considered as bribing the president and as if saying "look how smart I am, let me stay on governor's post".
Source: solomin, 21 October 2009
In 2009 the media reported that Artyakov began using for transportation an armored Mercedes S600 Guard which cost the budget 22.5 million rubles. This is a record among the officials; only the president and prime minister use more expensive cars.
Meanwhile, with the onset of the crisis a number of governors have cut spending on cars. Oleg Kozhemyako, the governor of Amur region, ordered to completely replace the cars used by officials to cars manufactured by the domestic automobile industry (foreign cars were sold at an auction). And Nikita Belykh, the governor of the Kirov region, ordered to auction off the governor's Lexus and began using his private car.
Source: Gazeta.ry, 05 December 2009
In March 2010 Basmanny Court of Moscow dismissed claim filed by the Samara social movement Civil Initiative at the refusal of the Investigative Committee of the Prosecutor's office of the Russian Federation to initiate a criminal investigation into the weekly flights of Samara region governor Vladimir Artyakov and members of his government to Moscow for the weekends.
Charter planes for the flights each time cost the budget 850 thousand rubles. In total, according to figures in 2009, charter flights were ordered 69 times. According to him, the relevant data can be looked up in the flight log book Samara airport Kurumoch.
Source: BFM.ru, 23 March 2010
In early 2010 a series of rallies and pickets was organized by fans in support of the local football club, Kryliya Sovetov (Soviet Wings), and demanding the resignation of the governor of Samara region. On February, 17, 2010 Deputy Prime Minister Igor Sechin spoke about the situation surrounding the club at a meeting with Vladimir Putin. The Prime Minister pointed to the need to support the club as an important social project for Samara region and ordered to find suitable sponsors for the club.
It turned out that virtually Rostechnologies were not a sponsor of the club all of these difficult for the club years, but its creditors and quietly earned money on it. The scheme was working trough an affiliate of Rostechnologies, AKB Novikombank CJSC. The bank's chairman is head of the state corporation, Sergei Chemezov, and Yuri Artyakov, the brother of Samara Governor Vladimir Artyakov, is senior vice president of corporate clients department of the bank. As a result of this sponsorship, Kryliya Sovetov was in 32 million dollars debt to Novikombank, and through them to its pseudo-benefactor, Rostechnologies.
Source: igolkin, 19 October 2010