Attached dossier
Name : Vladimir
Surname : Semago
Middle name : Vladimirovich
Post : Leading expert of the Accounting Chamber of Russia
In December there will be elections to the State Duma. But Ostap Benders of policy are already very active. Former State Duma deputy Vladimir Semago is not an exception here.
Semago, a former businessman and MP, who now is a radio host and chairman of the Accounting Chamber on a voluntary basis, decided to resume his political career. Now he is in talks with several leaders of the Just Russia party (in particular, with Nikolay Levichev and Gennady Gudkov) concerning him being included in the list of the party in the Duma elections. For that Semago promises to invest in the socialist party not only his, but also sponsorship money. Although he is unlikely to be able to fulfill his promises. Semago has no personal funds for that and he has lost all confidence in the business environment.
His assets began to shrink rapidly after the death of Valentine Myasnikov, his influential in-law and chief patron. With the death of Myasnikov his political career also rapidly began to crumble.
Vladimir Semago was born on January 10, 1947 in Harbin, China. His father was a military pilot and took part in the war with Japan, and after World War II he served in the PRC for some time. Then the family returned to the USSR and Vladimir Semago started to go to school in the town of Kamenka in Penza region. He finished his secondary education in Moscow, where his father was transferred to. In 1965 Semago entered the correspondence department of the Moscow State Construction University and a year later he became a full-time student. While studying there, he played for a local team of KVN (Club of the Funny and Inventive) and then as the director he worked with teams of other institutes. As a result, he made friends with such players as Leonid Yakubovich, Gennady Khazanov, and Artem Tarasov. After graduating from Moscow State Construction University he worked in construction in the suburbs of Moscow as a master of mobile mechanized column of Mosoblstroy.
Love descended on time
Later his life witnessed the most momentous event. Semago met with Olga Myasnikova, a MGIMO student and daughter of Valentine Myasnikov who was the rector of the All-Union Academy of Foreign Trade and had vast connections.
The father was totally against Semago marrying his daughter. But Olga insisted. The young couple got married, and Valentin Myasnikov had to build a career both for his daughter and his son-in-law. Thus the Myasnikovs embarked on the project under the name Vladimir Semago.
Father-in-help
For a start Myasnikov helped his son-in-law to enter the evening departmnet of the Academy. In 1977 he assisted him in joining the party and found work for him at Gosinturist in capital construction department. Semago participated in the construction of hotels Cosmos, Pribaltiyskaya, Dagomys, and Yalta in which foreign companies also took part. Immediately after graduation in 1979 he was appointed deputy COE of the Moscow hotel complex Solnechny.
In 1981 he was dismissed under Article 254, Clause 1 of the Labour Code (single gross violation of labor discipline). But Myasnikov, his father-in-law, immediately came to the rescue. He helped Vladimir get a position as accountant in settlements with foreign travel companies in the commercial management of Goskominturist. However, Semago did not stay long there as well, and Valentine Myasnikov sent his ne'er-do-well son-in-law to serve in the Domodedovo district consumer association on construction. As for the daughter, Valentin Myasnikov managed to get her a much better position. In 1984 she became one of the leaders of a Soviet-Indian entity.
In 1984 Olga and Vladimir had a son, Daneel, a boy with a difficult destiny. He suffers from epilepsy since childhood and has mental health problems. At the age of 16 Daneel was taken to hospital with incised wound on his ​​hands. Doctors suspected suicide attempt. In June 11, 2006 Olga Myasnikova (she never changed her surname for that of her husband) was driving in her Peugeot along Rublevo Uspenskoye highway. At the 4th kilometer she lost control of the vehicle and the car crashed into a tree. The woman was not injured, but Daneel who was sitting in the passenger seat got serious traumas. He was hospitalized with brain concussion and a fractured hip. In 2007 the father helped his son to become an assistant to a State Duma deputy.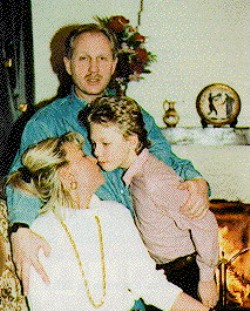 With wife Olga Myasnikova and son Danil
As for Semago, his story continued in 1986 when he was helped to get a position of chief engineer at the Directorate for Construction of the State Committee for Science and Technology under the USSR Council of Ministers. Then Valentine Myasnikov established Sodruzhestvo co-op (Russian for "commonwealth") under the USSR Goskominturist. Among its co-founders there were Valentine Myasnikov, his daughter and his unsuccessful son-in-law. Myasnikov made Olga chairman of the cooperative. Sodruzhestvo headquarters were in the building on Bolshaya Kommunisticheskaya Street in Moscow.
That is what one of the former directors says about this co-op. In 1989-1990 Vneshekonombank was on the verge of collapse (it announced bankruptcy in 1991) and stopped paying interest on foreign loans. Accounts of dozens if not hundreds of major Soviet enterprises in all foreign currency were frozen. This was when Valentine Myasnikov began to offer his services to company directors. Through his connections he helped get the money back, for large tolls. Vladimir Semago was an errand boy in the scheme. He came to meetings, sorted out technical issues, etc. "Different scamers leeched to the situation around the withdrawal of funds from Vnesheconombank. Semago was one of them. In contrast to Myasnikov, he could not do anything on his own, but at the same time he wanted to earn something on this business," said a source.
One of the main places for meetings with the directors was in the above mentioned house on Bolshaya Kommunisticheskaya Street. The Myasnikovs soon turned it into joint venture Moscow Commercial Club, established by Sodruzhestvo and a group of cooperators. Myasnikov held meetings there with distinguished people such as former prominent party members, ministers, and officials. Semago also provided this building for meetings of his fellow nouveaux riches, like Artem Tarasov. It was there that they solved their issues with their protectors from the criminal world. The house on Bolshaya Kommunisticheskaya Street became a favourite gathering place of Chechen criminal bosses, namely of Malik Saidullayev, who at that time was not yet a businessman, but a protector to a number of enterprises; Nicholay Suleymanov (Hoz), and Lom-Ali Gaytukaev. Some thieves in also came to the house on Bolshaya Kommunisticheskaya Street.
Enterprising Semago quickly realized that after the talks those from criminal underworld would also like to relax. For this purpose Moscow Commercial Club opened a casino. However, a large portion of the proceeds from all this business went to the Myasnikovs. Semago was content with what he managed to snatch.
Business on criminals' relaxing proved to be profitable, and it began to develop. With the assistance of Valentine Myasnikov, Olga Myasnikova and Vladimir Semago opened Carousel, a casino and a night club on Tverskaya Street, which became the favourite place of Solntsevskaya group members who quickly took the place under their protection.
According to a former employee of Moscow RUBOP, criminal bosses never really took Semago seriously. They treated him as a party animal and a sort of application to the Myasnikovs. They preferred to discuss most of the contentious issues with. As a result, she is still friends with Aleksander Inshakov, influential Solntsevskaya group member, and Anzor Kikalishvil.
When in 1992 Yuri Luzhkov became the mayor of Moscow, Semago, again with the help of the wife's father, was able to quickly establish contact with his team. "Luzhkov's team always thought Semago to be a 'son of a bitch, but a related son of a bitch'", said a source in the State Duma. "For a long time he was strongly supported there by the deputy mayor, Valery Vinogradov, who is now the prefect of North-West Moscow district. He still has amicable relations with Yuri Roslyak, former first deputy mayor and now a member of the Council of Federation. "
In 1993 the family decided to continue the promotion of "Vladimir Semago" brand. He was helped to join the Communist Party (Valentine Myasnikov also was a friend of Gennady Zyuganov). As the result Semago became a State Duma deputy on lists of the Communist Party. For that the family, and in particular Semago had to provide substantial financial assistance to the Communist Party. Semago decided to use his v in the Duma, as they say, to the fullest. Due to the parliamentary connections for some time he headed Rosbiznesbank, former head of which had recently been poisoned by unknown people.
Business and political career of Semago started to crunch with the death of Valentine Myasnikov. For the leaders of the Communist Party, Semago ceased to be a son-in-law of a reputable man, becoming simply a cash cow. As soon as the "cow" no longer met the financial needs, Semago was expelled from the Communist Party. It happened in 1998, and from that his slow fall began.
Steep dive
In 1998 Semago was a co-producer of a film called August 1944. It all grew into a big scandal. Semago took out a 500 thousand dollars loan for this film in the Converse Bank, but the film crew did not get the money, and the debt was to be paid out by Moscow Commercial Club. Other founders of the club expel him ignominiously.
In 2005 Semago again tried to regain control of the club, which ended for him in an unpleasant way. On March 2, 2005, he came to the building on the Bolshaya Kommunisticheskaya Street, but the guards refused to let him in referring to Igor Koptelov, one of the secret owners of the building. Semago called his offender to come outside. When Koptelov got tired of listening to the former parliamentarian yelling at him, he hit him in the face. Semago rushed to the police and wrote a claim against the bully.
Semago, who was expelled from the Communist Party, was able to settle down in the State Duma in Oleg Morozov's faction Russian regions as the two became friends in the Duma. But then his term of office as deputy ended. In 1999 Semago joined the movement Dukhovnoe nasledie (Russian for "spiritual heritage") of his other friend, the State Duma deputy Aleksey Podberezkin. But he was not elected in the new composition of the Duma. In early 2000s, Oleg Morozov helped Semago join United Russia. He makes the Moscow list for the 2003 elections, but he was in the end of it, which did not allow for him to make it to parliament.
A source in the State Duma tells the truth: Semago simply did not have enough money to get a higher position on the list as no one on United Russia really thought much of him as a political figure. "According to one version, originally he was guaranteed a place in the first twenty that would pass to parliament in the Moscow part of the list. However, later other, more well-off candidates, bought the promised place," said our source. According to another version, Semago and with some prominent businessmen were removed from the list on the orders of Vladimir Putin when he agreed to head the party list for elections to the Duma. At the time, Semago was president of Energoprom. However, the second version is hard to believe. Many wealthy people at that time paid United Russia to make it to the State Duma. So the first version, according to which he simply did not have enough money to buy a guaranteed place in the list, is more real.
However, to get at least a no-go place on the list of United Russia, Semago had to get into debt. He borrowed money from his wife Olga and her friend Irina Suboch, owner of travel agency MIBS Travel. Semago never returned his debts, as he did in this case. As a result, Irina Suboch had to file a lawsuit to collect her money. And Olga Myasnikova, who was tired of her husband's mistresses, sought divorce. Not only did she keep almost all the business, but she also managed to win back her husband's apartment on Kutuzov Prospect and a cottage in the suburbs.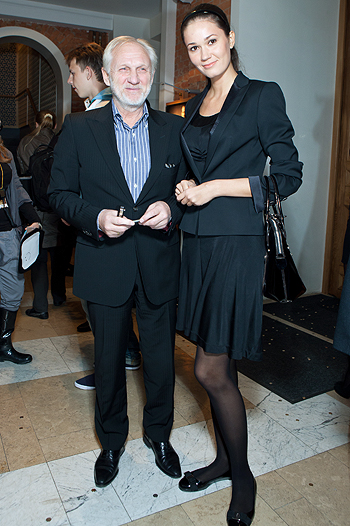 With actress Natalie Steshenko
Semago rushed to earn money. Apart from the nearly unprofitable Energoprom, he and Aleksey Mitrofanov, his friend in the State Duma, established a company Energoservice. By hook and by crook, but in 2006 Semago served a year in the Duma as a United Russia deputy, taking a seat after deputy Pavel Pozhigailo left the Duma. "By 2007, when the next election started, Semago was poor as a church mouse", said our source in the Duma. "He tried to run for the State Duma with Patriots of Russia, which was an obvious failure right off. And then, when failed, he got a job as advertiser and PR expert."
"Semago is a party animal; he always bluffs about his connections that may actually turn out to be zilch. He makes contacts easy; he was well in with everyone possible. But this does not mean that they trusted him and supported him," said another source in the Duma. "In a word, he is just a KVN player and PR manager. Just like he began, in fact".