Attached dossier
Name : Sergey
Surname : Mikhailov
Middle name : Anatolyevich
Post : Head of Solntsevo criminal group
Recently Moscow criminal world was struck by the news that Sergey Mikhailov, leader of Solntsevskaya gang, is once again ready to move away from his quiet life and take up fighting, as he did in the 1990s. And he has a good reason for that. His beloved daughter Aleksandra was offended. She is divorcing her husband, Alan Davydov, the son of Sergey Davydov, another criminal boss, who behaved in a dishonest way and is determined to deprive the wife of most of the property.
The influential fathers had agreed not to interfere in the relationship between their children. But here the situation has gone beyond the agreements. Mikhas already confessed to his gangster friends that his hands were itching to punish the offender. But nothing like that took place. Sergey Mikhailov and Sergey Davydov were able to solve the problem before the conflict broke out. In the late 1980s - early 1990s the leader of the Solntsevskaya was not so compliant.
He controlled more than two thousand gangsters who seized a large part of Moscow bringing terror to its inhabitants. However, at the peak of his criminal career Mikhailov decided to legalize his business, turning from a criminal boss into an entrepreneur and a philanthropist. In part, he succeeded.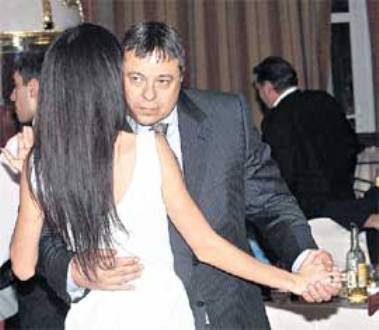 Sergey Mikhailov is an entrepreneur and a philanthropist
Sergey Anatolievich Mikhailov was born on February 7, 1958 in Solntsevo, a former village near Moscow, which was later attached to the capital as a district. While at school he was in for wrestling. After graduating in 1976, he became a car mechanic in Zapadny village in Moscow region. However, Mikhailov was fed up with such dirty work within a year, and he became a waiter at Sovietskaya hotel restaurant. In the late 1970s the restaurant was a favorite spot of thieves in law, black marketeers, card sharpies, and shadow capitalists. In particular, among those who spent most of the time there was Alimzhan Tokhtakhounov nicknamed Taivanchik, who then was a novice card player and manager of CSKA football club. Vyacheslav Ivankov a.k.a. Yaponchik also frequently came to the restaurant. Mikhailov began to develop connections in the criminal world.
Providing small services to bandits, he got the taste of big money. Sergey actively developed illegal businesses accompanying his new job, such as illegal trade in vodka. Thus he became acquainted with Semion Mogilevich, who then was busy settling in the business world of the capital and among other things dealt in alcohol.
Mikhailov's services were in demand. He also worked as a waiter in Khrustalny restaurant and the restaurant at Sevastopol hotel. Boxer Victor Averin, who became a close friend of Sergey, also worked at Sevastopol. Mikhailov was gradually becoming quite a wealthy man by Soviet standards and decided not to change jobs any more. He entered a technical school to study catering. There he became a qualified head waiter and learned English. At the same time Sergey continued working in Sovietskaya, where he was promoted to the position of the administrator. But his successful career in the service sector was put an end to by a scam.
Mikhailov had a motorcycle, which he prudently insured. At some point of time the young man disassembled the no longer needed vehicle and sold its parts to friends. Then he went to the militia and claimed the motorcycle stolen. On this basis he received the insurance payment. In 1984 the scam came to the surface and Sergey was arrested facing charges of theft by fraud and false denunciation. He was detained for six months, and then Solntsevsky court sentenced the waiter to three years in prison on probation. Having a conviction meant that Mikhailov could not work in prestigious restaurants. However, he quickly found a new place.
In 1985 a group of thimble riggers and card cheaters began operating near hotels and institutions, where Sergey once worked. The former cheated people by offering people to guess under which of the three thimbles the small ball was. The latter robbed people by persuading them to play simple card games with them. Kingpins Dzhemal Khachidze referred to as Dzhemal and Aleksey Petrov a.k.a. Petrick were among the leaders of the mentioned groups. Among militants of the group there were former tractor driver Sergey Timofeyev nicknamed Sylvester; two boxers, Petr Gorbatyhk convicted for a murder and Yevgeny Lyustarnov a.k.a. Lyustrik; a fighter of Sambo 70 club Boris Antonov a.k.a. Borya Anton; Mikhail Kudin referred to as Kvakin; Gennady Shapovalov a.k.a. Shapoval; the brothers Aleksander and Viktor Averin referred to as Avera Jr. and Avera, Sr. Mikhailov knew personally many of them, so he quickly adapted to the team.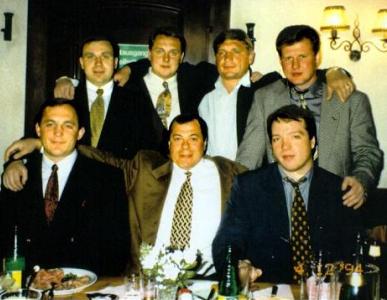 Mikhas with Solntsevskaya gang
It was then that he was given the nickname Mikhas, which is still extremely annoying to Sergey Anatolyevich. However, many figures of the criminal world dislike their nickname. They received the nicknames when they were ordinary criminals, and sometimes the given names sound extremely dissonant. For example, fellow gangsters used the nickname Shishkan to address one of the leaders of Moscow region mafia Oleg Shishkanov. Then he was crowned as thief in law, and other criminal bosses offered to call him Oleg Ramensky. However, no matter how hard Shishkanov tried to impose this new name of his, his fellow gangsters still called him Shishkan.
Mikhailov, who always had the makings of a leader, quickly became one of the first persons in the team of gangsters. They went together to the so-called kachalka (a slang word for "gym"), where they also recruited muscular young men for the group. According to investigators, by 1988 the group began to emerge into an organized criminal group, which included 30 heads of groups and approximately 500-600 mobsters to form the groups within the gang. Investigators consider May 18, 1988 the day when Solntsevskaya gang first acted like an organized crime group. On that day militia officers tried to arrest a group of thimble riggers. Mikhas and other gang leaders quickly sent 30 mobsters who through physical action protected the thimble riggers and beat up the law enforcers. On May 31 the situation repeated again. Solntsevskaya gangsters again protected thimble riggers from militia.
In summer the group had a conflict with Azerbaijan gangsters. On July 4, 1988 over 150 Solntsevskaya gang members had a clash with the Caucasians and won. Mikhas, Sylvester, and the Averin brothers personally participated in most of the clashes. By that time Solntsevskaya criminal group did not only supervise most of the capital card sharps and thimble riggers, but also controlled the spots where they did their business, including hotels Sovietskaya, Sebastopol, Cometa, and Tourist, and also large stores like Leipzig and Polskaya Moda, and restaurants Yakor, Nile, and Aist.
The main source of income for the criminals was the emerging private sector in business. By 1989 more than 30 cooperatives paid tribute to Mikhas and the gang. Some of the entrepreneurs willingly addressed Solntsevskaya gang for protection against raids of smaller groups. Others had to be threatened so that they would agree to share profits. Businesses and the gang had it so that Solntsevskaya group leaders were appointed to posts within all controlled cooperatives. Mikhailov, for instance, was listed as chief engineer of the cooperative Berezka and the supply department head of Fund cooperative. The latter became a real cash cow for the criminal group.
Fund was established by Vadim Grigorievich Rosenbaum. Originally it was planned that the cooperative would be engaged in international transport. However, Rosenbaum quickly realized that delivering other companies' foreign goods was less profitable than owning and selling the goods delivered. He began buying computers in France and delivering them to Moscow. Rosenbaum had connections in the customs and as a result paid customs fees only for one out of ten truckloads of goods. In the capital the price on computers was extremely high, up to 50 thousand dollars apiece. Such business brought unprecedented profit.
Also, as suspected by investigators, Rosenbaum dealt in cocaine trafficking to Moscow, placing the drug inside imported computers. The drug was then an exotic thing in the capital and was very expensive. Clearly, a wealthy businessman and his co-op were constantly subjected to raids by different gangs. After Rosenbaum once again was visited by gangsters that demanded money, he asked a friend of his to find him people, who would protect him from such visitors. The friend advised to address Mikhas and Avera Sr. The two men asked quite a modest fee for their services, namely to buy them a foreign made car each and to pay for their trip to Germany.
As a result Rosenbaum got rid of minor criminals, but found himself in the tight grip of Solntsevskaya gang. At first it was Sylvester who came to him demanding a foreign car, which was not part of the agreement. Timofeyev was not accustomed to refusals. So he told Rosenbaum that he had three days to get him a new Volvo vehicle, or else he would be put on a clock. The bandit received the car keys, but soon Solntsevskaya members came to Fund again. This time they requested a monthly tribute, threatening to kill Rosenbaum. Soon the co-op had new staff members including Mikhas as head of supply department, Avera Sr. as deputy chairman for sports and recreation activities, Lyustrik as executive director, and Avera Jr. as chief of security. Each had a salary of 1,000 rubles.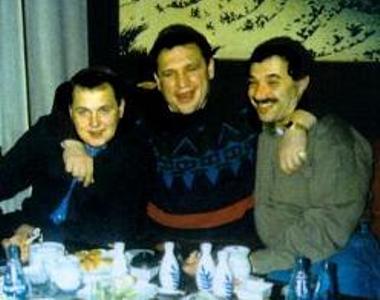 Viktor Averin (a.k.a. Avera, Sr) is in the center
In 1989 Moscow investigators collected extensive dossier on Solntsevskaya gang that was gaining strength. They initiated a number of criminal cases involving racketeering against the leaders of cooperatives. Victims willingly wrote claims to militia because Mikhas and other gang members grew increasingly arrogant, taking the lion's share of the income. Rosenbaum was one of the claimants. All in all the case materials included claims from 24 victimized cooperatives.
On December 7, 1989 law enforcers arrested a group of Solntsevskaya leaders, including Mikhailov, Timofeyev, Lyustarnov, and Viktor Averin. Shapovalov was also arrested some time later. All of them were accused of extortion.
While in remand prison, Sylvester and Mikhas sent their men a note, in which they instructed them to disband the gang or to join other gangs on temporary basis. Events that followed were very typical for that time.
The case against Shapoval disappeared right out of the courthouse. Investigators had to collect all materials again. But by that time all the victims and witnesses refused to testify. The same situation occurred with the investigation in respect of Mikhas and Avera. Some co-operators simply left the country. Rosenbaum was the most intractable, but he also gave up a year later. Chairman of Fund sent a statement to law enforcers, asking to release the three "incompetent staff members" Mikhailov, Averin, and Lyustarnov. He also promised to take them on bail for re-education. In his statement Rosenbaum called the conflict with the men to be related to work in Fund. As a result, on July 30, 1991 the three leaders of Solntsevskaya group were released. Only Sylvester, who was not an employee of the cooperative, remained behind bars.
It is worth noting that Mikhas and other group leaders also forgave the cooperator. They just significantly raised the amount of tribute to pay. Rosenbaum tried to confront the leaders of the criminal group. In 1992 he even managed to meet with Yaponchik through some friends and asked him for protection. However, the kingpin carefully followed the career of Mikhas. He was sympathetic to the young Slavic criminal boss. So he told the chairman of Fund that he should put up with terms of Mikhailov. As a result, Rosenbaum left the country.
When in 1996 Mikhas was arrested in Switzerland, Rosenbaum was to testify as one of the main prosecution witnesses. However, he never came to the trial. On the night of July 30, 1997 Vadim Rosenbaum was killed in the Dutch city of Osterhaut.
According to investigators, the crime could have been organized by Andrey Isayev nicknamed Rospis, a good friend of Mikhas and a thief in law. Later he was killed in Poland during a clash with local gangsters.
Freed in 1991, Mikhas and Avera summoned former gang members and actively recruited new ones. After incarceration Mikhailov became one of the legends of the criminal world. All capital criminals had heard about him. Thus, militants actively joined the ranks of the criminal group and by the end of 1991 it consisted of about 1000 people. Entrepreneurs also willingly agreed to be protected by Solnstevskaya gang.
When in 1992 Timofeyev was released from prison, the criminal group had a clear hierarchy and the seats of main leaders were occupied. Sylvester was offered to lead several teams, but it did not suit him. Sylvester and Boris Antonov took a couple hundreds of fighters from Solntsevskaya gang and formed their own group, Orekhovskaya. Later, Borya Anton was killed. According to some reports, Mikhas never forgave him for joining Sylvester.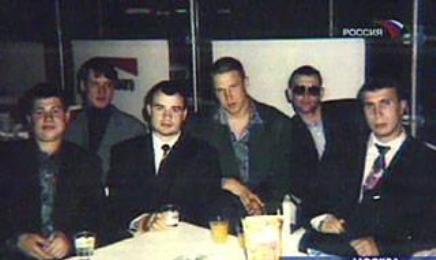 Rightmost — Sergey Timofeyev (a.k.a. Sylvester)
As for the leaders of thimble riggers, Aleksey Petrov created his own gang, Mazutinskaya. It was small but very influential. Petrick is still on friendly terms with Mikhas. Dzhemal Khachidze remained in Solntsevskaya group. He still represents the interests of the group during gatherings of thieves in law.
By 1993 the number of fighters in the gang was about 2000 making it the largest group in Moscow. The number of supporters was even greater. In the early 1990s Solntsevskaya gang was known in virtually all of the capital. The mere mention of this group was enough to terrify both a businessman and an ordinary citizen. The authors of these lines grew on Leninsky Prospect, which was part of the territory controlled by the gang, and in 1991-1993 had an opportunity to witness the way of life of Solnstevskaya gang members.
All premises next to Havana restaurant, Sport hotel, and buildings on the prospect near Tsentralny Dom Tourista, where the headquarters of group are until today, were filled with muscular young men, ready to act on demand of their leaders. All of them wore almost the same uniform, a mandatory part of which in all seasons was a certain style cap and a small black handbag. Men, who put on the cap and did not belong to Solntsevskaya group, were beaten. In summer mobsters wore tracksuits. In autumn and spring they were dressed in leather jackets or long coat if a man had the money. In the winter gang members wore a bomber jacket or its equivalent. Bored of doing nothing, the mobsters dealt in mugging, or gop-stop as they called it. They spent nights at a discotheque at the Institute of Oil and Gas named after Gubkin, or House of Children's Art named after Krupskaya. Arriving at those discos, a man found himself surrounded by hundreds of silhouettes in caps, and if one did not know at least some of them, he could run into serious trouble.
Events that took place there were far from what you could see featured in any film. For example, one of the House of Art frequenters suffered a serious injury during clashes, became handicap and had to use a wheelchair. His brother was a prominent man in a gang, so everyone was afraid of the handicap. When he would want to roll out in the middle of the dance floor, militants cleared everyone out of the way for him. Those who hesitated were beaten by the disabled with a wheel pump.
According to investigators, there were six people at the top of Solntsevskaya gang hierarchy. The main leaders were Sergey Mikhailov and Viktor Averin. Arnold Tamm a.k.a. Arnosha, Yevgeny Lyustarnov, Aleksander Averin, and Gennady Shapovalov were members of the governing council. Semion Mogilevich had a special status in the gang. He settled abroad and was responsible for laundering money of Solntsevskaya group and investing it in various business projects. Among other notable persons in the gang was, for example, the current State Duma deputy Andrey Scoch. He began as head of a 15 people team, controlled by Arnold Tamm. He quickly worked his way up the group hierarchy and was put in charge of relations with certain government officials. Aleksander Inshakov, referred to as Inshak or Kaskader, was also tied to Solntsevskaya group. This stunt and karate sportsman is one of the creators of Brigada gangster epic. He participated in many operations of Solntsevskaya criminal group. In particular, he and kingpin Aleksander Sedov a.k.a. Nos kidnapped Oleg Rumyantsev, the director of Cosmos hotel. This hotel had long interested Solntsevskaya group and Oleg Rumyantsev was in the way.
Mikhail Mamiashvili, President of Wrestling Federation of Russia, has long known Mikhas. Dmitry Baranovsky a.k.a. Beliy used to be supervisor of a mobster team controlled by Tamm. Later Baranovsky became the owner of several large factories in Moscow suburbs and the leader of a certain social organization in the fight against corruption. Now he is in custody on charges of extorting money from businessmen through his organization.
By 1993 the group gained control over almost half of Moscow businesses. Only few other bandits dared to confront with it. Mikhas had tremendous influence in the criminal world and had all the chances to become a thief in law. However, he and most of his gang members, except Averin, began to seek legalization, to withdraw from the criminal world.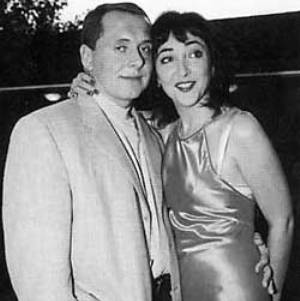 Arnold Tamm a.k.a. Arnosha and Lolita
Besides being the largest in size, power of Solntsevskaya group could be explained by the fact that they enjoyed the support of FSK-FSB. At that time the counterintelligence agency developed a program against the Caucasian criminal clans, which rapidly grew into large cities. Among other things, the program included tacit support of Slavic criminal groups as a real force in opposition to Caucasians. In St. Petersburg they supported Tambovskaya gang and in Moscow they chose Solntsevskaya. The only non-Slavs from the capital's gang, which enjoyed the support of the KGB, was Lazanskaya group consisting of Chechens which had close ties with the FSK-FSB. According to some sources, it was set up by security services to oppose Slavic gangs, which began to exercise their authority as a substitute to official government structures. It was this group that Solntsevskaya gang had a major conflict with.
The bandits argued about control over a number of objects on Leninsky Prospekt. A series of armed clashes followed, leaving a group of gangsters killed. The situation threatened to escalate into one of the bloodiest criminal wars. One of the participants in the events once told Rumafia reporters how it was prevented.
The rival gangs turned to an old and respected thief in law, Anatoly Cherkasov (our interlocutor called him Uncle Tolia), who did not side with any of the criminal groups involved in the conflict. Solntsevskaya and Lazanskaya members, among whom there were Chechen thieves in law, from time to time abided by the decisions of criminal generals. After listening to opponents, the elderly mobster took a map of Moscow and drew a long pencil line banding along Leninsky Prospekt in zigzags. Objects on the one side the line were to go under control of Solntsevskaya group and those on the other side were to be for Lazanskaya group. The former received mainly objects towards the end of the Prospect and the latter had those mainly near the centre. Gangsters were satisfied. The war was prevented.
Reference
Business activities
1. Companies
According to the Jerusalem Interpol National Central Bureau, Solntsevskaya criminal group does business in various fields around the world. Some enterprises are legal and registered, while others are only partially legitimate.
Since late 1993 Mikhailov and the Averin brothers were abroad. Mikhailov was free again after being released from the Swiss prison. It is reported that he and the Averin brothers founded several companies, designed to finance illegal activities of their criminal group.
In Russia:
According to the information of Bern Interpol National Central Bureau, casino Maxim was controlled by Mikhailov. He also controlled Universitetsky formerly known as Valery, Olimpiyskiye Ogni (Russian for "olympic lights"), control over which is exercised by Mazutkinskaya and Solntsevskaya groups, and Tsentralny Dom Turistov (Russian for "central house of tourists"), located at 146 Leninsky Prospect, Moscow. This is the address of Mikhailov's offices and most companies set up by Solntsevskaya group or those working on it.
Mikhailov is recognized as one of the owners of Systema Holding. According to Sofia Interpol NCB, Vladimir Yevtushenko born on September 25, 1948 is Systema Holding chairman of the board of directors, and Vladimir Kizyakovsky is the legal advisor of the firm. Mikhailov had a 250 million U.S. dollars contract for Systema Holding through a Swiss bank. According to information received from the Swiss authorities, Yevtushenko and Novitsky led about 50 companies involved in money laundering. Yevtushenko was an adviser with OICR that stands for Organisation Internationale de la Circulation Routiere, founded in August 1984 to include 11 former Soviet republics, except Russia. Yevtushenko and Novitsky tried to place the shares of Systema Holding on the Canadian stock market in Calgary. They resorted to the services of Bogatine or Yakov Bogatin. In 1995 Novitsky was arrested in Prague during the meeting of organized crime bosses.
In July 1995 OICR became an intergovernmental one, relocating its headquarters to Geneva, Switzerland. Among members of the organization there were Novitsky, Igor Gerasimov, born on April 20, 1946, and Aleksander Leyviman, a Software manager, born on January 29, 1949. Gerasimov and Leyviman were top-managers in Systema. It was suspicious that Mikhailov funded OICR.. Since his arrest in 1996 and the deportation of Novitsky sources of income of the organization dried up. Novitsky, Yevtushenko, and Leyviman were considered by financiers of Solntsevskaya gang and Novitsky was thought to be the coordinator. In 1999 – 2000 OICR was eliminated.
According to sources, Moscow-based Systema Hilding has revenue of about 450-million dollars and operates in the oil industry, telecommunications, tourism, insurance, and banking through MBRD (Moscow Bank for Reconstruction and Development). Its staff is about 30,000 people, including those working in branch offices. According to the company data, Systema Joint-Stock Financial Corporation was incorporated in June 1993. During three years its annual revenue increased 7-fold, and the consolidated property soared 4 times. Systema brought together about 100 companies, including leading research institutions, development centers, banks, insurance companies, travel agencies, etc. It is also involved in real estate transactions and has companies involved in computers and high technology.
According to the information provided by the sources, officially Systema is not associated with Mihkailov, but in fact there are contacts between this group of companies and Solntsevskaya gang.
In 1993 Systema in an indirect way became a shareholder of SV Holding, which is indirectly owned by Mikhailov. All this was done through IVK International.
SV Holding is a holding company that manages real estate, casinos, restaurants, and hotels. It was the first legal cover for the activities of Solntsevskaya group. For some time Leonid Orlov was CEO of this company. According to sources, there are close ties and common interests between Moscow mayor's office and SV Holding, founded by Mikhailov and Averin in 1993. They also share revenue from gasoline distribution.
IVK-International Group is engaged in computers and communications. They provide all the necessary devices for computer networks of Russian Ministry of Defense, banks, government agencies, the FSB (former KGB), and the tax administration. Through contact with Quant electronics factory, IVK participated in commercial satellites financing. IVK also has a stake in the first Russian company that has a share in New York. Bern and Washington D.C. Interpol National Bureaus note that Yevgeny Novitsky, born on November 19, 1957 is the general manager in IVK.
IVK, Agro Plus K + Mag, headquartered in Zug, Switzerland, and Vasiliy Zimin invested in SV Holding, Moscow.
Moreover, SV Holding took part in the establishment of the following companies:
• Everest, Victoria-2 (1), and Irina, located at the same address at 35, B. Filyovskaya, Moscow, 121 309. Leonid Orlov (according to information received, a member of Solntsevskaya group) was the owner of Everest or headed it. Aleksander Averin (cited as the leader of Solntsevskaya gang in the report) was the owner or head of Victoria-2, and Irina Shcherbakova (Interpol has no information about her) led of owned Irina.
• Vnukovo Terminal CJSC, headquartered in Moscow at 6, Borovski Proezd, Apt. 36.
• Zemlyane, headquartered in Moscow at 23-1, Solntsevskaya Str., Apt. 175, was co-founded by Aleksander Bakhtin.
• Tibet CJSC, headquartered in Moscow at 12-1, Novoperedelkinskaya Str., Apt. 339, was co-founded by Yevgeny Oblov.
• MTK-International CJSC headquartered in Moscow at 146, Lenin Str., was co-founded by Tonalito AG. According to the information provided by Interpol NCB in Washington D.C., 50% of MTK belongs to Aleksander Grim and the other 50% is owned by Sergei Mikhailov. Aleksander Grim, born on April 27, 1924, co-founded in Moscow Prof-Tonalito International, which is a subsidiary of Prof-Tonalito AG, headquartered in Switzerland at 28, Burgshtrasse, Glaris. Grim is the president of Prof-Tonalito in Switzerland. MTK owns 40% of CDT.
In August 1996 Grim went to Peru, where he, Mikhailov, and Averin invested money in a casino and a hotel, located on the Pacific coast, spending 10 - $ 15 million on this project.
Mikhailov, Averin, and Grim have focused their interests on a district of Argentina, namely mar del Plata.
• Aeromaks 1, co-founded by Nikolai Talyzin, who has ties with Mikhailov, is headquartered at 12, Reisovaya Str., office 200, Moscow.
Agro Plus K + Mag in Zug, Switzerland, is also associated with SV Holding. Controlled by Azguzan Akmedov, it is a subsidiary of TSI and is headquartered in Tashkent.
According to the information of Interpol NCB in Wiesbaden, a trading company Agro-Plus K + Mag, headquartered in Zug at 2, Gutershtrasse, 6304, specializes in the sale of cotton and is controlled by Ghafoor Rakhimov, born on July 22, 1954. Boris Kandov, born on December 27, 1946 is the head and owner of it. He also directed the import-export company Agro Teck in Vienna. Agro Teck stands for Agro meaning food products, Te meaning energy, and K meaning trade. In Russia there is also a company registered as Agro Plus.
Rakhimov also owns Agro Plus Kem AG headquartered at 17, avenue Hoche, District 8, Paris, France, and is CEO of Agro Plus in Tashkent. According to sources, the manager of Agro Plus in Tashkent is Arthur Martirusyan, a Russian-Israeli businessman, nicknamed The Armenian. He was also a shareholder in Eurofood International, registered in Paris in 1996 and liquidated in 1999.
Mikhailov is the representative of the Russian company Blagovest SV, headquartered in Moscow at 146Leninsky Prospekt, Apt. 332, 117 526, Tel. 438-5138. The father of Tamm Arnold is the CEO. It is reported that Averin is also involved in this company. Blagovest SV is a charitable organization that has the license for renovation, construction, and mediation activities.
Solntsevskaya gang controlled Sayan Bank in Moscow.
Outside Russia:
In Austria:
Mikhailov was a co-owner of a restaurant and a strip bar. He and Averin invested in Vimmo, a company registered in Vienna. They used it to launder huge sums of criminal money collected in Russia. They did it through paying for food supplies for Russian troops.
In Belgium:
MAB International, established in January 1994 in Antwerp, Belgium at 5 de la De Keyserlev. Share capital of the company is 5 million Belgian francs. It is engaged in import-export trading and is a mediator and the actual consumer of different goods. MAB International is headed by Mikhailov, and Averin is the CEO.
Notes: Probably MAB stands for Mikhailov, Averin, Birshtayn.
Cyprus:
Mikhailov and Averin founded several companies in Cyprus, one of which is called Borima or Barima Trading ltd. These companies are used to launder money. Yevgeny Gusev, born on January 28, 1952, represented them in Cyprus, where he resides. Volgonet Trading ltd Cyprus office has a legal personality in Moscow. Mikhailov is its PR manager, but in fact the head of the company. Barima has a banking account in Cyprus Popular bank ltd in Limassol, in the same bank as the accounts of Volgonet Trading ltd and Volgonet Trust.
In Germany:
It was reported that Mikhailov used Mitras Handels Gmbh in Berlin, Germany to establish ties with other German companies. In June 2001 he met with the Managing Director Dimitri Mityushov to discuss several joint ventures, such as a park in Moscow, and a cafe.
In Israel:
In 1996 Mikhailov introduced himself in Israel as deputy director of Magnaex Vallakozot and a partner in five other companies.
In Latvia:
It is reported that Mikhailov and Viktor Averin use banking accounts in Parex Bank in Latvia, , 2 of which were identified as the accounts of Star Impex Corp. and Twin Shield Holding ltd. According to Interpol Riga NCB, Parex Bank management invited Mikhailov to Latvia as a representative of Blagovest SV.
In Switzerland:
Before Mikhailov was arrested in October 1996 in Switzerland, he almost signed an agreement with the managers of CFI Holding, located in Poulley, Switzerland and the Swiss company Line SA, also based in Switzerland. The agreement provided for the entire renovation of Moscow water supply network.
It was Mikhailov who operated Cougar Distribution SA, headquartered in Poulley, Switzerland. The company seized to exist in November 1997.
In the UK:
Tofik Asimov established 4 or 5 companies, one of which was Transportanic Investments. British authorities believe that the name of this company was later changed to Atkom Consulting. David Sanikidze and Viktor Averin were in charged of all activities of the company. Mikhailov and Averin used Atkom for money laundering.
In the U.S.:
Mikhailov is a board member in Karta Auto Brokers Ink. headquartered in Houston, USA.. In 1995 Mikhailov, Randy Abdudel and his brother Kevin founded KARTA Auto Brokers. Tanya Selikalay and Aleksey Korotaev were business partners. Mikhailov and Randy Abdudel also founded Sun Motors, an American company in Russia to control KARTA. The Celtex Corporation in Switzerland was a partner of both the above mentined companies (see section "stolen cars").
K.A.R.T.A. stands for Kevin (Abdudel), Armon (Selikay), Randy (Abdudel), Tanya (Selikay), Aleksey (Korotaev).
In addition, Mikhailov was directly involved in the establishment of the following companies, founded by Semion Mogilevich:
• Maxim
• SV Holding
• Arbat International, a joint venture
• Emire Bond in Israel
• Arigon
• Magnex in Hungary,
• MAB International in Belgium
• YBM Magnex
Interpol General Secretariat, Swiss working meeting, June 18-19, 2002
To be continued