2011-09-13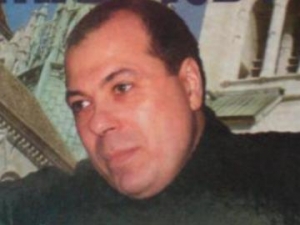 Attached dossier
Name : Sergey
Surname : Mikhailov
Middle name : Anatolyevich
Post : Head of Solntsevo criminal group
In 1993 Moscow witnessed the mergence of a force capable of fighting with Solntsevskaya group on equal terms. It was created by the Regional Directorate for Combating Organized Crime (RUOP subsequently RUBOP), headquartered on Shabolovka Str. Only few months after its establishment RUBOP became one of the most powerful security agencies, the staff of which did not submit to virtually anyone except Vladimir Rushailo, head of the agency. Even the Ministry of Security, the future FSK-FSB, had no authority over them. RUBOP operatives sent dozens of Mikhas gang members behind bars. In Moscow there was a saying: "Only Shabolovskaya is tougher that Solntsevskaya." However, this assessment was premature. With all the initial successes of RUBOP in the war against criminal groups, by the 2000s leaders of Solntsevskaya gang became respected businessmen, and sometimes legal public figures. While RUBOP were disbanded in 2001 and ceased to exist. The agency also received very unflattering characteristics of Boris Gryzlov, Rushailo's successor as Minister of the Interior.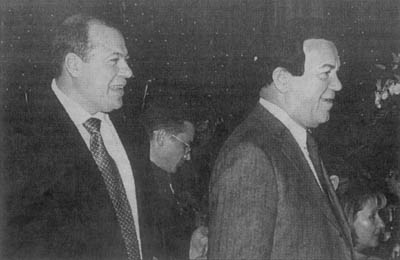 Mikhas invited popular singer Iosif Kobzon to the wedding of his daughter Aleksandra
On August 12, 1993 the agency arrested Sergey Mihaylov on suspicion of murdering Valery Vlasov, co-owner of several casinos.
In Soviet times Vlasov was a professional gambler and card sharp. He served sentences in prison totaling to 17 years. After the collapse of the Soviet Union, he began building first legal casinos in Moscow. In particular, he, his friend Aleksander Ruchka, and an Austrian Hans-Peter Mayer opened a gambling house Valery. Vlasov and other partners including Iosif Kobzon, Otari Kvantrishvili, and Sergey Mikhailov opened casino Maxim. Similar establishments were appearing across Moscow, yielding a huge profit. Initially, it was divided equally between the partners. Then Vlasov had a conflict with Kvantrishvili, and only through the interference of Mikhas the sharpie was not killed. Vlasov was no longer threatened by Otarik, but he found himself under the complete control of Solntsevskaya criminal group, which he was forced to teach how to formally cover their business. Vlasov was the founder of the Center for Rehabilitation of graduates of boarding schools for children with intellectual disability, and all paperwork had it as if the entire proceeds from gambling went to support the children. He positioned himself as a philanthropist, and any raids on the casino including those by the official structures immediately announced to be an attempt to "take away a piece of bread for the orphans."
Mikhas liked Vlasov's scheme. He became the founder of a charity fund Uchastie This organization was well-known for the fact that at one time it built a belfry with nine bells in the village Fedosino. On the bells there was an inscription in Old Slavonic script that read "From the rectors of the church, Uchastie charity fund, SV-Holding and Solntsevskaya group. The fund also actively helped Moscow remand prisons inmates. In fact, the fund could be called Solntsevskaya gang mutual support fund for charitable purposes. Mikhailov later founded an international non-governmental foundation House of Orphans in Israel.
When Vlasov taught Solntsevskaya criminal group all his tricks, they no longer wanted to share profits with him. Vlasov was shot. At the same time $ 3 million intended for a project disappeared. Suspicion first fell on Mikhas. But this time he also did not stay behind bars too long.
For lack of evidence Mikhailov was released and immediately went to Hungary at the invitation of Mogilevich. Rumafia wrote about foreign adventures of Solntsevskaya gang leader in the following article. From Israel Mikhas went to Vienna. From there he contacted the Russian Orthodox Church and offered financial assistance in the restoration of the Cathedral of Christ the Savior.
Here is an abstract from the Interpol report devoted to the international activities of Solntsevskaya gang:
Mikhailov and AVERIN went to Vienna, arriving there with 10 suitcases containing 40 million shillings. Upon arrival in Vienna, at the airport they were met by three vehicles belonging to the Russian Embassy. Mikhailov handed control over the organization in Moscow to his confidants and managed its activities from Vienna. Werner KOGERLE was Sergei Mikhailov and Viktor AVERIN's main assistant after their arrival in Vienna in 1993. At that time he was a broker of real estate agency, and he found apartments for AVERIN and Mikhailov to live in. KOGERLE was working on Solntsevskaya group as an interpreter and a courier in Vienna, Austria. He traveled a lot from Vienna to Budapest and Prague. He was also involved in smuggling drugs and smuggling counterfeit U.S. dollars. KOGERLE legally had company in Vienna that dealt in Swiss watch. He employed Russian citizens. KOGERLE was the main connecting link for the criminal group in Austria. In the 1990s a branch of the organization was established in Israel. It was headed by Mikhailov and his two deputies, Viktor AVERIN and Arnold TAMM. Later they immigrated to Israel and became its citizens. In fact, Mikhailov felt unsafe in Vienna, Austria. On the day of their arrival Mikhailov and AVERIN received a license to possess firearms. In order to acquire Israeli citizenship, they marred Jewish women in Budapest, Hungary. Both never showed up in the Ministry of Internal Affairs of Israel, therefore, there is no documentation concerning them being in the country. Later, Mikhailov's Israeli citizenship was recognized invalid. All the three men: Mikhailov, AVERIN and TAMM, left Israel. ...
In 1994 Mikhailov, who was already abroad, came to the attention of Prosecutor General's Office. It instituted a criminal case over numerous cases of bribery to law enforcement officials from the kingpin Victor Klestov. Many of the questions on money transfer Klestov solved over the phone, installed in the apartment of Sergei Mikhailov. The apartment was searched, and investigators seized a pump-action shotgun, 70 thousand dollars, and two fake identity cards, namely that of an employee of the Russian presidential administration and that of a CNN correspondent. Later it was found out that before his departure abroad Mikhas switched his phone number on the cafe, which Klestov used as his headquarters. However, the investigators failed to sort out the whole story. Another influential friend of Mikhas, lawyer Dmitry Yakubovski, who has extensive contacts at all levels of government, came to the rescue. As a result, the leader of Solntsevskaya group faced only a minor charge. The case against him was over illegal possession of weapons. Two years later the case was closed.
Mikhas freely traveled around the world. He flew with Mogilevich to Costa Rica, where he bought the post of Honorary Consul of the country in Moscow for 350 thousand dollars. Then Solntsevskaya leader came to the U.S., where he met with Vyacheslav Ivankov, a thief in law who had settled in this country. As established by the FBI, Yaponchik and Mihas constantly were in touch almost weekly holding telephone conversations with each other. They discussed joint projects and recent events in the criminal world. In particular after Sylvester was blown up in 1994 in Moscow, Ivankov offered Mikhailov to take control Orekhovskaya OPG .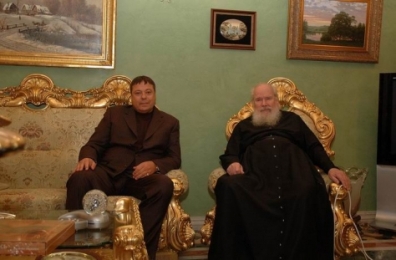 Mikhas' mentor and confessor - late Patriarch Alexy II of Moscow and All Russia
After the U.S. Mikhas first came to France, where Taivanchik lived at that time, and then to the Czech Republic, where Mogilevich was mastering his business. As a result, both countries have banned Mikhailov to enter into their territories. Then he got a forged Greek passport in the name of Sergios Michaelides and moved to Spain already with that ID. Finally, Solntsevskaya gang boss decided to settle down in quiet, as it seemed, Switzerland.
During travels around the world Mikhas found a new business partner, namely Tofik Asimov, an expert on money laundering, who had extensive connections throughout the world. Tofik and Semion Mogilevich made Mikhailov not just the leader of the organized crime group, but head of a transnational group with connections in almost all corners of the globe. Here are examples of such connections, given by Interpol.
Jose Felix Martinez-LAMELA is an Argentine businessman, former naval officer, and partner of Sergey Mikhailov and Victor AVERIN. Tofik AZIMOV hired Martinez-LAMELA to work for Solntsevskaya criminal group. Martinez-LAMELA had an Argentine diplomatic passport, and he was introduced as a man with great connections and experience in working with forged travel documents. He usually carried with him a small bag with entry and exit stamps for forging passports. Reportedly, Martinez-LAMELA collected a number of documents for use by Viktor Mikhailov and AVERIN. MARTINEZ- LAMELA supplied Mikhailov and AVERIN with forged Argentine documents. At Christmas 1994 MARTINEZ- LAMELA, his daughter, and Marcela Martinez drove to a ski resort in Austria with Tofik AZimov, his partner Vladimir Koshelev, and Sergey Mikhailov. AZimov 10 times forwarded payment to MARTINEZ- LAMELA through accounts in Atkom Consulting.
Jose Felix MARTINEZ- LAMELA was born on May 7, 1935. He was a leader of a criminal group. The group established companies, buying real estate in Argentina to launder the proceeds from drug trafficking. They used fake Argentine identification documents in order to settle in the country. MARTINEZ- LAMELA was arrested in Buenos Aires on December 10, 1998.
Randy ABDUDDEL, born on May 1, 1951, met Sergey Mikhailov in April 1995. They were introduced by Alexis Korotaev. ABDUDDEL came to MIKHAILOV's house in Switzerland five or six times. MIKHAILOV was engaged in trade in oil and other products. He was also interested in investing money in the U.S.. ABDUDDEL helped his brother, Kevin ABDUDDEL and MIKHAILOV to establish KARTA Auto Brokers in Houston, Texas. Karta came as the result of wire transfers of $30,000 and $200,000. MIKHAILOV and Randy ABDUDDEL established a U.S. company Sun Motors in Russia to oversee the work of KARTA Auto Brokers. Celtex Corporation from Switzerland was a partner of both companies.
On October 15, 1996 Mikhas was arrested at Geneva airport and charged with organizing a criminal group, money laundering, and violating the law on property ownership in Switzerland. It is noteworthy that the local police focused on materials received from the Moscow RUBOP. Investigation and trial over Mikhas are worth to be featured in a thriller. Russian Prosecutor General's office sent Geneva case materials which mentioned no criminal record that Mikhailov had had in Russia and none of his problems with law enforcement agencies. RUBOP fixed the so-called mistake. During his visit to Switzerland, Prosecutor General Yuri Skuratov claimed that all convicting material on Mikhas, including information about his criminal record, had mysteriously disappeared from his office.
However, it is not surprising. One of the business partners of Mikhailov was Ashot Yeghiazaryan, who is now wanted by the police, a businessman and right hand of Nazir Hapsirokov, a senior official of the Prosecutor General's office. Later Hapsirokov and Yeghiazaryan played a significant role in the resignation of Skuratov, inviting him to relax with prostitutes filming that with a hidden camera.
Rosenbaum, make a victim of Mikhailov's actions, was to testify at the hearing against Mikhas. But he had been shot. Aleksander Nikonov, former FSB officer, said that Sergey Anatolievich was a respectable businessman, not the leader of the Solntsevskaya gang. Business people who had suffered from the organized criminal group, mostly refuted the arguments of the investigation, stating that there had been no protection and extortion and that nobody had been beaten or tortured. Only a few entrepreneurs recognized that they had left the country after the raids by Mikhas.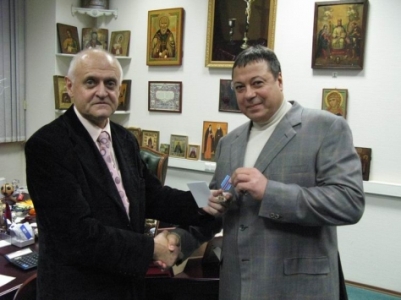 Mikhas awarded with an International Police Association medal
It was two witnesses that gave most complete evidence against the leader of Solntsevskaya group. One of them was an employee of Moscow police, Nikolay Uporov. Before the litigation he and his family were constantly threatened. The police officer retired and moved to Switzerland, where he requested political asylum. For many years he collected evidence against Solntsevskaya gang and was able to tell much about the gang and its leader. The second witness was an FBI agent Robert Levinson, who investigated international connections of the group. However, their efforts were not enough.
Even before the litigation began, team of Semion Mogilevich found approaches to an influential member of the Swiss Parliament, Philip Rosenberg. He actively took to promoting the interests of the criminals and soon public opinion in Switzerland changed dramatically. Mikhas turned from a crime boss into a decent businessman. As a result, in 1998 the jury acquitted Mikhailov, and he returned to Moscow.
It was still unsafe in the capital. Murders took place almost every day. The police did not leave hopes to put Mikhailov behind bars. In 1999 he attempted to run for the Duma in Taganrog constituency, but was withdrawn from the race due to the fact that he concealed information about having Greek citizenship. Instead of him Andrey Scoch, another representative of the gang made it to the State Duma. Now he (or rather his father, since it is him who is the official owner of the shares) is co-owner in Metallinvest and Gazmetall and a prominent parliamentarian. Forbes estimates his fortune at $ 3.9 billion. Mikhailov is much richer, but he never makes the Forbes list.
Mikhas controls most of his major assets behind the scenes. According to the report of Interpol, Mikhailov invested in AFK Systema and is an in-the-shade co-owner of the company. One of his closest partners is Vasiliy Zimin, the son of Dmitry Zimin who is the founder of Beeline. Solntsevskaya group leader controls a terminal at Vnukovo, owns a casino in Peru, and real estate in Argentina, etc. etc., (for details see Interpol report). Russian investigators say that Mikhas still owns all the objects captured by them in the 1990s, including shopping centres, hotels, office buildings, car dealerships, etc.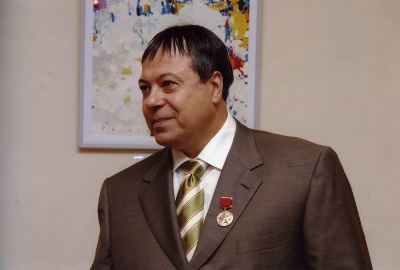 "For loyalty to Russia" - Mikhas awarded with another prestigious order, now the golden star
In 1999-2000 Mikhailov made attempts to settle somewhere abroad. In particular, he liked Latvia for that matter and started to buy real estate there. He also acquired a stake in the Parex bank. But local authorities quickly got tired of Mikhas and he was barred from entering the country. Later, all the Schengen countries did the same. In Russia Mikhailov is not a public person. He can be seen only at the official award ceremonies of the Patriarchate, to which he continues to make generous financial donations. And, of course, Mikhas remembers well his criminal ties. Like before, he does not attend kingpin gatherings, but he often meets with thieves in law tête-à-tête and discusses current problems with them. Mikhailov serves as a kind of mediator between the Mafia and representatives of various levels of government, where he has good connections. When Lasha Shushanashvili, a thief in law, had problems in Russia and was expelled from the country with a five-year ban on entry, Mikhas took to helping his criminal friend. As a result, Lasha's problems were settled. He can still be seen in Moscow. Mikhailov tries his best to help another thief in law, Vladimir Tyurin, arrested in the capital at the request of the authorities of Spain. However, Mikhas tries to be very careful with that and looks back at the example of Vladimir Kumarin, leader of Tambovtskaya gang. A couple of unsuccessful actions can lead to jail, and he would have to pay for all the many sins of the 1990s.
====== Organized Criminal Groups 2003 RUSSIA =======
Surname ............ Mikhailov
Name ................ SERGEY
Middle name ........... ANATOLIEVICH
Nickname ............. MiKhas
Nationality ..... RUSSIAN
Birthday ...... 1958. FEB.07
Place of birth ..... MOSCOW, Solntsevo
Phone home ........ 0
Phone office ....... 0
Addresses ............. Registered at Moscow may reside at: 3, NOVOPEREDELKINSKAYA, Moscow, apt. 20
======= ZITS 2003 =======
Surname ............... Mikhailov
Name ................... SERGEY
Middle name .............. ANATOLIEVICH
Birthday ......... 1958.FEB.07
Place of birth ........ MOSCOW
Nationality ........ RUSSIAN
Place of Registration ..... Z-OKRUG OVD-0701 12, OKRAINNAYA, APT. 2
Place of Work .......... AVTOBAZA 1 PROIZVODSTVENNAYA Z-OKRUG OVD-0701 176 Electrician
Category ............. WITH CRIMINAL RECORD
Signs of a ............. Eyes blue, Hair brown
Conviction ............. convicted 93 IN 1984 Solntsevsky for 3 years TVERSKAYA ARCH
Article ................ FRAUD STREET STATE ALONE MONEY
Source of Information ... LIST PAC Z-OKRUG OVD-0701 176 09 87 GARMONOV
Russian citizen Sergey Anatolievich Mikhailov, born on February 7, 1958 in Moscow, is the leader of Solntsevskaya criminal group.
He is also known under the name of Sergios Michaelides.
His nicknames: "Mikhas" or "Serezha".
Identification documents:
• According to Interpol CNB in Washington, Mikhailov has a Russian passport № 0013760F. In 1996 he lived in San Jose, Costa Rica,
• He has a Russian passport 43 № 7889348 valid until January 21, 2004, as well as passport X-SB № 705 626, issued on October 9, 1996
• He also has an Israeli identity card №309982262, and an Israeli passport №6325716 issued in Brussels, Belgium, and valid until September 21, 2000
• He has a Greek passport №190 390 and / or M166985, issued in the name of Sergios Michaelides, when he was in Marbella, Spain, in 1996. In 1996 through fraud he received Portuguese identity documents.
• Interpol NCB in Kiev mentions Russian document № 21U12336773 and Israeli document № 5619997, issued on November 1, 1993. Interpol NCB in Sofia mentions passport № 01233673.
• On 10 May 1995 he obtained a Costa Rica passport and in July tied to get a diplomatic passport of the Republic of Guyana1995 for $ 50,000.
Mikhailov's Israeli citizenship was revoked in June 1997
Address:
• He lives in Moscow at 8, Novoperedelkinskaya Str., apt. 29, 119 633.
• In Switzerland he lived at 12, chemin des Tourniaux 1261 Borex. His address in Jerusalem (according to Interpol NSB in Jerusalem) is the same as the address of Averin, namely: Givati ​​16, Bat Yam.
Mikhailov is the owner of apartments in Vienna, Austria and Moscow, Russia.