2011-09-20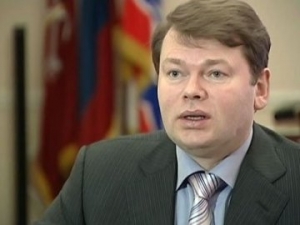 Attached dossier
Name : Vladislav
Surname : Piotrovsky
Middle name : Yurievich
Post : Former head of GUVD of St. Petersburg and Leningrad Region Awards
Lieutenant-General Vladislav Piotrovsky, former chef of St Petersburg police, who was dismissed from his post after failing to pass reappointment procedure required by recent police reform, will give evidence in the court hearing over corporate raiding. Piotrovsky, the youngest and richest of the police generals, is a witness in a court case, investigating illegal takeover of Frunzensky Fruit and Vegetable Warehouse, an enterprise worth $150m. Piotrovsky was summoned after criminal boss Badri Shengeliya, the key witness of prosecution, told court on Thursday, 15 September, that the chef of police had been aware of the activities of raiders and "coordinated" their attacks.
The Court of the St Petersburg's Oktyabrsky District is hearing the case of two officers of St Petersburg police, Azer Aliyev and Vasily Borovitsky. The prosecutors claim that Aliyev and Borovitsky, of anti-organized crime unit, helped criminal boss Mikhail Sliozberg, who has fled abroad, take over Frunzensky Fruit and Vegetable Warehouse in 2005. Following the orders of their superior, head of the anti-organized crime unit Vladimir Sych they took samples of signature of the company's owner on pretext of gathering evidence for criminal investigation. Criminals used the samples to forge documents, which allowed to illegally acquire the company.
In December 2010 Aliyev and Borovitsky were sentenced to 6 months in prison for "abuse of power". However, a higher court overturned the guilty verdict. Unlike Piotrovsky, Aliyev and Borovitsky passed the reappointment procedures and were reinstanced in their jobs.
The case is being reheard now. Giving evidence as a witness, criminal boss Badri Shengeliya told the court, that Gen. Piotrovsky coordinated Sych and Sliozberg's actions. Sliozberg was a mastermind behind the raid, Sych was in charge of forging the documents, whereas Piotrovsky opened probes into the company in order to get access to the foundation documents. Piotrovsky "made it sure that the police did not pay proper attention to the raid", according to Shengeliya. Sych had a list of companies, Shengeliya said, that no one could "touch".
"This list included the companies which Piotrovsky had a share in. He [Sych] told me all of them had been illegally taken over from their legitimate owners. There were all sorts of enterprises on the list, from battery farm in Arkhangelsk to bakery in Samara".
The beginning of the epoch of corporate raids in St Petersburg concurred with Vladimir Piotrovsky's promotion to the head of criminal unit in St Petersburg police. He became the police chef in the heydays of corporate raiding in 2006.
The scandal hit when Piotrovsky submitted his income declaration in 2010. Piotrovsky earned 10 times more than the interior minister. The Russian Mafia (rumafia.com) earlier reported, that Piotrovsky owned a country house worth $5m in Western Litsa settlement, a few kilometers from St Petersburg.