2011-10-28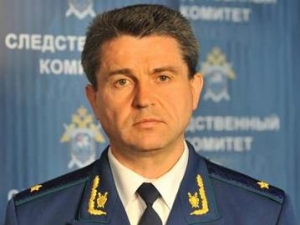 Attached dossier
Name : Vladimir
Surname : Markin
Middle name : Ivanovich
Post : Head of Department of Media Relations of the Investigative Committee
Vladimir Markin, Investigation Committee official representative, is not included in the United Russia electoral lists. Prosecutor General's Office has released the results of a probe into the Institute of Economy and Culture, from which Markin graduated, according to his diploma. The suspicion of Markin having bought his law degree led to a massive audit in the Institute. Rumafia.com presents its readers with the audit results and with other Prosecutor General's Office claims against Markin.
Prosecutors publicized results of the audit exactly on the eve of the United Russia party convention, where the final electoral lists were announced. Markin participated in the primaries of all-Russian People's Front in Volgograd but he did not make it to the Duma elections list.
The audit revealed massive irregularities in the university. Many students did not attend classes but automatically got credits in their students' record-books. Paperwork certifying internship was fabricated. Students' record-books had credits for disciplines allegedly taken while getting first higher education, which students really never had. Apparently, the Institute of Economics and Culture simply sold diplomas of higher education to those with connections. This was how Markin got his law degree, without which it would have been impossible to be promoted and become a general.
In the report draw up in the result of the audit there is a whole paragraph about Markin (for the report see www.rumafia.com): "Students' record-books of Danielyants, Stupurina, Markin, and other students contain knowingly false examination records made by unidentified persons in disciplines provided by the educational program, as well as the results of examinations in courses taken within first degree, which in reality had not been taken and were not confirmed by relevant documents on education." Investigative Committee of the Russian Federation immediately decided to check the legality of actions by prosecutors in the audit of the university. The conflict between the Prosecutor General's Office and the Investigative Committee saw a new escalation.
In addition to the bought diploma, Prosecutor General's Office has other serious claims against Markin. For instance, at one time investigative department under Moscow region police was investigating a case of public funds embezzlement, committed with the assistance of several regional government officials. Markin, who in 1997-2000 was Moscow region first deputy minister of press and information, was mentioned in the case file. However, he never received the status of a suspect or of an accused. In 2007, once Markin became the official representative of newly established Investigation Committee, the Committee took the case from police investigators and it was soon closed.
Other claims against Markin concern ethics. For many years he served as PR expert for back-alley oligarchs. Both the tycoons and their PR representative used techniques that are far from the high moral standards of a man combating corruption, which Markin claimed to be during the primaries. In late 1990s he worked for a businessman Shalva Chigirinsky, who now is bankrupt and is actively selling his assets. On behalf of his boss, Markin addressed major mass media agencies with an offer to publish defamatory materials about Mikhail Khodorkovsky and Menatep bank for a fee. It was the bank where after the 1998 crisis Chigirinsky had a large sum of money which he could not get back.
After that Markin worked for another controversial businessman, Aleksandr Yakubov, who is now a member of the Council of Federation. Again Markin had to address journalists, bribing them to engage in Yakubov's fight with the enemies of his Trading House Transneft. Sometimes discussions turned into partying with vodka and girls. Markin, by the way, took quite of a liking to the drink. Journalists that work closely with the Investigative Committee often joke that there are days, when the PR-director is not available for personal conversation. In such cases his secretary cheerfully says "Well, you know, the boss is again on a short trip."
However, it is not the problem. Rumafia sources claim that Aleksandr Yakubov is either a relative or just a good friend of Yakov Yakubov, who once owned casinos Korona and GoldenPalace. He is also notorious for having built on the premises of the All Russian Exhibition Centre a huge mansion where his children and grandchildren live. Yakov Yakubov owned casinos at the time when Markin served the interests of Aleksandr Yakubov. Our source says that the current Investigative Committee PR-director had to assist both Aleksandr and Yakov Yakubov. And now Markin actively exposes Moscow region prosecutors who were hushing up the illegal casinos.
The Russian Federation Investigative Committee does not dare to wage dirty war on Aleksandr Bastrykin, the head of Prosecutor General's Office, because Bastrykin is a protégé of Vladimir Putin. But Markin seems a perfect target. It is Markin who can be seen on TV when the Investigation Committee is mentioned. The agency is set to continue the battle against the Investigation Committee PR-director. It is possible that sooner or later these claims against Markin may be taken out of the Prosecutor General's coffers.