Attached dossier
Name : Vladimir
Surname : Antonov
Middle name : Aleksandrovich
Post : Former owner of Snoras
Russian businessman Vladimir Antonov was arrested in the UK on Thursday after Lithuanian prosecutors issued extradition warrants against him. Antonov is accused of asset stripping of Snoras bank.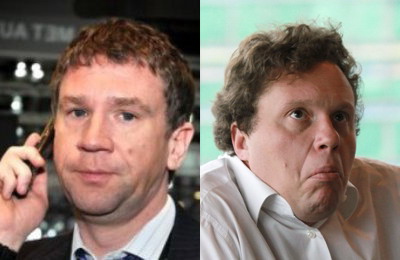 Sources claim that one more Russian billionaire might be linked to the scam.
In recent times Antonov cooperated with Polonsky who helped him to cover the fraud up. Real estate tycoon Polonsky mortgaged his Moscow incomplete developments, transferring to Snoras the rights over the flats that belong to other people. At first Polonsky and Antonov thought they had orchestrated a perfect scam. A few years ago Antonov moved almost all Snoras' liquid assets, $400-500 million worth, to foreign accounts. He disguised the fraud under a series of loans which the bank allocated to front companies with no real asset backing. For current banking operations Snoras solely used money from the deposits of legal and natural persons of Lithuania. The bank's billion dollar worth assets existed only on paper. Snoras' books stated the following assets as belonging to the bank:
- expensive securities (in fact worth nothing at all);
- money in the accounts of foreign banks (these banks are owned by Antonov and in truth have no money from Snoras in their accounts);
- money in the accounts of offshore companies to which Snoras gave loans (the companies are controlled by Antonov and have no assets).
When Lithuanian banking regulators got alarmed by Snoras' activities, Vladimir Antonov's father-in-law and former KGB officer Viktor Yampolsky introduced him to Moscow developer Sergei Polonsky. In Russia everyone knew that Polonsky was a bankrupt.
The talks between Polonsky and Antonov took place in England and Switzerland. The deal was mutually profitable. Polonsky pledged his Moscow developments, which are under constructions, to secure Snoras' loans to offshore companies (i.e. to secure stripped assets). Antonov received more or less valuable assets for the banking operations, whereas Polonsky got rid of annoying co-investors in his developments and Moscow authorities who wanted the have the developments completed.
A source that took part in the negotiations told Rumafia.com that Antonov and Polonsky had planned that Snoras would begin legal actions in Russia to seize Polonsky's property. The process would be painful and take a long time, because the property was left as a pledge with the depositors of Snoras, citizens of Lithuania. According to the written commitments, if Snoras won the case, Polonsky would have a share from reselling the developments in Moscow and a share from selling Swedish car manufacturer Saab, which belongs to Antonov. Polonsky also had the option to get his property back if he cleared debt in time.
Polonsky and Antonov were happy. As he did it before, Polonsky dumped co-investors and partners and moved assets to Europe. Antonov filled in the financial hole in Snoras. But the plans of the couple of crooks were in tatters when the Lithuanian authorities decided to probe into the bank. Tired of Antonov's scams, Lithuania put Snoras under involuntary state administration on 16 November.
Our source said that Polonsky was literally infuriated when he heard the news. He approached Antonov on the phone and told him that Antonov had "let him down" and "cheated" on him and urged Antonov to pay back.
The anger of Polonsky is quite understandable. Surely, he will get nothing from Snoras. What makes things worse he now faces legal prosecution.
On 22 November Polonsky met Antonov in London and demanded he give his money back, at least partially. But it was too late. On 23 November Scotland Yard arrested Antonov over Lithuanian extradition warrant. Lithuanian police began investigation into asset stripping of Snoras. The investigators have already seized paperwork concerning unsecured loans. They have also obtained documents pertaining to Polonsky. Their careful examination will show that Polonsky was paid by Antonov to cover up asset stripping scam. Polonsky deceived representatives of Snoras saying that the developments he left with the bank as a pledge were completed and not liable to any obligations from the third parties. In fact it was co-investors who funded the buildings works. The co-investors are true co-owners of the building.
In banking terms Polonsky is an unscrupulous pledgee and, thus, legible to legal prosecution in almost all countries. In legal terms Polonsky's actions can be classified as unsecured loan scam and fraud.
Our source said that Polonsky was afraid of legal prosecution. Should he travel to a European country he might face Antonov's fate, i.e. arrest and extradition to Lithuania. Polonsky can not enter Germany after the appeals of defrauded co-investors in his projects. Now, after Antonov's arrest, the USA might levy sanctions against him. Polonsky expected to receive his share from Antonov's selling his stake in Swiss carmaker Saab to a Chinese company. But Saab's controlling owner American GM corporation blocked the deal. The Americans did not want to see the Chinese get Saab's smart technologies. Antonov was barred from entering the US and blacklisted by the US security services. As a person interested in the deal, Polonsky could face the same sanctions.