A source of the VChK-OGPU telegram channel said that out of 270 prisoners from one of the Bashkir colonies recruited by the Wagner PMC, 30 people are still alive. "Such an indicator quite accurately reflects the number of losses of prisoners - a little more than 10% survive," the source said.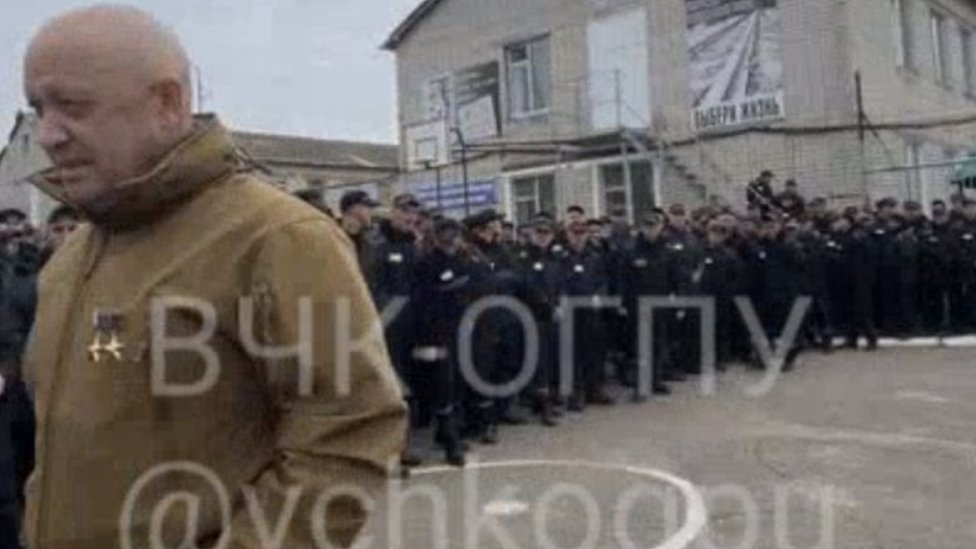 As Rucriminal.info found out, on January 6, 2023, another batch of convicts for PMC Wagner was taken from PKU IK-16 in the city of Salavat of the Federal Penitentiary Service for the Republic of Bashkortostan. This time only about 20 people were taken.
According to the source, around the beginning of October 2022, in IK-16 in the city of Salavat, all convicts are lined up on the parade ground of the institution. About 1500 people. The turnout on the parade ground was 100%. We were taken out of ShIZO and OSUON. Evgeny Prigozhin flew in by helicopter. About the visit of Prigozhin for recruitment in the so-called. PMC Wagner convicts knew in advance. About a week later, the exact date was given to the prisoners. And about 2 months approximate date. Also, in about a week, they closed the rooms for long and short visits, stopped issuing parcels and parcels, and turned off Zone Telecom. Which didn't make any sense. The last time the payphone was turned off in the colony was in October 2021, during the days when a riot broke out in the colony.
Evgeny Prigozhin, accompanied by strong men, entered the colony, where 1,500 convicts were waiting for him on the parade ground, almost the entire leadership of the Federal Penitentiary Service for the Republic of Bashkortostan, headed by Vladislav Vladimirovich Dzyuba (head of the Federal Penitentiary Service), and almost all employees of IK-16, headed by Bagautdinov Ruslan Salimyanovich (head IR). Dziuba and Bagautdinov stood at attention in front of Prigogine. They knew that now the real "owner" is Prigogine.
Approximately 3 months before the events described, the colonel of the operational department of the Federal Penitentiary Service for the Republic of Bashkortostan, Anastasia Evgenievna Salkovskaya, confidently told convicts in another colony that "not a single prisoner will leave her council."
And now Prigozhin stands in front of 1,500 convicts in colony IK-16. They were all looking forward to it. They want to look at him and listen to his formidable speech. Before them is their path to freedom. He came to free them, to pay them money. And in return they will serve 6 months, participating in the "SVO". And it's not scary. After all, according to RenTV, there are almost no losses.
According to a Rucriminal.info source, Yevgeny Prigozhin began his story by saying that PMC Wagner is the most combat-ready military unit. The army is losing and he, Prigozhin, is "Putin's last hope and support." He also added that World War 3 is now underway. And this war will last another 10 years.
Further, he promised to pay a salary of 100 thousand rubles a month in cash. He said that in all major cities there are cash points for Wagner PMC fighters. Relatives can receive them. Another surcharge for "combat".
In general, he promised good money and set him free in 6 months with the removal of a criminal record. He also added that if in the future the pardoned (amnestied) commit another crime and they are imprisoned, he will come for them again. After all, the war is long. And they need fighters among the prisoners. It is better that it was 10 years ahead of the term and 10 years behind. This is an ideal candidate for Wagner PMC.
As for the loss of personnel, Prigogine said that only 15% die. So the chances of survival are still great.
In every colony there are convicts who have not found a common language with the administration and they need to be disposed of. These prisoners allow themselves too much. Some rights are being downloaded. They don't have rights. So it is necessary to create such conditions for a short time for these convicts, so that they voluntarily-compulsorily dumped them into this PMC and this war.
In IK-16, employees perform this task 100%.
But there are also prisoners with whom the administration has very good and trusting relations. And some of them want to leave too. They begin to persuade them not to go to war. In addition, it is necessary that the promka work. And without prisoners, the prom will not work. Not willing to hire workers.
As a result, out of about 600 convicts who wanted to join the Wagner PMC, about 300 went.
On October 23, 2022, all of them were transported in paddy wagons to the airport in Ufa, where a military transport plane, which had just arrived from the Rostov region, was waiting for them.
At the Ufa airport, zinc coffins with the bodies of the dead are being unloaded from the plane. There are about 200 coffins in total. All this is seen by the prisoners who have just left the walls of the colony of Bashkiria.
Convicts who decided to go to war from the colony IK-7 in Meleuz (strict, multi-way), IK-2 in Salavat (strict, first-timers), IK-16 in Salavat (strict, first-timers), IK-4. Salavat (special), IK-21 Sterlitamak (general, second-timers), IK-8 Sterlitamak (strict, first-timers, former employees), IK-13 Ufa (general, first-timers), IK-3 Ufa (strict, multi-passes), IK-9 Ufa (strict, multi-passes).
They all see 200 coffins of the dead and begin to understand that the stories on the RenTV channel and Prigozhin's speeches have nothing to do with reality, they all go to the meat grinder.
According to the source Rucriminal.info, two start to panic and try to escape. But they didn't get far. Shot on the spot. They didn't even run after them. This is how the military path of the prisoners from Bashkiria began.
In IK-16 in the city of Salavat at this time, visiting rooms are still not working and payphones are turned off. And so it will continue until November 7th. Why it was necessary to make the prisoners suffer until November 7 is unclear. What prevented everything from turning on and opening on October 24? Nothing interfered.
On November 7, the "Zone. Telecom" is turned on, long and short visits are opened, and parcels and parcels are allowed to be received. Two weeks of incomprehensible suffering and everything returned to its place. Those who left for the war were quickly forgotten and continued to serve their sentences in the same order.
At the end of December 2022, a recruiter from Wagner PMC came to the colony again. Suddenly. Nobody was waiting for him. This time without 100% turnout of convicts. Who wants to go, he goes. Many were no longer interested. Yes, and the administration was not interested in anyone leaving for the war. This time without a helicopter and without all the show-offs. And this is no longer Prigogine. The speaker has no charisma. The crowd didn't listen to him. Everyone knows and understands that he is lying. Namely, he says that those who were previously recruited will soon go home, and they need to be replaced by someone. And he came for this replacement. A discussion begins with the prisoners. One prisoner asks how many percent of those who left this zone for the war remained alive. His question puzzled the speaker. With that, he stopped his speech and everyone dispersed. As I wrote at the beginning, only about 20 people left.
Nobody wants to die!
To be continued
Arseny Dronov
Source: www.rucriminal.info