2012-03-04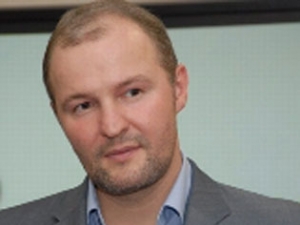 Attached dossier
Name : Roman
Surname : Trotsenko
Middle name : Viktorovich
Post : United Shipbuilding Corporation president
In late February 2012 Russian state OJSC United Shipbuilding Corporation (OSK) acquired an 80 % stake in Vyborg Shipyard LLC. According to Rumafia.com informed sources, President Vladimir Putin launched a large-scale re-division of key sea assets, thus weakening his formerly highly influential friends. The aim of such re-division is exploitation of the Arctic offshore area.
Shipyards raider nationalization
What is happening? Is it a hushed up nationalization or a kind of raider activity? These questions are hard to answer. It does look like nationalization; however, it is not catering for Russia as a country, but rather for certain private enterprises, in particular, those working in gas and oil extraction industry. On the other hand, if you look at the methods used, it looks more like hostile takeovers.
So, why raider activity? Methods used are similar and have proved successful. For instance, they were used to ensure the sale of Baltiysky Zavod in 2011. An operating shipyard with staff and equipment receives a large-scale order. Then the shipyard takes out a loan to meet its obligations under the agreement, which is perfectly natural. However, after the loan is taken out, the deal gets frozen by the consumer company. As a result, the shipyard has no work and has no money; instead, it has a loan, taken out for engineering and components, which it has to pay out.
The entity is forced to lay off most of its staff. At the same time the lender (in this case, Gazprombank) starts demanding the entity to pay out its debts, and a prospective buyer (in this case, OSK JSC) emerges.
In Vyborg all of the mentioned stages of the takeover took place in summer 2011. At the final stage a lawsuit is filed to Moscow arbitration court. In this lawsuit on 14 February Gazprombank demanded 3.712 billion rubles be collected from Vyborg Shipyard as the debt amount, fine, and penalty for defaulting on the loan. On 15-16 February OSK representatives come as saviors to the plant offering to buy it for a decent price. Part of that money will cover the debt to the bank, and part will be paid to the shareholders, with some of the key shareholders keeping some positions at the plant. The plant will get new orders with decent pay. The remainder of the debt to Gazprombank will be paid out by the buyer company.
Negotiations last a week. The main question is how much exactly the key shareholders selling the plant will get. The owners are reminded of Sergey Pugatchev, the former owner of the plant who found himself in a very difficult situation. A week later shareholders give in. An agreement on the sale of a large stake in the company is signed. In case with Vyborg Shipyard, the deal was signed on 23 February 2012.
So why does this nationalization cater rather for private entities rather than Russia as a country? The answer is simple. OSK JSC is a state-owned company and its revenues should be regarded as budget revenues. Yet, the company will pay out the debt of Vyborg Shipyard to Gazprombank, including interest rate and all the fines and penalties resultant from the delays in payments. Thus, the debt to a private-owned bank will be paid from the revenues of a state-owned company.
Russia takes Arctic offshore
And what contract awaits Vyborg Shipyards? The core business of the company is offshore structures for drilling and so on. By the way, the platform for the famous Sea Launch project was also constructed at the Vyborg plant.
There is a contract for the construction of two diesel-electric icebreakers 219М00, both double-deck with helicopter landing pads. Their capacity is enough to break ice a metre and a half thick. The icebreakers are 116 metres long and 25, 6 metres wide, with 10,000 tons displacement. What are they for? The Baltic Sea? Or rather the Gulf of Finland? The winters may be cold, yes. But it is highly unlikely for the ice to get this thick in a month or two. Even if it might, one icebreaker of such high capacity is more than enough. Why two?
And what are other shipyards constructing?
Baltiysky Zavod is also building high-capacity icebreakers. It has received an order to construct 7 of them. Two are finished and two more OSK assigned to Vyborg Shipyard. Are those also for the Gulf of Finland?
Admiralty Shipyards JSC is currently building two arctic tankers with deadweight of 70,000 tons under Р70046 project for Sovcomflot JSC.
On 1 December 2008 Admiralty Shipyards and the Federal Service for Hydrometeorology and Environmental Monitoring signed a state contract for the construction of a research vessel for a Russian Arctic expedition. The vessel, Akademik Fedorov, is ready and is already in the Arctic. At least Admiralty Shipyards is not trying to make it look like the tankers and the research vessel are for the Baltic Sea.
The mentioned shipyards are far from making a full list of companies building such vessels.
However, they clearly show that Russia is preparing a powerful arctic fleet.
Such conclusions require a long, but necessary comment:
In 2001 Russia applied to the UN Commission on the Limits of the Continental Shelf claiming the territory in the triangle drawn from Chukotka to Murmansk to the North Pole. The claim was not satisfied for the lack of information. One of the reasons Russia stated in the claim was that Lomonosov and Medeleyev ridges that stretch towards Greenland are a continuation of the continental shelf that is part of Russian territory. Canada and Denmark strongly opposed satisfying the claim.
In 2007 Russian expedition led by Artur Chilingarov placed Russian flag on the Arctic Ocean seafloor at the North Pole.
In February 2010 the Ministry of Natural Resources and Environmental Protection of the Russian Federation announced the allocation of 1.5 billion rubles for research aimed at determining continental shelf boundary.
On 30 June 2011 at a United Russia party inter-regional conference Vladimir Putin said that the nation's leadership intended to "actively protect the country's geopolitical interests in the Arctic" and put forward priority tasks regarding such policy. In particular, the priority tasks included construction of 3 nuclear and 10 diesel icebreakers in 2010 – 2020. Creation of up-to-date frontier and meteorological infrastructure is also part of the provisions of the mentioned policy.
One of the key projects was presented at the Third International conference Saint Petersburg — the Sea Capital of Russia in June. The project is for the construction of a major shipping port in Yamal, the initial cost of which is 900 billion rubles.
In June 2011 Russian Defense Minister announced that Russia planned to deploy two military units in the Arctic, although back in March 2011 there were plans for only one unit on the Kola Peninsula.
What is it about the Arctic that makes Russia want it?
First of all, it is the interests of oil and gas producing companies since, according to the research conducted by the US Navy, the Arctic region contains about 20% of the world oil and gas resources.
This is why Russia is doing everything and anything to secure the Arctic. The fact that such plans have not been voiced openly, that there are obvious steps taken in that direction, and that relevant projects receive lavish funding, shows that all this is a serious project that Russia intends to finish successfully. But who is behind the project? As usual, oil and gas companies and Vladimir Putin.
This time, however, the interests of oil companies and Putin on one side and Russia as a county on the other side are the same.
The Kovalchuk brothers and Ilya Traber lose influence
And who is pushed away from "state" orders?
In Baltiysky Zavod it was Sergey Pugachev, who pursued a public image of a friend of Vladimir Putin. In Vyborg Shipyard it is Yuri Kovalchuk, an actual friend of Putin and a co-founder of the famous Ozero cooperative, and a co-owner of Bank Rossiya.
After a failed attempt by a Norwegian shipbuilding company Kvaerner to buy a stake in Vyborg Shipbuilding through an intermediate owner Ako Bars group, the equities came into the ownership of a group of people linked to either Bank Rossiya, or Ilya Traber, a shady governor of the Baltic Sea ports (with the exception of St Petersburg and part of Ust-Luga).
Vasily Gorelov, the son of Dmitry Gorelov who is a co-founder of Bank Rossiya, and Sergey Kolesnikov, who studied with Dmitry Gorelov at the Military Medical Institute and is a business partner of Traber, both received an 18.9% package. Aleksandr Ulanov, a grey cardinal and fantasist working for Traber, received 9.6%. Aleksandr Petrov, a long time business partner of Traber, received 4.2 %. Another 4.2% are owned by Grigory Poryadin, the then mayor of Vyborg who was on good terms with both Traber and Kovalchuk. A total of 25% resulted in the ownership of Rosinvest headed by Vasily Gorelov. And 4.2% belong to Natalia Belikova. It is worth pointing out that Gorelov communicated with Putin without Kovalchuk as well. Back in 1991 he established Petromed CJSC, one of the three founding entities of which is St Petersburg city hall committee on external affairs at that time headed by Putin. All in all, the mentioned stakes form 85%. Thus, 4.2% remained with the previous owner. And who is that? Poryadin, I would guess.
Thus, it seems like Putin is in the process of breaking off ties and relations, a sort of a wipe-out. He began taking assets away from his business partners and friends (although, it is doubtful that he actually has any friends) and consolidating the assets in the hands of a tiny group of businessmen. OSK head Roman Trotsenko and his boss Sergey Chemezov are obviously among such businessmen. And it is too early to tell whether it is a good thing or not. Pushing Traber's team away from the gravy rain, on the contrary, is clearly a bad thing. And especially so since, as they say, he has been directly linked to law enforcement agencies while "dealing" in antiques.