Attached dossier
Name : Ivan
Surname : Glukhov
Middle name : Alekseevich
Post : Head of the Main Directorate for Investigations of the Moscow police
Rumafia.com continues its report on exposed corruption in Russian police, a criminal case against Maksim Kagansky, a former officer of the Economic Security Department (DES), and Nelly Dmitrieva, an investigator at the Ministry of the Interior Main Directorate for Investigation (GSU) in Moscow. Since the publication of our previous article, pre-trial restriction for Dmitrieva was changed from detention to travel ban. Kagansky is still in remand prison. The two are accused of extortion and receiving a bribe worth $3 million from Boris Yudin, head of Medika LLC.
However, FSB and Chief Economic Security and Corruption Fighting Directorate (GUEBiPK) believe that Kagansky and Dmitrieva are support actors in this scenario. They received bribes to hand them over to their bosses, namely General Andrei Khorev, former deputy head of the DES (now reorganized into the GUEBiPK), and General Glukhov, head of the GSU. All attempts to have him dismissed proved unsuccessful so far.
In the third part of our reports on corruption among high-ranking police officials Rumafia.com cites testimony of the victim, Boris Yudin, who was handing the bribe. In his story he mentions Andrei Kozbanov, former investigator of the Investigative Committee under the Ministry of the Interior, a person who is actually a main participant of the events.
Law enforcement agencies have long been paying attention to the activities of Yudin and his business partners from Medika, Svetlana Ortokh and Aleksey Tsarkov. Their numerous entities have been involved in most of the large-scale scams in medical sphere, including supplies of medicine and CAT scanners. The tree entrepreneurs were mentioned in several criminal cases but by some reason they never faced trial. Proceeds from scams were obviously of help when avoiding prosecution. No wonder that Yudin's closest confidants were former and current MVD officials. When Medika business partners faced yet a new series of problems with the investigators, Yudin used his usual tool. He addressed a friend of his, Andrey Kozbanov, for help. Kozbanov has quite a peculiar resume.
When Kozbanov was an investigator in the Investigative Committee under the Ministry of the Interior, he was investigating a case on the raider takeover of Frunzensky Fruit and Vegetable warehouse in St Peterburg. Kozbanov assisted kingpin Mikhail Sliozberg, who is hiding in Israel, in clearing off accusations and put the investigators on the wrong track presenting Sliozberg's accomplices, St Petersburg police officers including the agency's deputy head Vladimir Sych, as masterminds behind the takeover. A little later he suspended the case altogether.
When in 2007 police arrested Vladimir Kumarin (Barsukov), the shadow governor of St Petersburg, who is now sentenced to 15 years in prison for extorting $700 000, the Investigative Committee launched a probe into all questionable cases in St Petersburg. The investigation into the Frunzensky Fruit and Vegetable warehouse case was among such. Investigative Committee interrogated Kozbanov; he got the wind up and promptly admitted that the case had been closed for a fee and his superiors had also been involved in the case termination. He ratted out all his bosses. Kozbanov did not face prosecution; instead, he was dismissed. After that Andrei Kozbanov assisted investigators who take bribes. He became a mediator for handing money to the officials and helped businessmen in establishing necessary contacts with law enforcement agencies. Kagansky became one of his senior partners in this business. The proceeds they got from the illegal activities they used to set up a network of filling stations in Volgograd region.
Suddenly, Kozbanov began ratting out his business partners. At some point of time he handed a bribe of $1 million over to his best friend, Grigory Dymovets, deputy head of a division at Moscow Inter-regional Investigative Department on Transport engaged in investigation of high-priority cases. Kozbanov and Dymovets used to work together at the Investigative Committee under the Ministry of the Interior. After that, Kozbanov took part in the arrest of Dymovets, who later ratted out all his superiors who were also put behind bars. It was Kozbanov's words that led to the arrest of Dmitrieva and Kagansky.
According to Yudin's testimony, when Nelly Dmitrieva initiated criminal proceedings against him, Otrokh, and Tsarkov, he addressed his "pal" Kozbanov for assistance. Kozbanov introduced Yudin to the influential problem-solver Kagansky. The sides began to discuss the conditions for the case to be closed. Then GUEBiPK officers came to Yudin saying that they knew about the bribe Kagansky was demanding and offered Yudin to assist them in their operational activities. The businessman agreed. Yudin met with Kozbanov and in a café. There Kagansky named the amount he wanted as a bribe, $3 million. Maksim Kagansky kept silent during almost the entire meeting; Kozbanov did most of the talking. Then Yudin met with Dmitrieva and she hinted that she could make the investigation follow the line he would prefer. Immediately after the meeting with the investigator, law enforcers handed Yudin the bag with the bribe he handed over to Kozbanov. Later it became clear that Kozbanov was also assisting the police in their operational activities.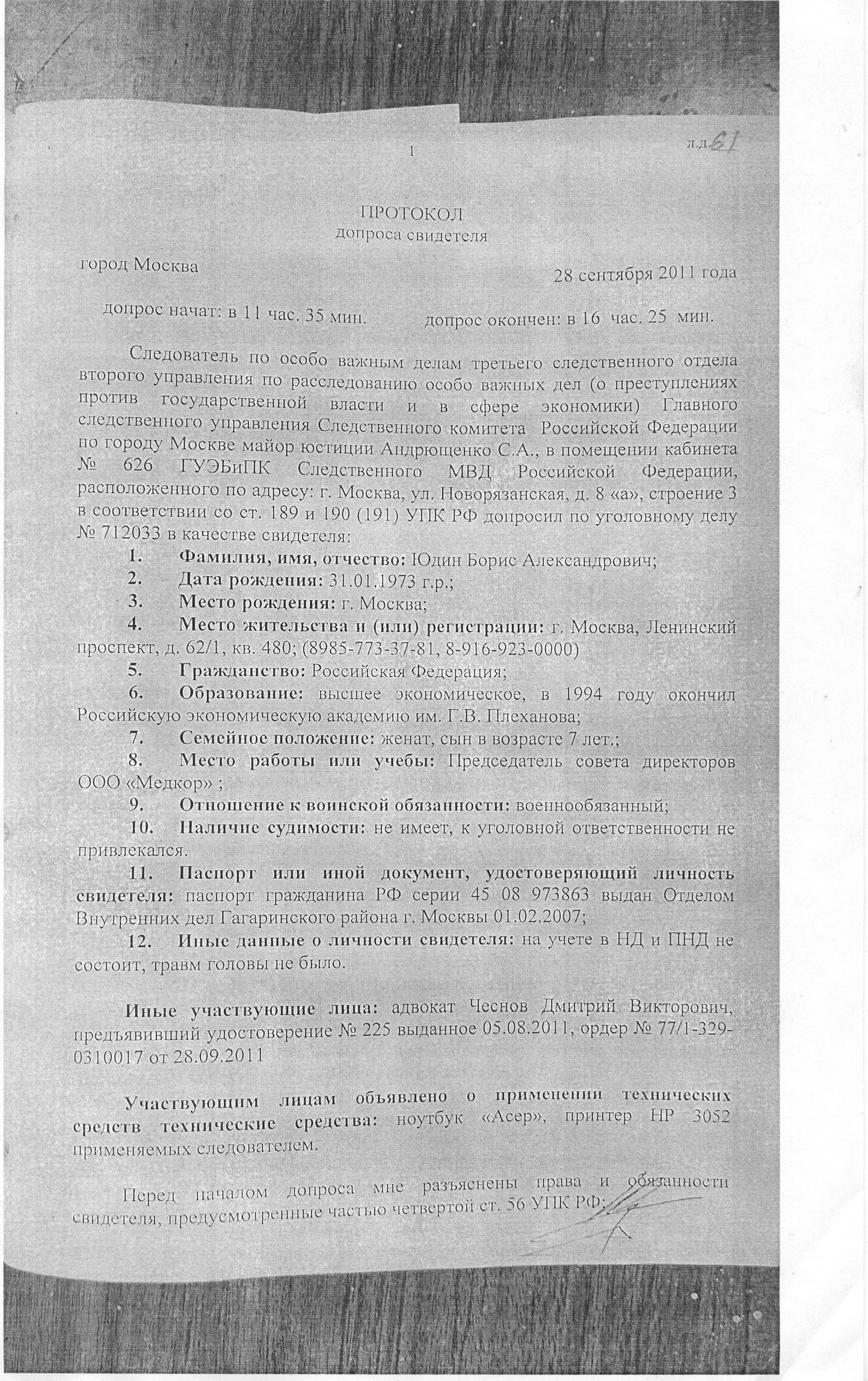 The first page of the protocol of Boris Yudin's interrogation held in the presence of lawyer Dmitry Chesnov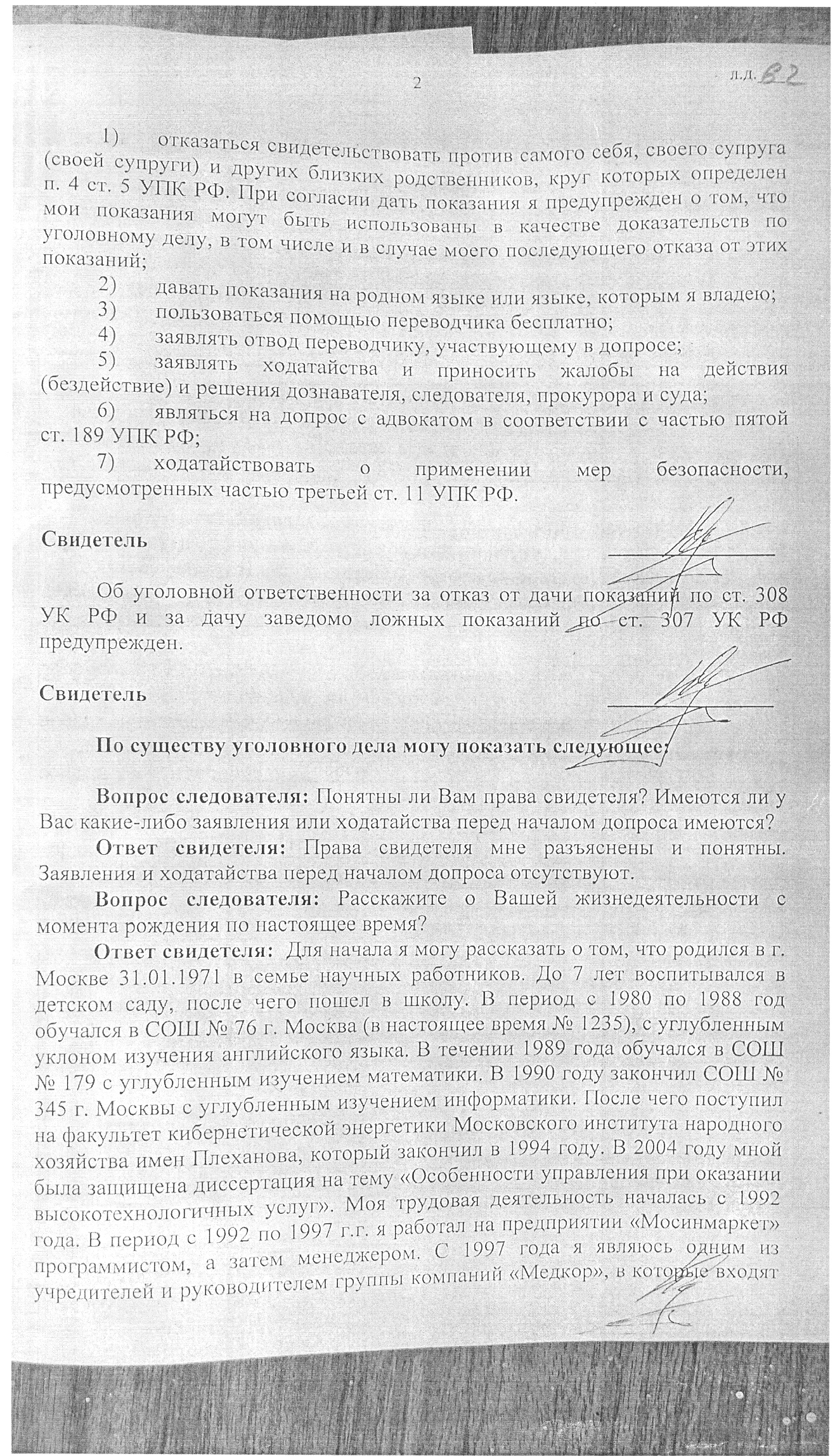 Yudin's autobiography in which he claims that since 1997 he has been a co-founder and a top manager at Medikor group of companies. The second main co-founder is Aleksey Tsarkov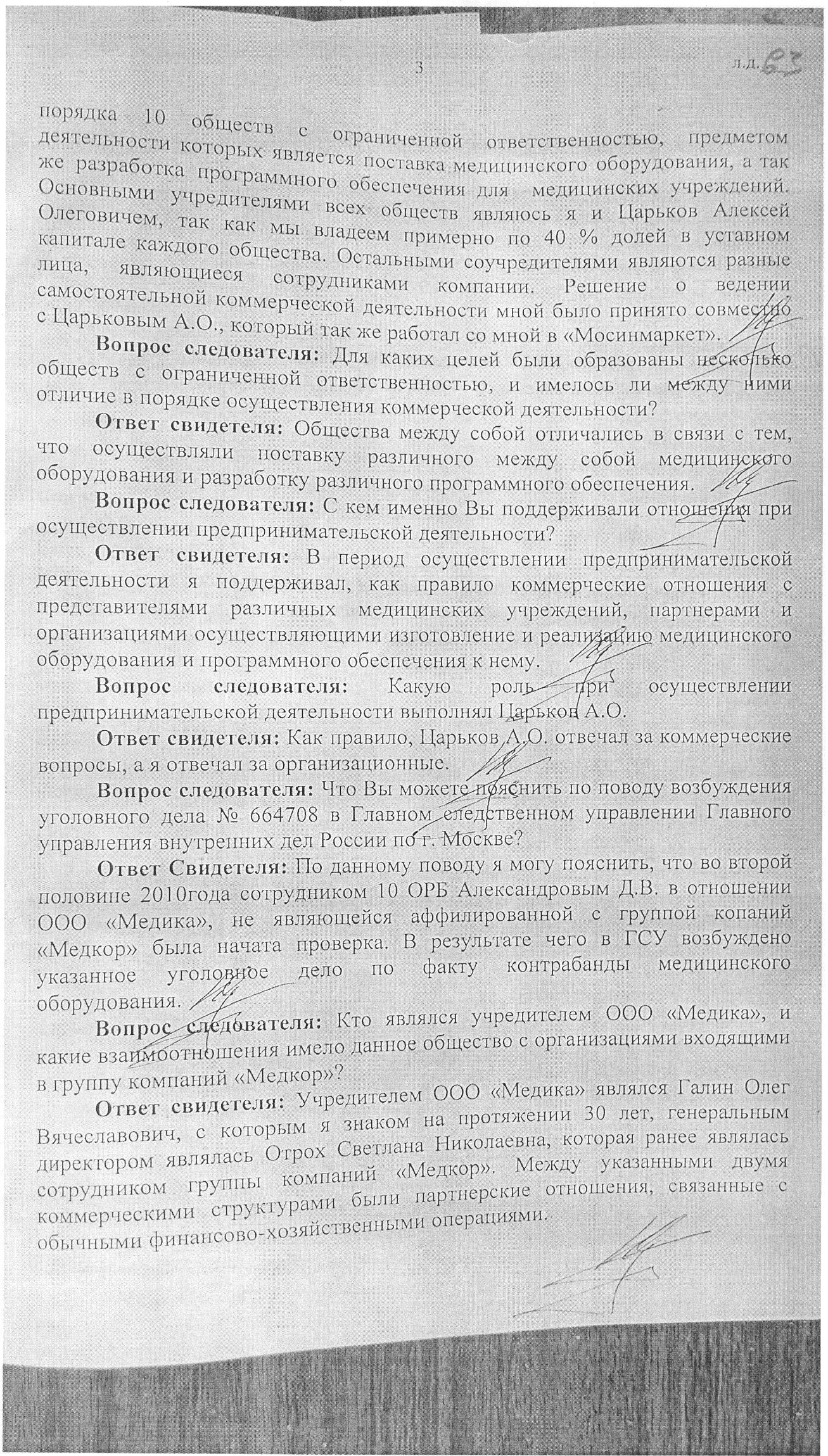 Yudin says that Medikor group of companies and Medika LLC are business partners. Furthermore, Yudin has known the main founder of Medika LLC, Oleg Galin, for over 30 years, and Medika CEO Svetlana Otrokh used to work for Medikor. Yudin claims that Medika is not an affiliate of Medikor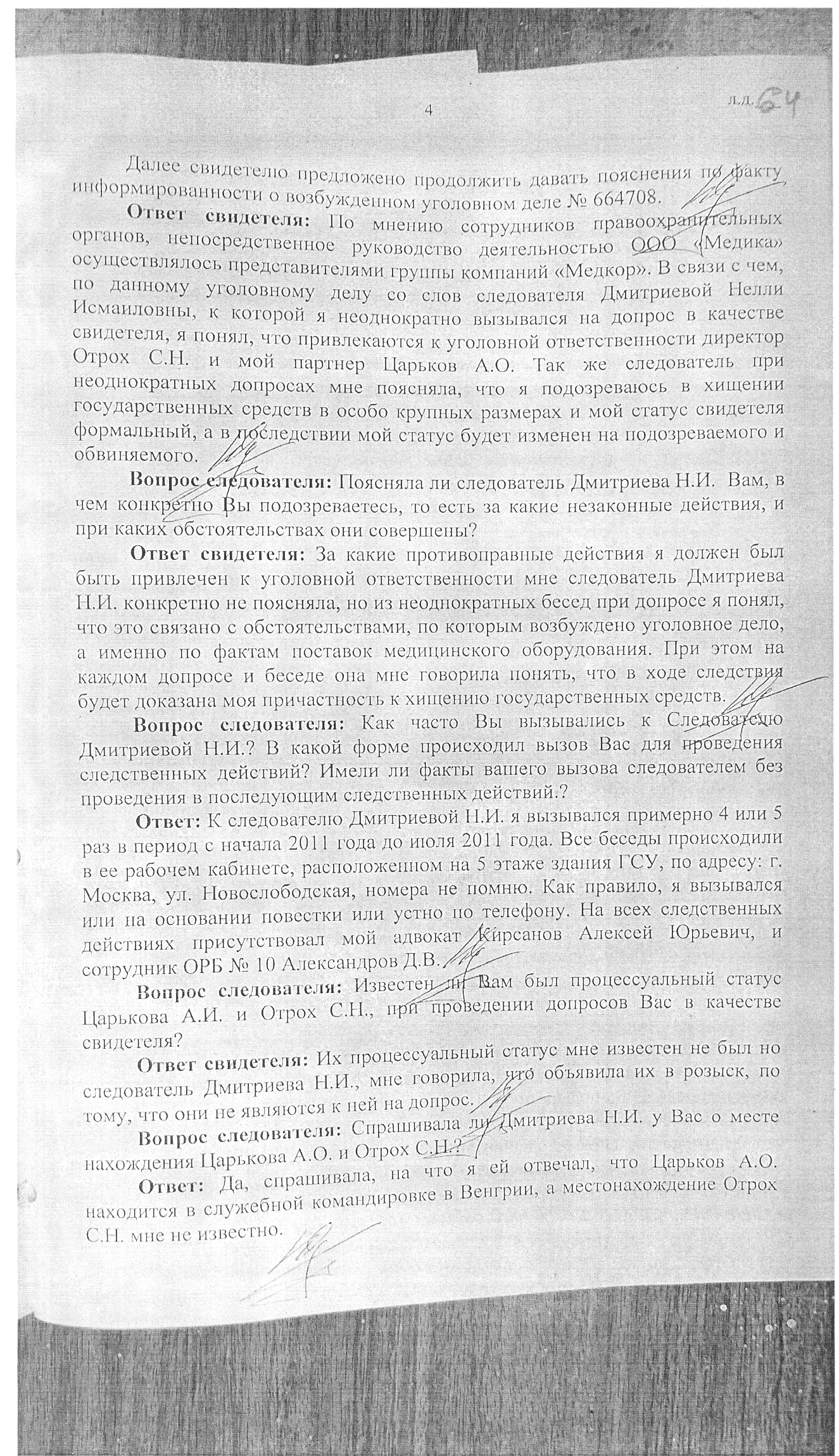 Yudin's testimony in the criminal case against Medika LLC employees. He claims that he has repeatedly met with Nelly Dmitrieva for questioning. She told him that Aleksey Tsarkov and Svetlana Otrokh faced criminal charges and are on the police wanted list. She also told him that he was suspected of government funds embezzlement and that he would become a suspect and would face the charges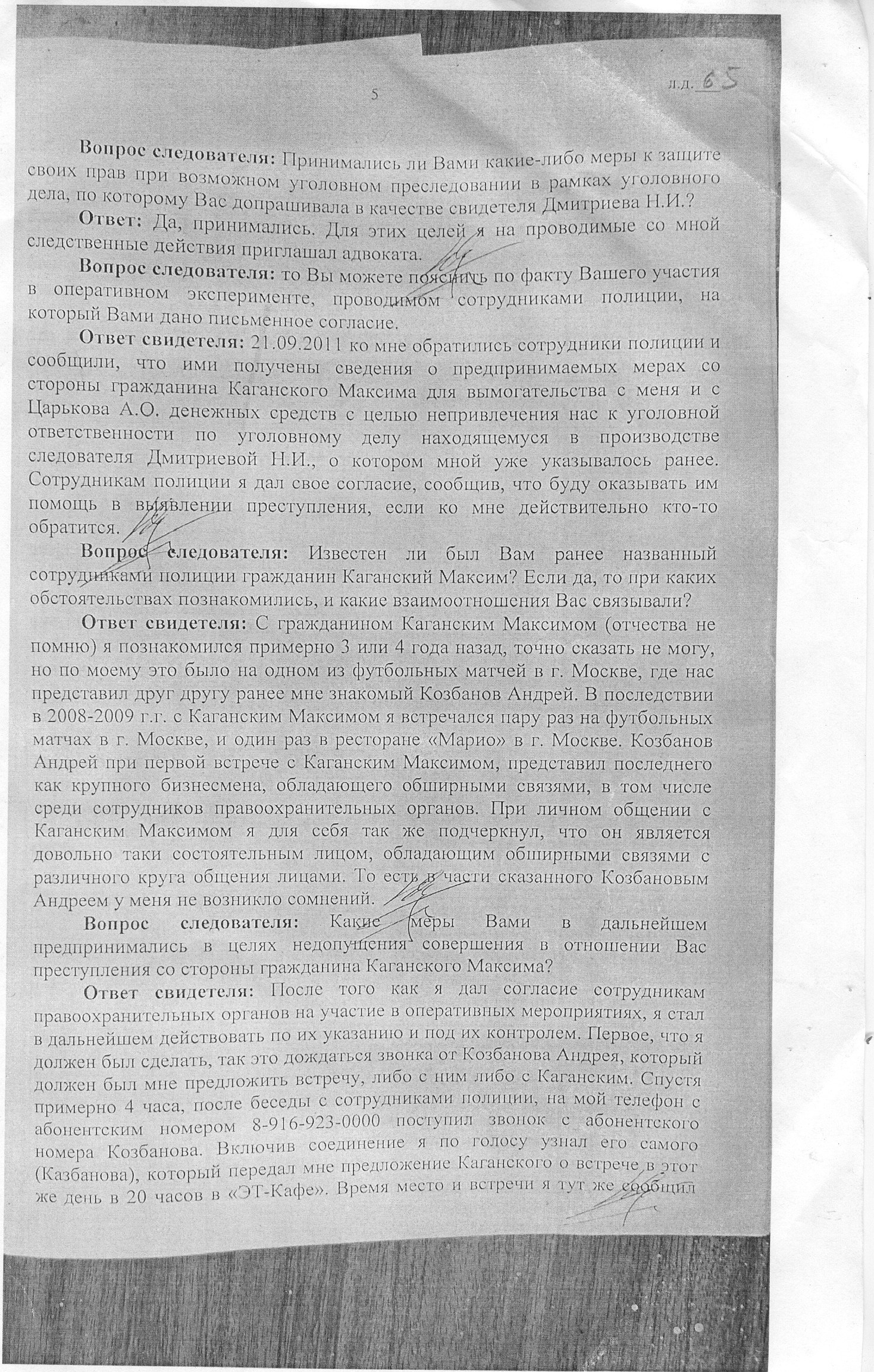 Yudin claims to have known Maksim Kagansky for 3--4 years. They were introduced to each other by Andrei Kozbanov, who pointed out the broad range of connections of the influential businessman. Yudin says that police offered him to participate in operational activities and he agreed. After that Kozbanov called him and invited to meet with Kagansky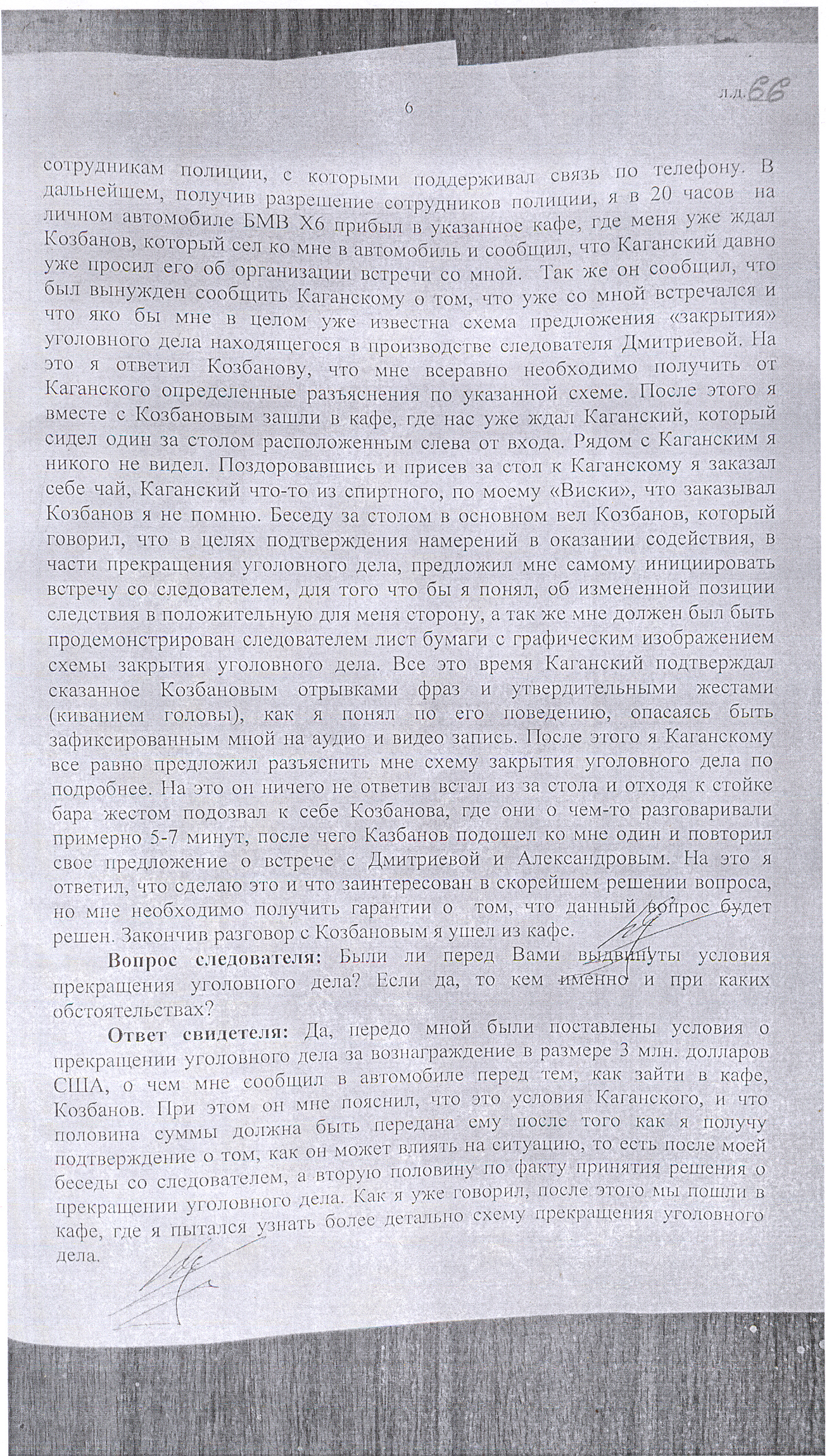 Yudin says that during the meeting Kagansky and Kozbanov offered him assistance in terminating the criminal case for a toll of 3 million dollars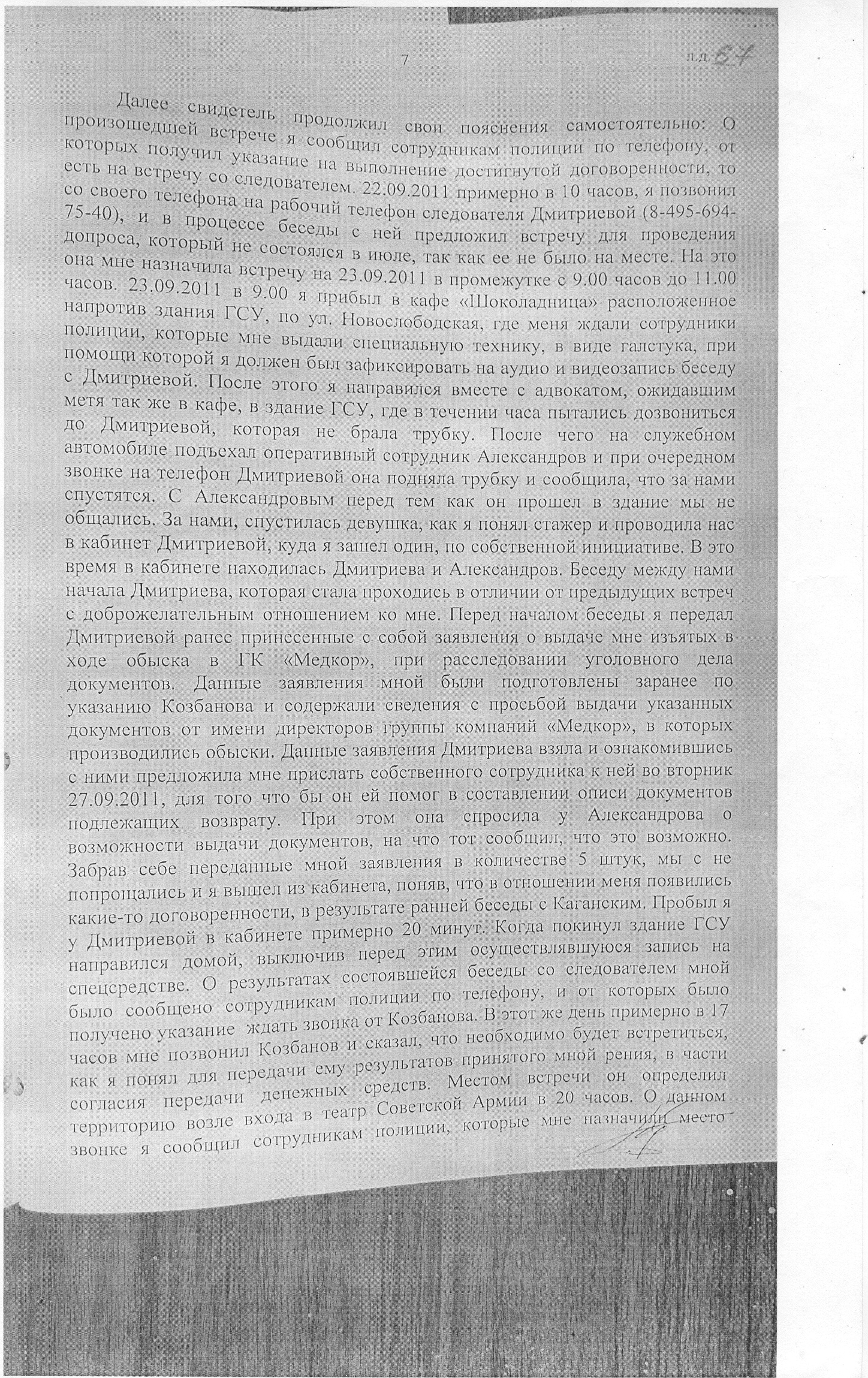 Yudin speaks about the meeting with Dmitrieva. In contrast to the previous two meetings this time she was quite sympathetic. The meeting was attended by a GSU investigator Aleksandrov who witnessed Dmitrieva agree to consider Yudin's claim in which he asked to return the documents seized during a search in Medikor group of companies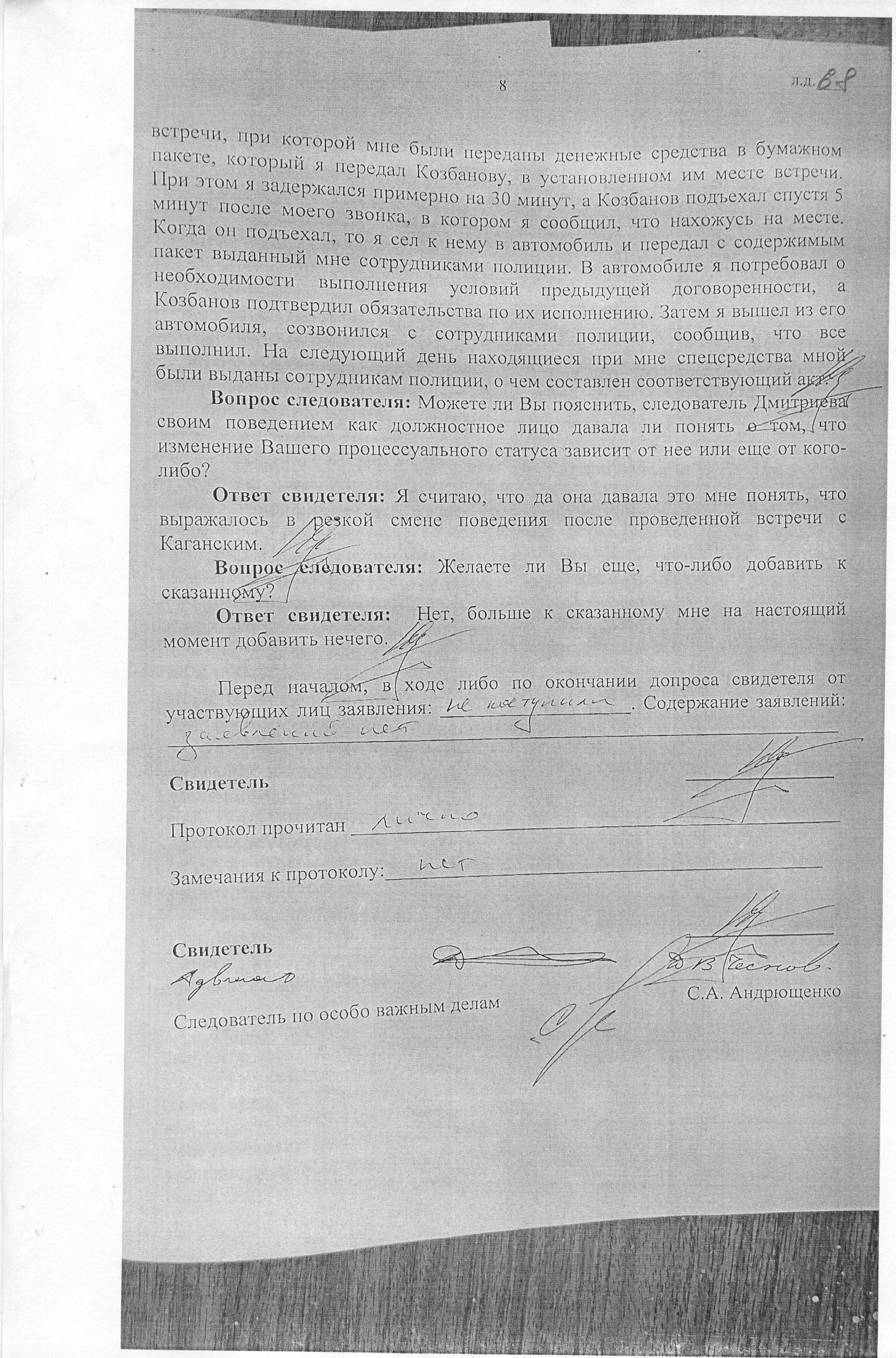 Yudin describes the meeting with Kozbanov and handing him the money received from the police for the operational activities