The source of the telegram channel of the Cheka-OGPU confirmed the authenticity of Dmitry Rogozin's correspondence that appeared on the NETWORK. The most interesting thing about Rogozin is Rogozin's discussion with his "master" Putin's friend Arkady Rotenberg. The latter has been dragging Rogozin for a long time, including lobbying for his appointment, which allows him to have control in the relevant areas, as it was in Roscosmos and was planned in the Accounts Chamber, where Rogozin was never appointed, and is unlikely to be appointed.
Evgeny Prigozhin Rogozin, in messages to Rotenberg, calls the dog "loose from the chain", Rotenberg calls him "pug". Also, Rogozin, in another correspondence, calls Prigozhin a "little shit."
Not flattering Rogozin writes about Shoigu and his family. The ex-head of Roscosmos calls Ksenia Shoigu an idiot. And Shoigu himself is a "goat".
It is especially interesting to read how Rogozin solicits a new position for himself through Rotenberg. Rotenberg, referring to communication with Putin, promises Rogozin that he is about to receive some kind of appointment. But that doesn't happen.
Rogozin believes that Deputy Head of the Presidential Administration of the Russian Federation Kiriyenko is "weaving" intrigues against him.
Rucriminal.info cites the most interesting excerpts from Rogozin's correspondence.
On January 21, 2023, he wrote to his bodyguard, and officially former adviser to the head of Roskosmos, Sergei Gugushkin, inviting him to go to Donbass with him: "Seryozha, we never sit still. I agreed with him (Putin - ed.) This trip. Maybe they'll announce it when I get there. It doesn't matter. The flywheel is already running."
Earlier, a source of the Cheka-OGPU said that Rogozin was accompanied everywhere by two former fighters of the Alpha special forces, who have the status of advisers. Already 10 years with the ex-head of Roscosmos Sergey Gugushkin. And much later Mikhail Bridasov was added. He didn't serve at Alpha for very long, a couple of years. Bridasov died during the shelling of a restaurant in Donetsk, where his boss was celebrating his birthday.
Rogozin lobbied for employment because of Russian billionaire Arkady Rotenberg, who is close to Putin. There is a lot of sycophancy in their correspondence.
On September 27, 2022, Rotenberg replied to Rogozin: "Good morning, dear!!! I'm a little twirled, but I miss you a lot!!! Today I'll dial it directly and remind you!!! The Lord is protecting you!!! The motherland needs you, it just started spinning too!!!".
In the evening he added: "I said everything and the shifts began!!!".
On October 1, Rogozin wrote to Rotenberg again: "Please tell him that it's enough to keep me in the rear. Yes, and in the Ministry of Defense it is necessary" not to move furniture, but to change girls. "I embrace you with hope."
Rotenberg answered briefly: "He already spoke with Vaino (Anton Vaino - head of the presidential administration of the Russian Federation - ed.) about you !!! Wait."
On October 4, Rotenberg himself writes that he reminds "him" of Rogozin. Both shift the responsibility for the absence of "landslides" to Vaino.
The conversation on October 7, 2022 is another fawning of Rogozin towards the Supreme: "Arkady Romanovich, I congratulate you on the anniversary of your friend and our President! God grant him health, wisdom, determination and VICTORY! I embrace you."
The next day, Rogozin himself offered a position for himself: "My brother," he writes to Rotenberg. "Now we need to bring decisive people into battle. "He will give the component of the operation to Surovikin. As the new Chief of the General Staff. And he will give the entire civilian component to me. We can handle it together."
Rotenberg replied to this: "Surovikin will already be appointed to the NWO. We need to promote you. He promised me."
On October 22, Rogozin writes to Rotenberg that he is in Donetsk and wants to send a short letter to the "Chief": "I plan to describe my impressions of the meeting with the battalion commanders of the Donetsk and volunteer battalions, a real picture of their support, as well as some suggestions for organizing peaceful life. Spent a week here because you are aware of their needs."
Rotenberg replies that he will see "him" on October 29, but he can deliver the letter earlier.
By the way, the mentioned letters - reports on Donbass for Putin - Rogozin will prepare later. More precisely, the "VV report" will be written for him by his assistant Artem Melnikov, the former head of the internal audit service of Roskosmos. Rogozin took him to work in the "Tsar's Wolves".
Rotenberg replied that on October 25, Rogozin's letter was "delivered." On November 1 - after meeting with Putin - the billionaire wrote to Rogozin that the response to his letter was "good."
On November 12, a message appeared on Russian telegram channels that "the question of Rogozin's appointment has been postponed again": At the same time, sources consider the non-appointment of Dmitry Rogozin to be the result of his failures, in particular, in the work to create a satellite group, which today is becoming apparent against the backdrop of the SVO.
Rogozin wrote Rotenberg y, that, according to him, this material was placed on the order of Sergei Kiriyenko, the first deputy head of the presidential administration of the Russian Federation.
For several days in November, Rotenberg did not respond to Rogozin's messages, in particular, about his trips to the Donbass. The following months, messages from the billionaire became less frequent and detailed.
On November 25, information appeared in the Russian media that the post of head of the Accounts Chamber would become vacant: the head of the institution, Alexei Kudrin, would go to work at Yandex before the end of the year.
Rogozin sends this news to Rotenberg, and he asks: "Do you want?". Rogozin replies that "He offered it." "It seems to me that you can influence a lot and help you," adds Rogozin.
"Then agree, and then we'll see," Rotenberg answers him, but Rogozin notes that no one has called him on the phone yet. The billionaire advises him to do it himself.
On the same day, Rotenberg reports that all the photos from the Donbass that Rogozin sent him, he passed on to Putin, and he seemed to have a good reaction.
"Well, I'm for the motherland and for it," writes Rogozin.
"He appreciates it!!! Me too!!!" , - the billionaire answers him.
On November 28, Rogozin wrote to Rotenberg: "Arkady Romanovich, good morning. Today I'll try to get through to the Chief. Will you call too?
Rotenberg replied briefly: "You tell him that you agree to this post! I will be in Moscow until 17:00 and I will recruit."
There is no information about whether the conversation took place that day. On November 30, Rogozin reported to Rotenberg, who had met with Secretary of the Security Council of the Russian Federation Nikolai Patrushev and Deputy Prime Minister of the Russian Federation Denis Manturov: "They help in the work. They are very interested in my actions in the NVO zone."
On December 2, Rogozin asks if there is any news. "Not yet!!! He said everything and sent it!!! He says he refused? I said that I already agree or something else, but I can't sit without a job, we need to help the country. He said that he understands," answered Rotenberg.
On January 12, Rogozin and Rotenberg met, and on January 14, the billionaire was at a meeting with Putin. "I told you that everything will be fine and you will be satisfied," Rotenberg wrote that day.
On February 5, Rogozin asked Rotenberg to send the video work "Marker" to the "Chief" and joked: "As long as we appoint me, we will reach Kyiv."
The conversation ends on February 12. At the beginning of May, Rogozin remains without a public post.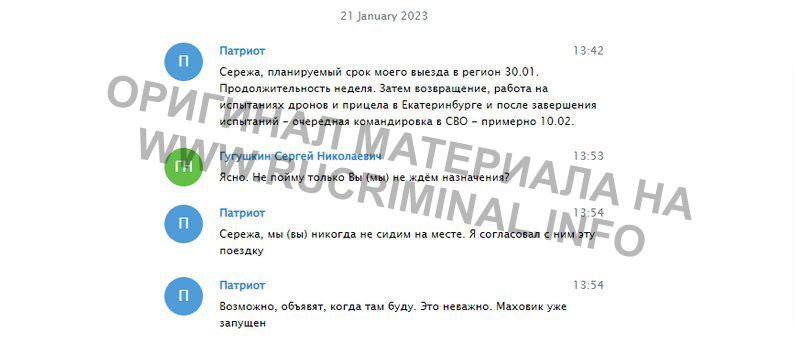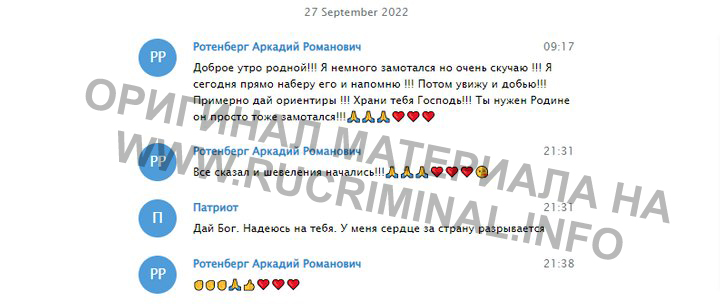 ​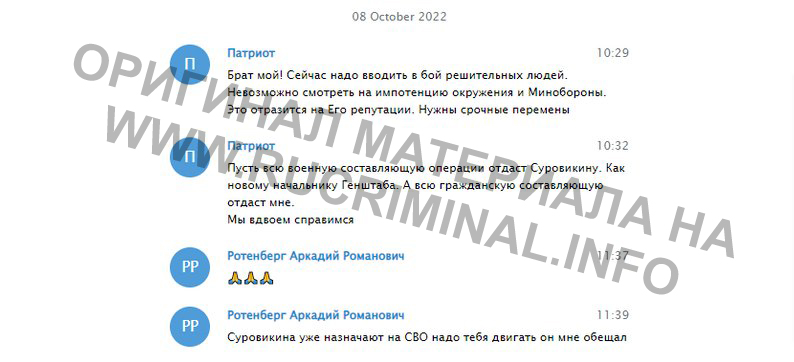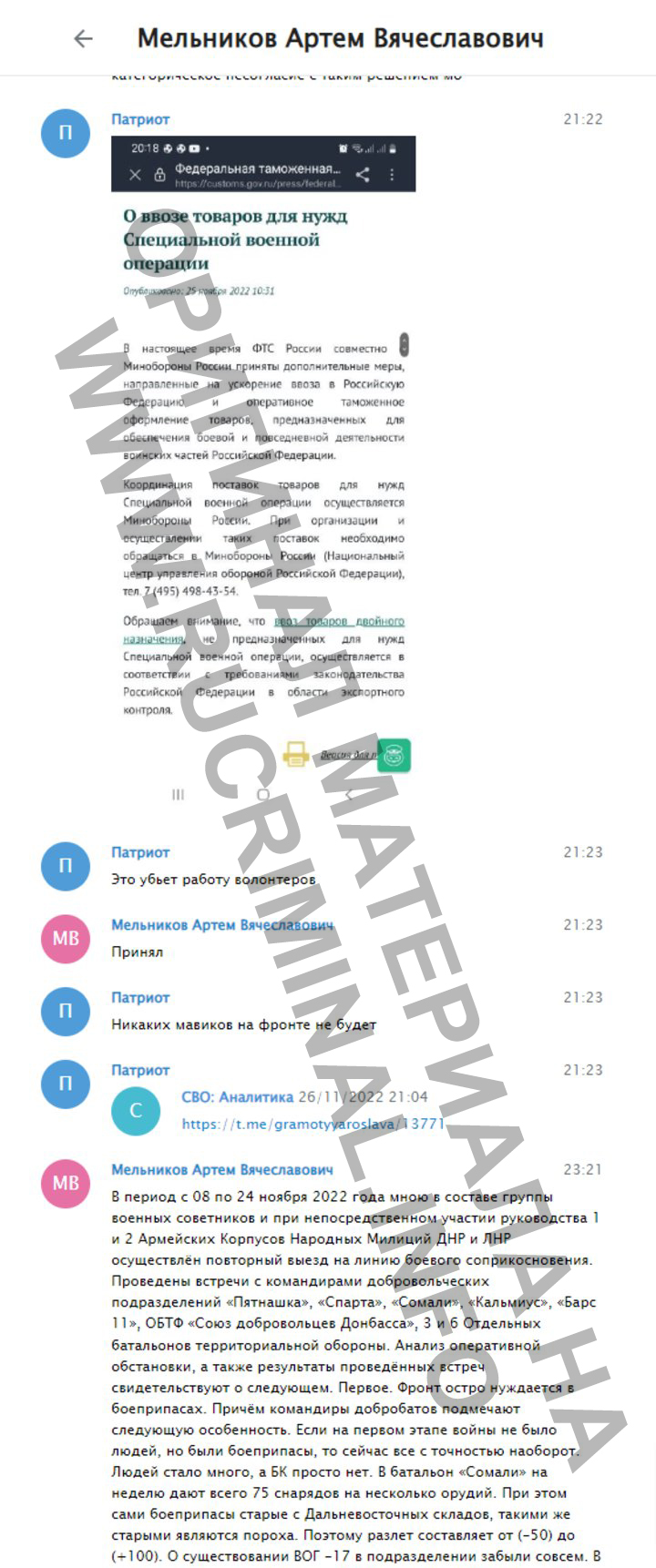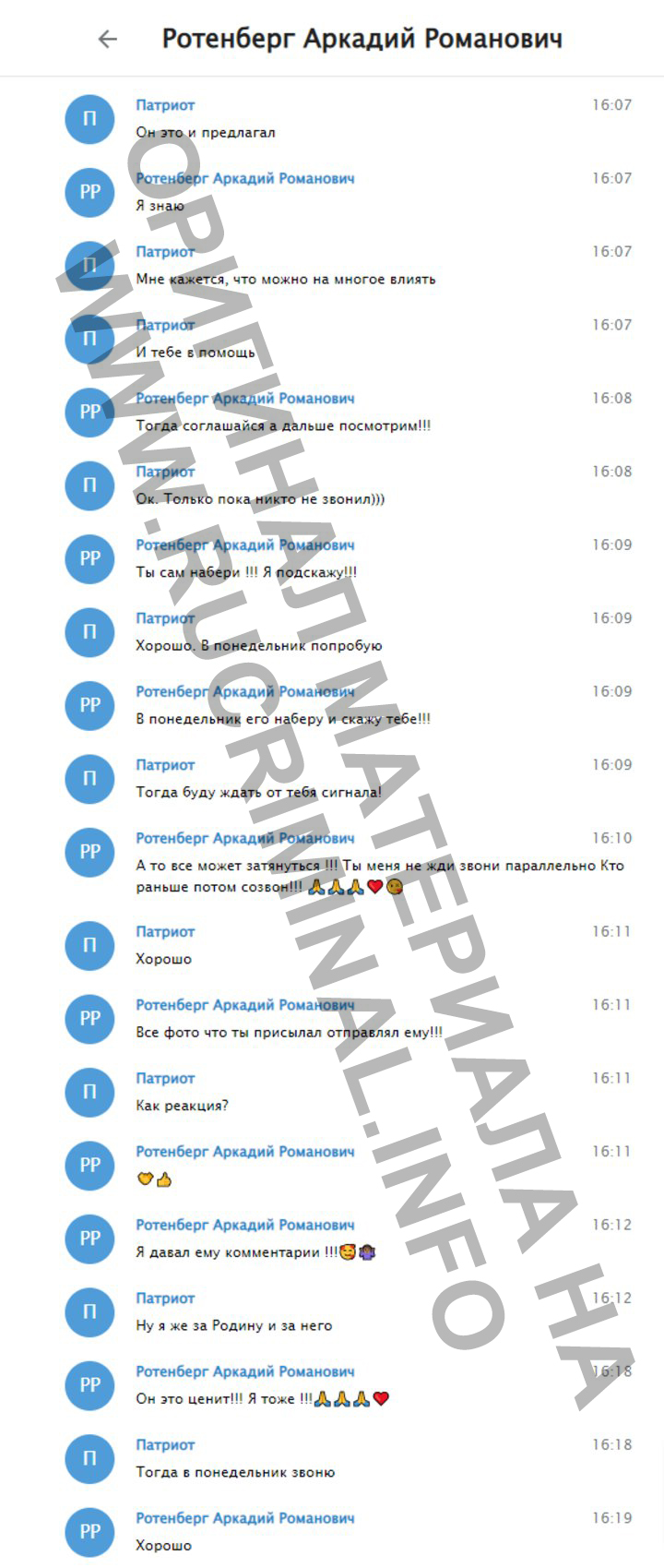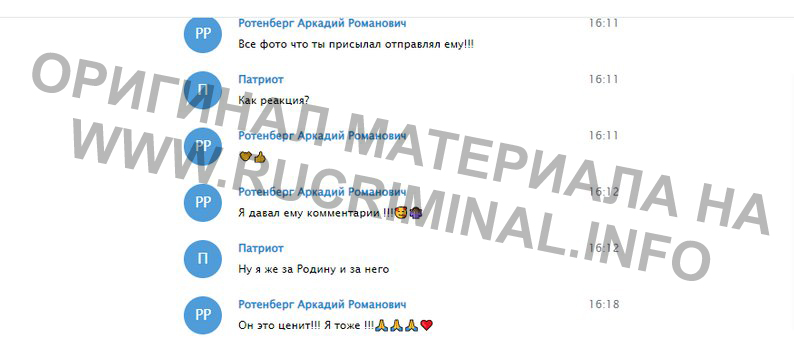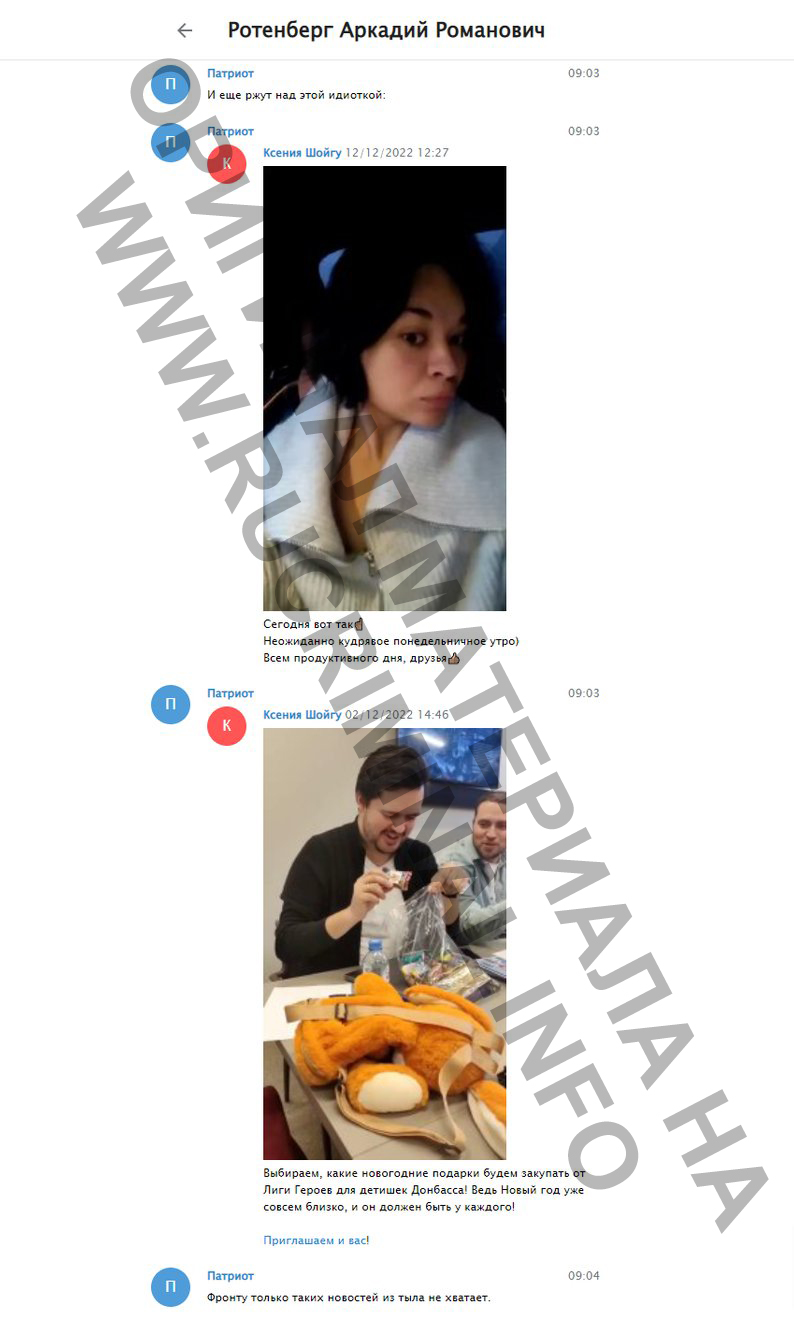 To be continued
Timofey Zabiyakin
Source: www.ruciminal.info