The wife of Putin's supervisor took the place of Elena Baturina in the list of the richest women in Russia
The wife of the rector of St. Petersburg Mining University, Tatyana Litvinenko, took second place in the ranking of the 20 richest women in Russia according to Forbes magazine. The publication estimated her fortune at $ 2.8 billion, placing her in second place on the list.
The source of her wealth is a 20.6% stake in the mineral fertilizer producer PhosAgro, transferred by her husband Vladimir Litvinenko in May 2022. In May of this year, Litvinenko, who retained a 0.39% stake in Phosagro, came under US sanctions.
Igor Sychev worked for PhosAgro for many years, against whose shareholders he filed financial claims. Their amount has exceeded the $100 million threshold, and the case is now pending in the Supreme Court of England and Wales. Igor Sychev describes his confrontation in this way.
"The defendants in case CL-2016-000831 are Russian oligarchs who own one of the largest Russian companies PhosAgro (listed on the London Stock Exchange) and one of whom (Mr Guryev) is known as the owner of the most luxurious real estate in the world. England (£300 million Witanhurst Palace, second only to Buckingham Palace, and a four-story penthouse in London's tallest skyscraper discovered by investigative reporters).
Mr. Guryev and his son, who headed PhosAgro, were on US, UK, EU, Australian and other sanctions lists after the Putin regime unleashed a mad war in Ukraine. The US authorities, for example, justified these sanctions as follows:
« A.G. Guryev is a well-known close associate of the President of the Russian Federation Vladimir Putin, who previously worked in the Government of the Russian Federation; he was appointed to the Federation Council of the Federal Assembly of the Russian Federation in 2001, where he worked until 2013. A.G. Guryev owns the Witanhurst estate, which is the second largest estate in London after Buckingham Palace.
The filing of the lawsuit was preceded by the criminal actions of these oligarchs (the criminality of their actions is confirmed by the opinions of a number of lawyers), as a result of which I essentially turned out to be a beggar. At the same time, I didn't do anything bad to them, but on the contrary, I brought them a profit of about $ 1 billion. However, after I fulfilled my obligations, they changed their minds about fulfilling their obligations, moreover, with the help of fraudulent actions, they created my artificial debt to them. That is, instead of receiving remuneration for my work, I myself became a debtor to these oligarchs under fraudulent loan agreements drawn up secretly from me and subject to English law. At the same time, these oligarchs:
Repeatedly threatened me and my children with murder, demanding to drop the lawsuit, in connection with which a criminal case was recently initiated in Europe.
In Russia, a criminal case was fabricated against me, with the help of which they demanded that I give up my claims. In Russia, I was arrested in absentia, but I managed to leave Russia. Interpol, at my request, stopped my international search, and the European authorities (Latvia) granted me refugee status due to persecution by Russian oligarchs close to Putin.
Valery Stepanov, a 70-year-old former lawyer widely known in Russia, gave an eloquent description of the fabricated criminal case against me in his testimony for an English court:
Based on my many years of experience, I can say that I have never seen a more strange and absurd criminal case and have never heard of anything like it. In terms of the number and quality of elementary violations, this criminal case has no analogues. I am convinced that this criminal case was completely fabricated and initiated not with the aim of investigating something, but with the aim of using it as an instrument of a crime committed against Sychev, that is, to be an instrument of illegal pressure on Sychev. in conflict with PhosAgro.
Shortly after this testimony was given to the defendants, Mr. Stepanov died in Russia under very strange circumstances, about which the defendants did not hide their joy. Shortly before his death, Valery Stepanov told me that they tried to hack his WhatsApp account, which he connected with his participation as a witness in my case.
Here are some more eloquent quotes from the testimony of this witness:
"Sychev called me and asked me to come to his house to participate as his lawyer during the search. I arrived about two hours later, during which the search took place in the absence of a lawyer. About 10 people took part in the search, there was also a cynologist with a dog. The attesting witnesses were two people whom Sychev knew as members of the PhosAgro security service. Investigator Gall A.E. at the same time assured us that this was a completely coincidental coincidence, which, of course, is impossible to believe in.
"Later it became known to me that just at that time there were negotiations with Sychev, initiated by the intermediary KonDratiev, who, according to him, acted on behalf of Antoshin [the former CEO of PhosAfro and one of the defendants]. The requirements for Sychev, voiced by Kondratiev, were that the amount of obligations to him would decrease several times and that Sychev would have to pay $4 million. For this, Sychev was promised the termination of the criminal case against him, as well as the non-claims for the return of $ 5 million transferred under loan agreements. Sychev recorded his conversations with Kondratiev on a dictaphone. I listened to them and can confirm that this is nothing but extortion committed against Sychev in order to significantly reduce the amount of obligations to him. and extorting a $4 million bribe. In addition, threats of physical liquidation were made against Sychev. It was against the backdrop of these negotiations, which lasted several weeks, that Sychev's indictment was repeatedly postponed.
"After that, lawyer Lashevich [PhosAgro lawyer] contacted lawyer Dergachev [my second Russian lawyer] twice. He offered to stop the criminal prosecution of Sychev on the condition that he renounce all claims against PhosAgro and Antoshin. At the same time, it was proposed to formalize the termination of criminal prosecution through the recognition of Sychev as insane. Both meetings are described by lawyer Dergachev in emails dated 08/20/16 and 02/03/21. A similar demand was "sent" to Sychev through Kirill Trukhanov [another PhosAgro lawyer]. At the same time, this requirement was voiced by him in England to Sychev's lawyer Katerina Haslam-Jones. I know that at the same time, Mr. Trukhanov, commenting on Sychev's claim in England, said that PhosAgro's financial capabilities are not comparable with Sychev's financial capabilities and that his claim will be "crushed" for this reason.
Sychev, around 2018, introduced me to an audio recording of his telephone conversation with Mr. Lushkin [a person affiliated with PhosAgro], during which the latter actually repeatedly threatened Sychev with murder in Latvia if Sychev did not drop his claim in England. I confirm that these are precisely the death threats and that the demand, repeatedly voiced by Mr. Lushkin, amounts to a demand to drop the claim in England."
EXPRESSION EPISODE 1
(Murder threats against me and even my children in 2018 demanding that the lawsuit be dropped)
The lawsuit was filed back in 2016, but the defendants avoided receiving notices of the lawsuit for several years. During this period of time, I regularly received death threats from them, accompanied by demands to drop the claim. These threats were addressed not only to me, but even to my minor children. Some quotes (from audio recordings):
"I want your children to be alive and well."
"You don't understand that you can be killed today or tomorrow, Igor?! Moreover, everyone knows that you are in Riga, everyone knows! »
"Stop the lawsuit, you will save your life, understand?! »
"Give up the claim! You will lose your wife and children! »
An incomplete list of such threats includes 37 (!!!) positions. In addition to these direct threats, accompanied by outright demands to drop the suit, I receive veiled threats such as emails from fake addresses offering to book my funeral in advance with the promise of a £500 discount.
In Latvia, where I have been living as a refugee since 2016, a criminal investigation into these death threats was opened in October 2022.
However, the investigation is clearly hampered by the complete clarity of the picture, and so far no one has been brought to criminal responsibility. In addition, without explanation, my demands are ignored to reclassify part of the death threats from just death threats (this crime is insignificant) to extortion under threat of murder, the criminal liability for which reaches 12 years in prison with confiscation of property. Therefore, I had to send a statement to the Prosecutor General of Latvia, Mr. Juris Stukans, and I am waiting for his decision.
The lower prosecutor motivated the refusal to reclassify threats of murder as extortion by the fact that property claims and threats were allegedly not persistent enough.
In paragraph 4 of my statement to the Latvian Prosecutor General's Office regarding one of several cases of explicit extortion, I quoted the verbatim content of 8 (!!!) fragments during a 21-minute conversation with a representative of the oligarchs containing monstrous threats and at the same time demands to drop the claim. This verbatim description is based on the audio recording available here.
In paragraph 5, I summarized: "I am absolutely sure that when during a 21-minute conversation 8 (!!!) monstrous death threats are heard (not only against me, but even against my wife and children), accompanied by Property claims no one can doubt whether these threats and demands can be considered persistent. They are extremely and overly persistent! »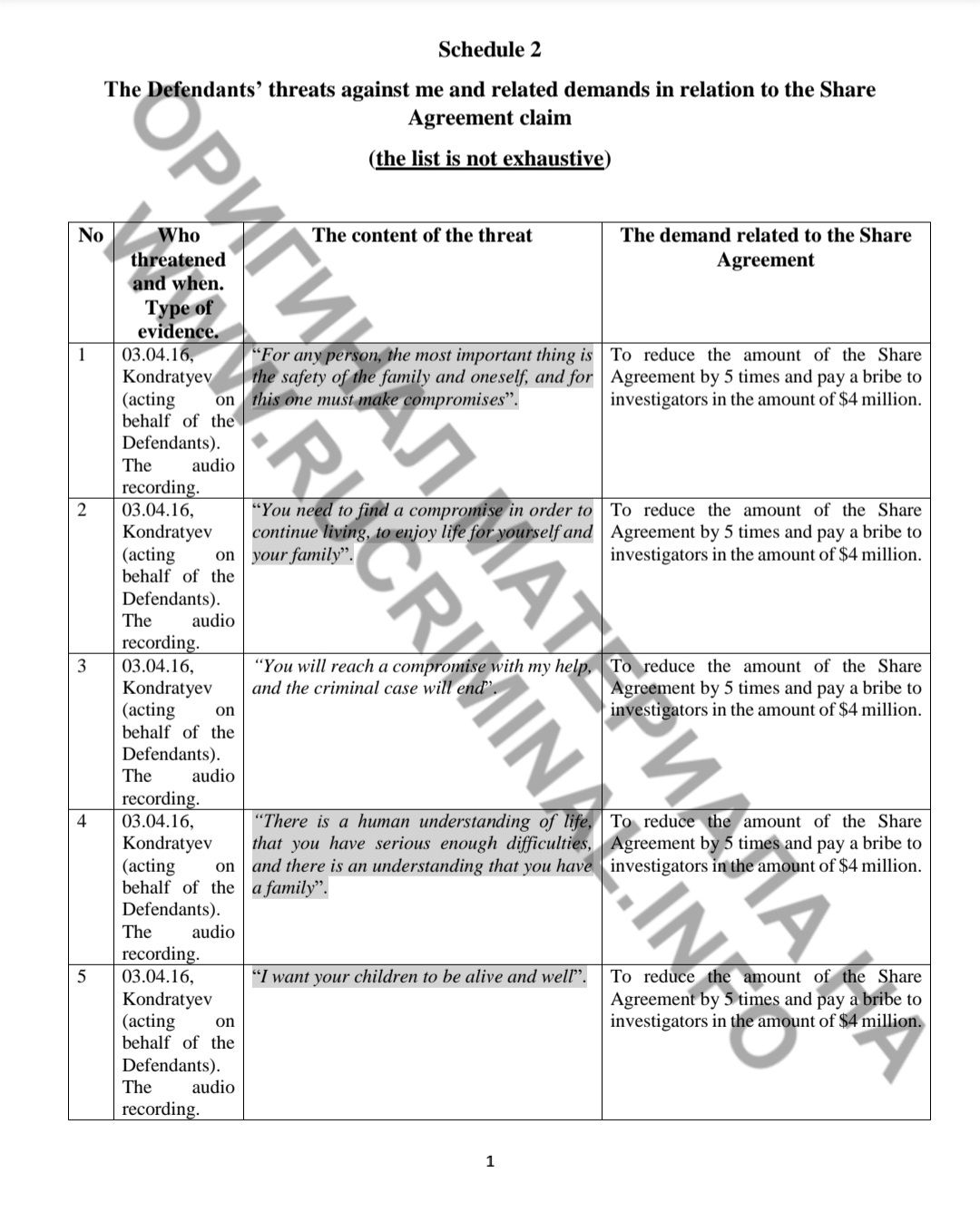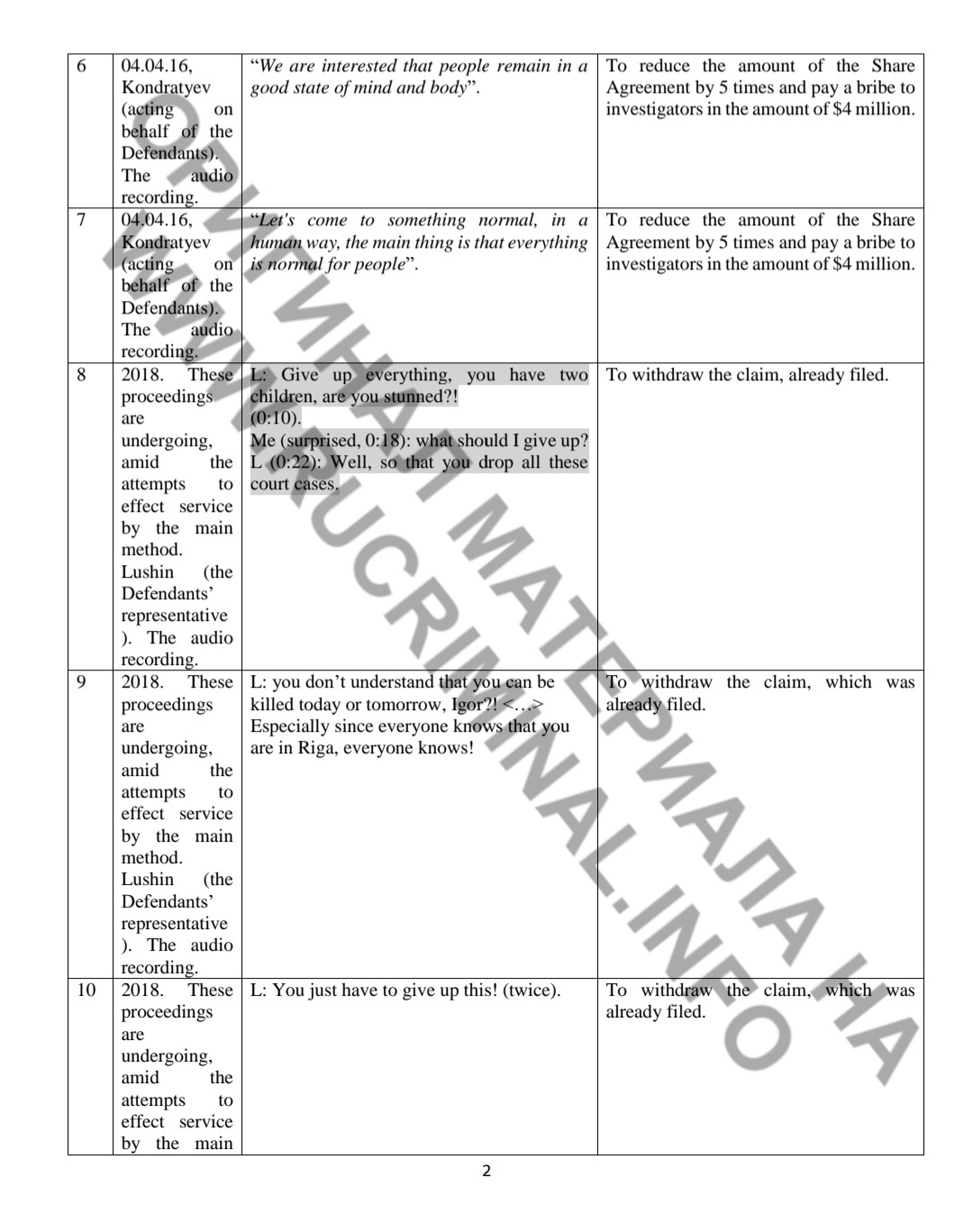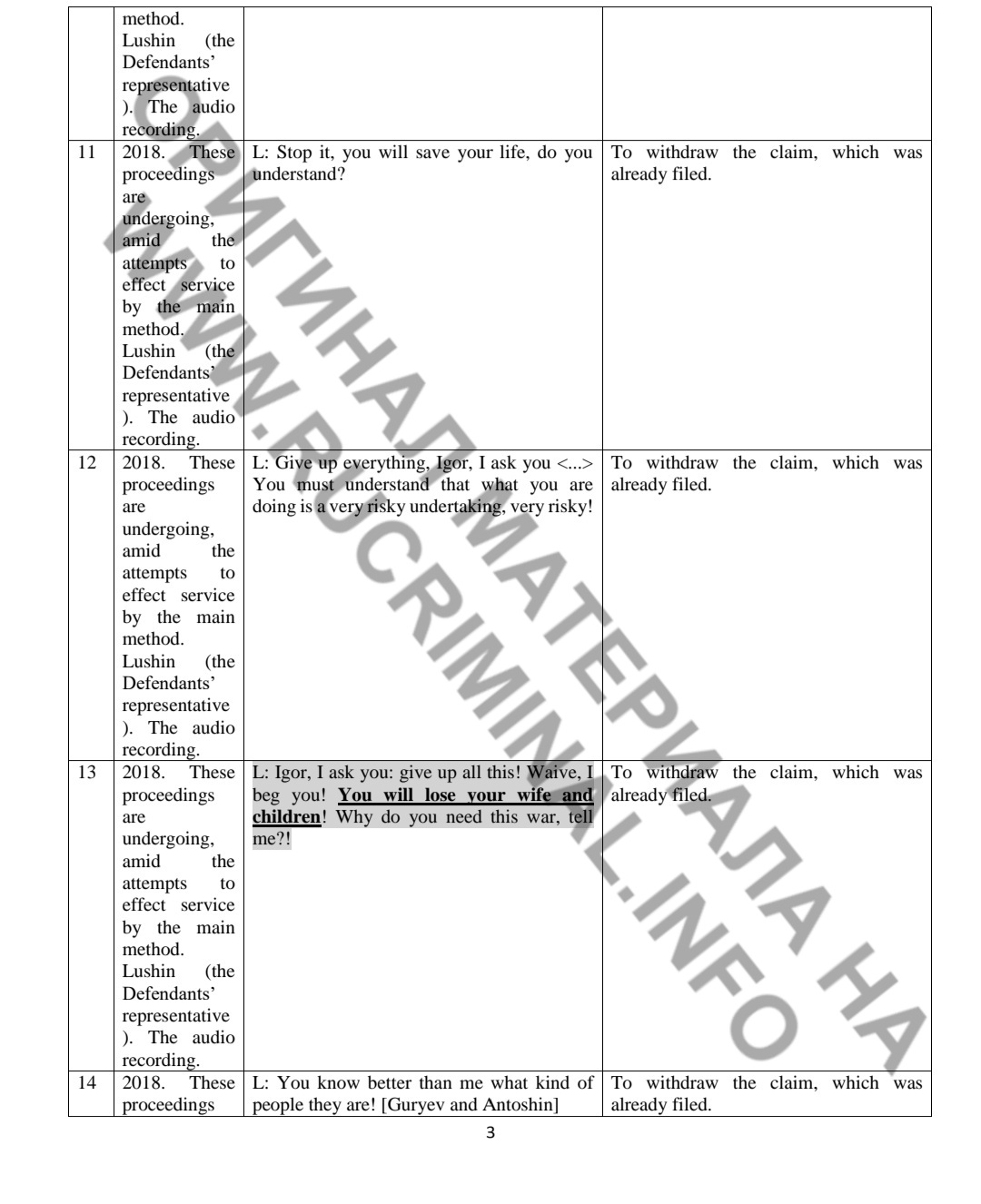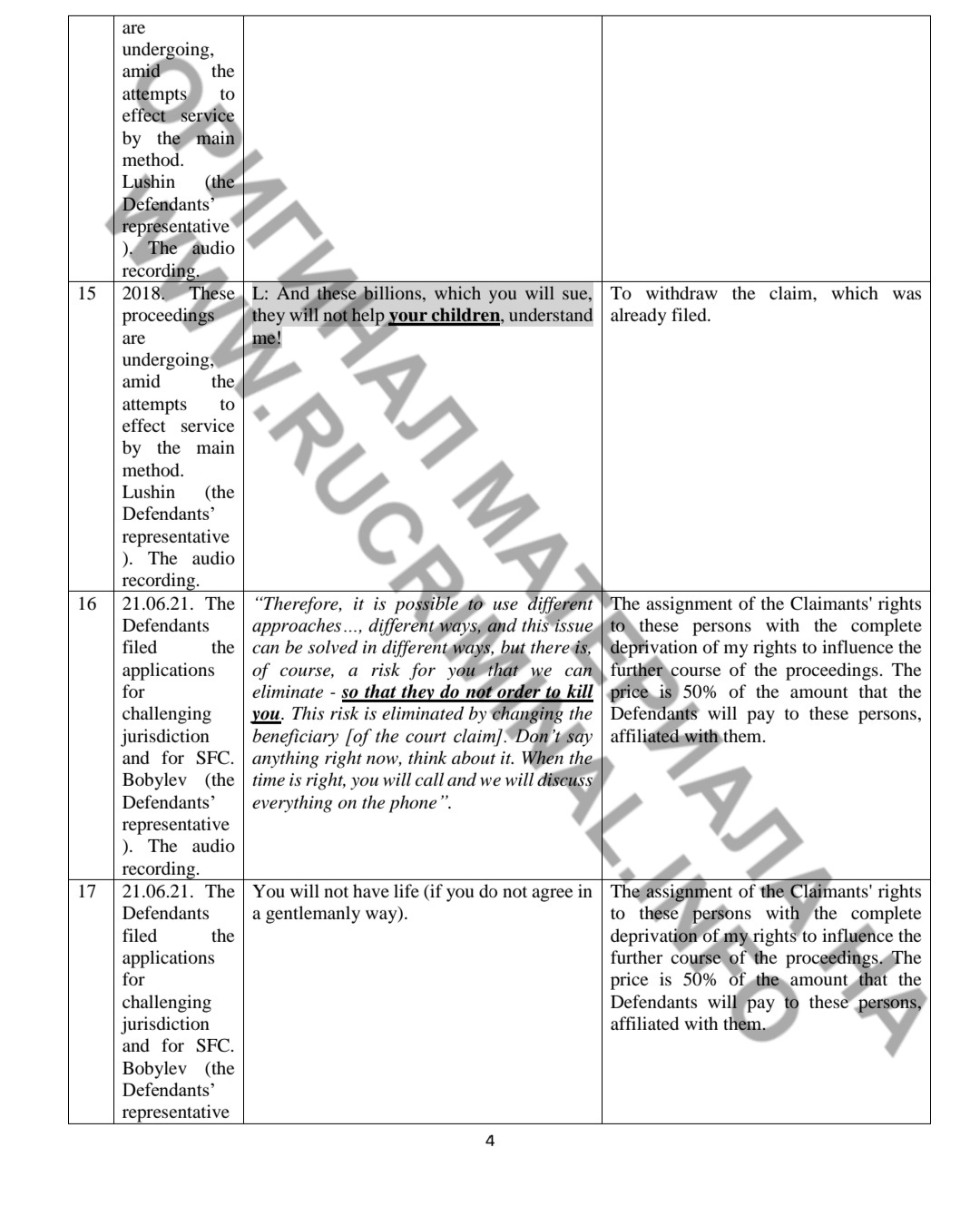 Roman Trushkin
To be continued
Source: www.rucriminal.info