2015-10-01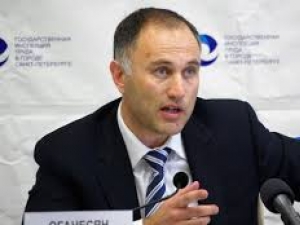 Attached dossier
Name : Marat
Surname : Oganesian
Post : St Petersburg vice-governor on construction
After Marat Oganesyan hastily resigned the post of vice-governor of St. Petersburg, many people had questions to the "lucky construction manager." These questions want to ask both law enforcement agencies and criminal authorities, with whom the former builder had a lot of common businesses. This is evidenced by at least one video from the Moscow criminal thieves rallies in October 7, 2014 in Moscow restaurant "Barrel". The meeting was interrupted by the capital operatives that photographed and interrogated all the present. Later it was reported that Marat Oganesyan participated in the gathering and paid either 6 or 9 million rubles for the video with him was erased.
But this compromising fact did not prevent Oganesyan from working at the highest state post until April 2015, when the governor Poltavchenko quietly hinted to him - it's time to go, if you do not want to be behind bars. Besides Marat Oganesyan was involved in several conflicts at once: quick-tempered Oganesyan had bad relationship with Vice-Governor Alexander Govorunov, who heads the administration of Poltavchenko, and the other vice-governor of utilities Igor Albin. Each of these two could "wisely" submit the information to the governor.
Many employees of committees, which he oversaw, did not like Oganesyan. They called him "criminal architect." It is known that at one meeting Oganesyan openly said "let's not shoot and do not record audio, as we all understand that we are all here not clean." After that, colleagues began to fear a "revelation" the vice-governor.
It's hard to say who conveyed to the governor shocking information on the activities of Oganesyan. But the head of the city clearly did not want to work with a person with extensive criminal connections. And it's not just compromising shooting video from the restaurant "Barrel", the original of which, by the way, the FSB managed to seize. The case was in Oganesyan's acquaintances and cash flows, which he controlled. These acquaintances were frankly criminal and financial resource so "shadow" that St. Petersburg "authorities" have not found a common language with Oganesyan, fearing to fall under the "roller FSB."
Why the FSB? Petersburg criminal elite do not traditionally cooperate with ethnic organized crime groups. Today, any ethnic criminal organization in Russia has links with extremist religious radicals underground or abroad. There is mutual finance, mutual support with weapons, people, extremist materials. Around Oganesyan there were so many ethnic groups, construction companies and individuals of oriental nationalities that Petersburg criminals feared to be involved in some kind of national or terrorist trends.
The FSB estimated that at the peak of his power, Marat Oganesyan disposed of public funds in the amount of about 80 billion rubles. Vice-governor oversaw the Construction Committee and the State Construction Supervision, KGA, the committee on development of transport infrastructure, the Committee on State Control, Use and Protection of Monuments, and the Investment Committee. It is obvious that, the native of the capital team of Luzhkov provided state orders to "friendly" firms. Tenders were won by generally Moscow companies "Spell", "Kapitalstroy" CFD "Lubyanka", "Alliance Capital Development", "StroyElektroMontazh number 5," "Vysotspetsstroy."
Interestingly, managing so huge public funds, Oganesyan lives quite "modestly": his income last year amounted to 5.4 million rubles. A year earlier, he has declared 4.3 million rubles. Oganesyan owns three plots of land measuring from 515 to 1186 square meters. m, three apartments from 60 to 204 square meters. m, villa and residential premises area of 2200 square meters. m. The wife of Oganesyan, who earned 631,000 rubles., owns five apartments ranging from 68 to 259 square meters. m.
There is a logical suspicion reinforced by sources from the FSB that significant amounts Oganesyan outputs to offshore firms. Earlier he used LLC "Stroytekhnika" for "gray schemes", the second co-owner of which is Alex Svarichevsky who appeared in a number of criminal cases, particularly in the case of the murder in 1995 the head of security "Finance Bank" Alexey Kryukov. Some sources that Oganesyan owns property in Cyprus and in Turkey, where he financially supports some "socio-political" movement.
Now among the "favorite" contractors and subcontractors of Marat Oganesyan noticed "RMinvest" created by Oganesyan with the family of "kingpin" Asatryan (Sturgeon). Also, former vice-governor of a group of companies associated with the "Summa", which belongs to Ziyavudin Magomedov. It is this investment fund that bought the controlling interest of the general contractor of the Bolshoi Theater in Moscow at a time when Oganesyan was in charge of construction. Recently, a cousin of Ahmed Magomedov Ziyavudin Bilalov was sacked by Vladimir Putin in a live chat during the inspection in Sochi. Then it turned out that the cost of a facility that was led by Bilalov, grew from 1.2 billion to 8 billion rubles.
Oganesyan also does not like to work within the original budget - the value of all government contracts in progress increased by several times. Reconstruction of the State Academic Bolshoi Theater under the direction of Oganesyan lasted for six years, budget overruns amounted to 9 billion rubles – it was Oganesyan who in 2010 estimated the completion of work in additional billions. It was assumed that the scandals surrounding the Bolshoi Theatre led to the fact that Oganesyan was sent from Moscow to St. Petersburg.
The first St. Petersburg project of Oganesyan - the end of the second stage of the Mariinsky Theater - Oganesyan oversaw the Mariinsky Theater in December 2011 and in March 2012, Russia's Audit Chamber revealed violations for this property in the amount of 290 million rubles, the estimate from the beginning of construction has grown from 3.8 billion rubles to 22. Another "expensive" project, which Oganesyan ended, was the reconstruction of the Bolshoi Drama Theater in St. Petersburg. The cost of reconstruction in three years increased from 1.5 to 4.2 billion rubles. Also, the auditors raised questions about enormous amounts of advances (more than 1,5 billion) in the accounts of contractors, but they are still not closed.
Regional "North-Western Directorate", which was led by Marat Oganesyan, ordered the competition to design the reconstruction of the building of the St. Petersburg Conservatory in honour of Rimsky-Korsakov, restoration was planned to start in June 2013. Less than in a year the Petersburg Conservatory asked more than double funding.
Before the departure from the administration of St. Petersburg, Oganesyan was awarded the title "Builder of the Year" and awarded a sign "Golden Trowel". Now the "Builder of the Year" is in limbo, obviously pondering his careless communication and remove traces of past frauds. Construction Mafia - it is very expensive business: for entrance - one ruble, for exit - three.