2015-11-17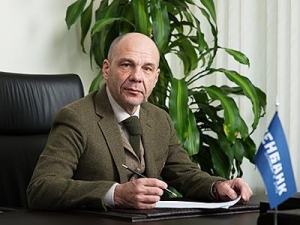 It has turned out that Rumafia.com got an archive from the Interior Ministry about the largest "shadow players" for the past 10 years of the financial sector in Russia, engaged in illegal "cashing" and smuggling abroad billions of rubles and dollars. The site begins the publication of these materials. From the first "secret" note our readers get to know where Yevgeny Giner takes money to finance CSKA and why the scarf of the club is worn by co-owner of GenBank Eugene Dwoskin, with whom Alexander Babakov, a member of the Duma Committee for International Affairs, earned and "transmited" his fortune, and why Vyacheslav Olkhovskiy is the favorite singer of the CBR.
Reference:The case of pre-operative check number opened on 13.07.2007 on thr received operational information in relation to Head GTU number 2 Bank of Russia G.S. Sitnikovoj.
According to available operative information that this official using her official position, assisted in conducting illegal banking operations related to the "cashing" money, money washing and the withdrawal of foreign currency abroad through the Bank "Yaroslav" (license revoked 09.07.2007 on the basis of 115-FZ) to the leaders of ethnic criminal groups "Japonchik" and "Baghe". According to the group consisted of somebody Ruslan (ethnic Ingush), Tatiana Moiseeva and a number of employees of GIKO Central Bank of Russia.
As a result of operative research activities it was found that:
Sitnikova Galina Semyonovna, born 12/21/1951, a native Moscow citizen, was registered at the address: ul. Rublevskoe Shosse. 11, building 2, apt. 130.
According to the Russian Interior Ministry data she has been working in the banking system since 1990s. Previously, she worked as deputy director for planning activities, assets and liabilities of "Unikombank." Since the second half of the 1990s she served as deputy manager of GTU number 1 of Bank of Russia in Moscow, and oversaw the monitoring and supervision of credit institutions. In 1999-2001 she headed the Department of Licensing of credit institutions and audit firms of the CBR. According to the data for 2002-2005, she held the position of deputy head of the Bank of Russia in Moscow. In 2005 she was appointed Head of GTU №2 Bank of Russia.
According to the data of Russian Interior Ministry, one of the closest ties of Sitnikova is Gasiyan Vyacheslav Shagenovich, born 01.05.1956, ur. Grozny Chechen-Ingush ASSR, Armenian, registered at the address: Ul. Panfilova, 2, Apt. 121. Gasiyan is a singer (stage name "Vyacheslav Olkhovskiy"), winner of Russian and international vocal competitions. In 2001-2004 he received monetary awards from commercial organization "Association of Regional Banks of Russia" (TIN 7702077663).
Sitnikova G.S. and Gasiyan V.S. repeatedly flew from Moscow to Krasnodar, and from Krasnodar to Moscow. In 2005-2006, together with them Caymanov Lev Vasiljevich and Paramonova Tatiana Vladimirovna performed flights from Moscow to Surgut, and from Surgut to Moscow.
Paramonova Tatiana, born 10.24.1950, Moscow citizen, registered at the address: ul. Udaltsov, d.85, Bldg. 4, Apt. 238. 1998-2007 she served as first deputy chairman of the CBR (a friend of Sitnikova, materials PTP).
Kaimonov Lev V., born 12.27.1942, Chita citizen, is registered at the address: Moscow, Bolshoy fakelniy per., 2, / 22 sq. 13. According to the ASUN Russian Federal Migration Service data in Moscow, he moved to Moscow Regin in 1980 from abroad. In 2003-2004, he received funds from the Moscow branch of JSC "Surgutneftegasbank" (TIN 8602190258).
As a result of analysis of the information available in respect of someone Ruslan it was found that
Amerkhanov Ruslan (Mamed) uses a mobile phone (8-916-569-64-33) has a close and friendly business relationship with G.S. Sitnikova.
So according to the materials (PTP) Amerkhanov R. relates to organized criminal groups of the clan of Yamadayev brothers, Bagautdin (nicknamed "Bug") also has connection with the brothers, who previously provided a "roof" to Elbakidze D.E. (nicknamed "Juba") who was in the federal wanted list from December 2006 in the criminal case number 248103 SK Ministry of Internal Affairs of Russia).
The main business of the clan of Yamadayev - financial fraud, "deception" of people wishing to cash out the money, knocking out debts, control of some washout "platforms". Such actions are mainly carried out in Moscow. The fact that armed groups of Yamadayev are in Moscow was recorded in 2006-2007.
According to the materials (PTP) Amerkhanov was actively engaged in "business" in Moscow, St. Petersburg, Rostov-on-Donu, Krasnodar, Grozny, Dagestan, Ingushetia, Samara and other regions. The basis of the business was the provision of "cashing" and money laundering, services to solve the problems with law enforcement, intelligence agencies, the Bank of Russia, etc. Money got from illegal actions OPC invested in the financing of armed groups located in the North Caucasus (somebody Ruslan tel. 8-928-888-68-88, in the last conversation called Amerkhanov a "boss" and said his team, consisting of 24 people, is ready to perform any Amerkhanov's order). Besides the main funds are invested in commercial projects in the territories of the above-mentioned regions in the promotion of their faces in the power structures of the Russian FSB, the Russian Interior Ministry, the Bank of Russia and the various government departments. The band consists of more than 50 people, both natives of the Caucasus and Russian nationality. In telephone conversations references to the following names can be heared: DEB Russian Interior Ministry Horev A.V. (PTP), a number of officials from the Bank of Russia, etc.
In Moscow he supports sustainable friendships and financial relations ("cashing", money laundering) with heads of a number of organized crime leaders: Myazin I.G., Dwoskin E.V., Kulikov A.A. (nicknamed "Bird"), S.Y. Zakharov (nicknamed "red"), Verteletsky P.V. (nicknamed "Helicopter"), Ivan Sitnikov (nicknamed "sieve"), Kotelnikova (nicknamed "the pot"), (materials of PTP and STIsKS). Previously he had financial relationship with Elbakidze D.E. (in 2002 he was the personal adviser to Senator John Kerry about allocation of finance in Eastern Europe) and Frankel A.E. (arrested in the case of Kozlov).
Perhaps he owns a card of "American Express» № 0100 249030, various movable and immovable property, it is possible that he can use a false passport.
Business ties of Amerkhanov:Myazin Ivan Gavrilovic, 05.15.1964, b., Born in Abakan, Krasnoyarsk Territory, registered: Moscow, Perervinsky Bulvar, 19, k.1, kv.81, (tel. 654-30-29 ). His factual address is: Ul. Krylatsky Hills, 15, building 2, apt. 19 (tel. 922-48-44), he has a son of 15 years (divorced). Family structure according to data from the first department of the Krasnoyarsk
Territory OBOP:Father - Myazin Gavrila Ivanovich, born 4.7.1930 a native of Krasnoyarsk Territory municipality M-minus. Worked in the purificating plant in Norilsk, registered in Norilsk, Talnakh area, st. Rudnaya, 32-205; Brother - Myazin Viktor Gavrilovic, born 22.6.1966, registered in Norilsk, Talnakh area, st. Polar 11-124, home. tel. (37-29-06). Workplace is MSU-2 Talnah, the profession is dentist. He has a registed vehicles Nissan-Pressazh 98 g / v, g / n H TX 885 rus 24 registered with the city of Bratsk 27.11.2007 Brother - Myazin Nikolay Gavrilovich, born in 11/28/1959, a native of the city of Norilsk, registered in Norilsk, Talnakh district, St. Polar. He is a general director of the company "Zapolyarye".
According to the OPB of Russian Interior Ministry, Myazin I.G. is listed as the owner of a motor vehicle «Aston Martin DB 9" g / n H 333 RX 177, 2006 GV, black.
Since 2003, Myazin has been a co-founder of "Myriada Tour" (TIN 7730122011) and Director General of LLC "Steklyarius" (TIN 7718235964). According to the information of 2006, is a co-founder of Open Company CHOP "Asgard" (TIN 7701653561) and the beneficiary ICB "Belkom" (license revoked in 2006).
In February 1990, Myazin was declared the federal wanted list by the Krasnoyarsk Territory police officers on suspicion of committing a crime under ch. 3 it. 144 of the Criminal Code of the RSFSR. In October 1991, it was terminated as he was detended. No criminal records data.
According to Myazin's I.G. encrypted survey, it was found that he was on the federal wanted list from 1991 to 1993. He has a criminal record, year of probation. Information is removed from the Russian Interior Ministry bases.
According to OPB of the Russian Interior Ministry data, Myazin was checked for involvement in the murder of the 1st Deputy Chairman of the Central Bank of Russia A.A. Kozlov. In the same year, together with D.E. Elbakidze he was suspected in involvement in money laundering, acquired by criminal means, illegal banking activities and tax evasion on a large scale.
The analysis of a number of criminal cases number 169777, number 248103 showed that Myazin being a part of a sustainable organized community was involved in the conduct of illegal banking operations related to the "cashing" and laundering large sums through the following credit institutions (materials PTP):
- CB "European Calculated Bank", was registered in GTU number 2 Bank of Russia (license revoked on 06.06.2006 on the basis of 115-FZ). According to the constituent documents of the bank, Myazin I.G. and Kotelnikova A.A. (nicknamed "pot") were members of the board of directors of the credit institution.
Through this credit institution, illegal operations were conducted:
- cashing in rubles and foreign currency in the period from 01.03.2006 to 13.04.2006 of 20,619,419 rubles with details of shell companies: LLC "Tsentrolessbyt", "ANO" Council of mutual fraternities of Chinese citizens and immigrants" LLC "Grand Style", "NGO" League Mutual help of Chinese communities Weng Joe", LLC "Parfion", LLC "Amadeus", LLC "Vesta", LLC "Stroytehnologiya" The total amount of foreign currency sold by the bank to individuals was 569.500.819,07 USD and 105,260,442 euros.
- From 14.03.2006, only one cash employee, head of department of cash operations Stupina I.M. worked in the bank;
- CB "Bank for Investment and Loan" was registered in the GTU №2 Bank of Russia (license revoked on 09.08.2006 on the basis of 115-FZ).
Through the credit organization illegal banking transactions were made:
- cash withdrawals in rubles and foreign currency in the period from 01.04.2006 to 10.07.2006 was carried out by at 20202 'Cashier' operations in the amount of 83,352,270 852.61 rubles, issued from the cash register of the bank.
In 1991-1993 he had a criminal record under Part 3 of Art. 144 of the Criminal Code of the RSFSR. He was on the federal wanted list for two years and was sentenced to one year probation (but there is no such information in the bases of the Russian Interior Ministry). He has property in the Dominican Republic. According to the materials (PTP) has strong business relationship with the head of the Bank of Russia Shore K.B.
Dwoskin (Slusker) Evgeny Vladimirovich, born 21.3.1966, in Odessa Ukrainian Republic. In 08.06.2002, was documented by Russian passport series 60 02 number 780 345 ATS of Oktyabrsky district of Rostov-on-Don (in 2005 a criminal case for illegal issuance of passports in 2001-2002 years was opened against the leadership of the Oktyabrsky district by the police department). In 2002 he became one of the founders of LLC "Pelican", registered in St. Petersburg (Moscow, Irkutsk), the main activity of which was gambling (according to operative information it was also distribution of drugs and prostitution). The amount of cash turnover of about 50 mln. rubles for the entire period of activity (2002-2007 years).
According to the data the FMS of Russia in Moscow, he arrived in Moscow in April 17, 2003. In October 2005 Dwoskin E.V. appealed to PVO of Moscow Khamovniki with a statement about the loss (theft) of the passport number 60 02 780 345 and has been documented by a Russian passport series 45 08 № 294402. In March 2007, with violation of the Russian Interior Ministry regulations, Dwoskin E.V. was documented by a foreign passport 63 №1330039. The documenting was implemented by deputy chief of PVO ATS Khamovniki police major Bondyreva Raisa Magametovna.
According to the data from the FBI and the State Ministry of Interior of Ukraine it was established:
This citizen is well-known for the FBI. In the United States he is known under the name Slusker E.V., Ukrainian passport number AM 946 269, US social security number 099-62-3258, driver's license number 439 093 749, additionally used the date of birth 03.12.1966, at the names Eugene Schuster, Egen Schuster, Eugene Dwoskin, Semen Altman, Eugene Lozin, Eugene Slushke. In 1989-2001 he was repeatedly brought to criminal responsibility in the United States (illegal possession of weapons, robbery, possession of hard drugs seized from free circulation, bribery of public servants, possession of stolen property, vehicle theft, hooliganism, tax evasion, etc.). According to FBI data, he was serving his sentence in one prison with Vyacheslav Kirillovich Ivankov (nicknamed "Japonchik"). He has a close relationship Ivankov.
On February 5, 2000 he was announced an international arrest warrant by the FBI order № 03-0063. He was accused of committing fraudulent acts (Art. 371 of chapter 18) and the legalization of income got by criminal ways (art. 1956 of Chapter 18).
From public sources of information it is implies that Slusker with a number of people carried out financial fraud with shares of a number of US companies, and money laundering (through shares money laundering of Colombian drug cartels was carried out).
According to the Information Research Affairs of Ukraine, Dwoskin Evgeny was born 03.21.1966, and registered from 11.03.2002 at the address: Odessa, Srednefontanskiy Lane, 16/18 kv.39, Ukrainian passport CC number 897876 issued on 24.04.2002 by Primorskiy PO OSU Internal Affairs of Ukraine Odessa region, but was put of the registration on 21.01.2005 by the court. According to the archives, Slusker Evgeny, born 21.3.1966 was registered on 10.10.2000 at the village of A-Ivanovo, Nikolaev district, Odessa region, but was put out of the registration due to the change of registration on 26.02.2002.
On 20.04.2002 a change of name from Slusker to Dwoskin was conducted by the department of civil registration of the Primorsky district of Odessa Department of Justice (certificate of change of name I-Train number 004 699).On 29.12.2000 the department of citizenship, immigration and registration of individuals of Ministry of Internal Affairs of Ukraine issued a passport of citizen of Ukraine for the name of Slusker for traveling abroad AM number 946 269, which was currently considered lost.
On 16.02.2001 the same body issued passport AT №677397 in place of the lost one for the name Slusker, which is currently destroyed due to the change in the name to Dwoskin.
On 15.05.2002 Evgeny Dwoskin was documented with Ukrainian passport for travel abroad AT № 463337.
According to information (PTP) has strong business relationships with a number of people residing in the United States, the Republic of Ukraine. In his activities closed to thieves Ivankov V.K. ("Japonchik") and A.N. Malyshev. He is also known as Gonasalez, "Pechuga."
He often visits public places, has a stable and friendly business relations with Yevgeny Giner (JSC PFC "CSKA), some actors, etc. He has personal accounts in Monaco (data Rosfinmonitoring) of the MAB "Tempbank" account number 42301810200000000993 opened 27.10.2003, "KBI Bank", account number 40817810400000000290.
Kulikov Alexey, born in 1970, workplace CB "Kreditimpeks Bank", is a part of the political council of the party "Fair Russia". He has business relations with Babakov A.M. In 2007 he carried out the money laundering for party or for Babakov, which were to spend on the election campaign. In December 2007, he took part in the elections to the State Duma. He has close contact with the deputy head of the "K" FSB of Russia Dmitry Frolov, employees DEB Russian Interior Ministry and the Russian Interior Ministry DBOPiT through his relative Shahov M.N. (Major-General of the Russian FSB in resignation). In solving problems he has used the interregional public organization, which assists in the fight against terrorism and extremism, address: Ul. Sorge, 1, tel. 8-499-195-45-10, 8-499-195-23-85, the nominal head is Bobkov Alexander Kuzmich.
Alexander Babakov, born 02.08.1963, native of Chisinau, in 1985 graduated from the Economics Faculty of Moscow State University. He is directly related to the following commercial entities LLC "West-IR" of the MAB "Tempbank" (director, Chairman of the Supervisory Board). He is co-owner of a number of Ukrainian energy companies: JSC "Zhytomiroblenergo", JSC "Sevastopolenergo", JSC "Kirovogradoblenergo", JSC "Khersonoblenergo", JSC "Odessaoblenergo." Hotels - "Premier Palace" (Kyiv), "Russia", "Oreanda" (Yalta), "Dniester" (Lviv), "Start", "London" (Odessa), "Cosmopolitan "(Kharkov)", Aeropolis, travel agency "Latina", Foundation for Promotion of Science, Education and Culture "Rodina", JSC "Waterpark in Luzhniki".
In 2002, he took part in the privatization of the Sberbank of the Latvia - as a representative of the company registered in the Netherlands Mac Asyng Holding BV.
He had close business relationship with the citizen M. Kurochkin (one of the leaders of "Izmailovo" OPG). In Ukrane M. Kurochkin represented the interests of "Lipetsk" OPG (the main task is the legalization of funds of this group). In 2007 Kurochkin was killed.
According to the Ukrainian magazine "Focus", Babakov A.M. is among the hundred of the richest Ukrainian businessmen at number 36. His fortune only in Ukraine is estimated at 520 million dollars USA.
In 2001, according to several media, Babakov was listed as one of the leaders of «VS Energy» (a subsidiary of the Slovak company «VSE») and «Iwenta SA» (canton of Zurich). In 2001-2003, he served as a chairman of the board of directors of JSC "CSKA".
In December 2003 he was elected to the State Duma of the fourth convocation on the list of the party "Rodina".
In December 2007 he was elected to the State Duma of the fifth convocation on the list of the party "Fair Russia", and is a deputy chairman of the State Duma.
Previously he had a close business relationship with Berezovsky B.A. and may have Israeli citizenship.