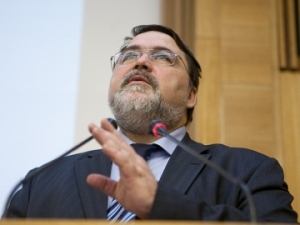 Name: Igor
Surname : Artemyev
Middle name : Yuryevich
Post : Head of the Federal Antimonopoly Service
Bio:
Igor Artemyev was born on 27 November, 1961 in Leningrad.
In 1983 he graduated from the biological faculty of Leningrad State University and then took doctor's degree at the anatomy and physiology department of Herzen Leningrad State Pedagogical Institute. He is a doctor of life sciences.
In 1986 he was a lecturer and in 1990 he became an associate professor of this department.
In 1990 he was elected member of Leningrad City Council and was chairman of the Committee on Environment and Urban Affairs. He headed the Regional Centre Party, which later was the basis for Yabloko association.
In 1994 he was chairman of the Commission on Urban Affairs, chairman of the budget and finance coordinating group of St. Petersburg Legislative Assembly. He was draftsman of numerous bills on the electoral law, budget process, taxation, borrowing policy and tax incentives, urban economy and ecology funding.
In 1996 he was appointed first deputy governor and chairman of the Financial Committee of St. Petersburg administration.
In 1998 he got legal education.
In 1999 he was head of EPICentre - St. Petersburg foundation for economic and political studies.
On December 1999 Artemyev was elected member of the State Duma of the third convocation, he was deputy chairman of Yabloko group, deputy chairman of the Committee on Credit Organizations and Financial Markets.
In 2000 he participated in gubernatorial elections in St. Petersburg and was second in race with 14.68% votes.
On 10 March, 2004 he was appointed head of the Federal Antimonopoly Service.
In 2009 Artemyev received the title of Merited Economist of Russia
He is married and has a daughter.
In 2010 Artemyev earned more than 3.3 million rubles. Artemyev also owned a garden plot measuring 1.5 thousand square meters, garden area of ​​1.6 thousand square meters, a house measuring 35 square meters and a share in jointly owned apartment. Artemyev does not have a car.
Source: Wikipedia
Dossier:
In 1996, when the relations between chairman of the Commission on Urban Affairs Igor Artemyev and Mayor of St. Petersburg Anatoly Sobchak got strained once and for all, Artemyev announced his candidacy for the next gubernatorial election. It was unlikely that he expected to win. But he at least managed to do Sobchak a bad turn, having withdrawn his candidacy the day before the voting in favor of vice-governor of St.Petersburg Vladimir Yakovlev. As a result, Yakovlev won the elections by a margin of about 20 thousand votes – as many as Artemyev was supposed to collect, according to surveys.
In 1998, at the elections to the Legislative Assembly Yabloko got much less votes than was expected. Artemyev, as they said, had a harsh word about Yakovlev: well, thank you very much, Vladimir Anatolyevich. A journalist that stood nearby, responded immediately: no, it is you we should thank for Vladimir Anatolyevich.
Source: Profil, 5 June, 2004

On 30 October, 1999 Artemyev was nominated for the position of St Petersburg governor. On December 1999 early gubernatorial elections were held. Artemyev was second then, having collected 14.68% votes. Artemyev was associated with a number of big scandals and dirty election techniques. For instance, Our insurance office - XXI century company sold insurance policies that were to be paid in case of Artemyev's victory. Naturally, that affected the choice of the people who got the insurance policy and was a kind of bribe on an installment plan.
Source: Russky Zhurnal, 11 May, 2000

The most ironic thing is that Artemyev was appointed head of the Anti-Monopoly Service, reporting directly to the prime-minister, while at the same time he was a member of Yabloko opposition party. That is, he was both a government official and an oppositionist. Unlike other Yabloko members who joined the government, namely, Minister of Finance of 1997-1999 Mikhail Zadornov and Minister of Labour and Social Development of 1998 Oksana Dmitrieva, Artemyev did not surrender his membership card – just in case. Moreover, Artemyev brought to the Anti-Monopoly Service a few other current Yabloko members.
Source: Nasha Versiya, 22 October, 2007

The techniques of antimonopoly struggle led to so-called "claim waves" against major oil and gas companies. Three waves of 2008-2011, aimed at Gazprom neft, LUKOIL, Rosneft and TNK, brought to the budget about 30 billion rubles. Quite impressive reporting, but in fact certain lacunas can easily be found there. Thus, on January 2007 FAS announced that it would not interfere with the deal that was to establish an aluminum monopoly in Russia. As a result, Rusal joint company was founded with the merger of RUSAL, SUAL and alumina assets of Glencore Swiss-based company. Artemyev welcomed establishment of the monopoly. He said that "the union of three companies would mean establishment of the first Russian transnational corporation < ...> and fully meets the universal trends, such as consolidation and globalization." Other "natural" monopolists, like The Unified Energy System electric power company, Russian Railways public company and Gazprom company, remained safe as well.
Source: Vremya Novostey, 18 January, 2007

In the beginning of September 2011 negative corruption rating of federal agencies was published. It was made according to internal polls and polls of Economic Development Ministry.
Artemiev's agency was in the top ten, though ranked 10. Still, it turned out to be undisputed leader in the average bribe amount– about 630 thousand, due to specific field of FAS activity, ''business support". Consequently, only wealthy people fell prey to Artemyev's subworkers.
Source: Sekret firmy, 5 September, 2011